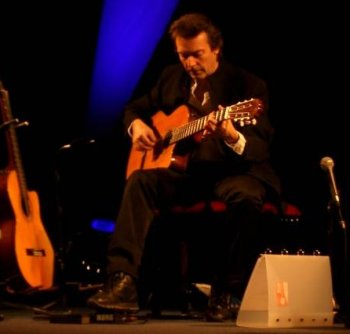 Stephen Richard "Steve" Hackett (born February 12, 1950, in Pimlico, England) is a writer and guitarist. He first gained prominence in the British rock group Genesis in 1970. Before joining Genesis as a 20-year-old, he played in a number of bands, his first recording being with Quiet World. Hackett's writing, combined with his unique sound and inventive playing contributed greatly to Genesis' success and he remained with the band for eight albums before leaving in 1977 to pursue a solo career.
Steve The Innovator
Steve Hackett is renowned for his innovative and ethereal guitar work and for being a master of a myriad of guitar techniques, including tapping. Though many people often credit Eddie Van Halen for inventing this technique, it was actually Hackett who first mastered it. Songs which showcase Hackett's use of the tapping technique, are "The Musical Box", "Return of the Giant Hogweed", "The Fountain of Salmacis", "Supper's Ready" and "Dancing With the Moonlit Knight". Steve had mentioned that if he'd known that tapping was going to become as popular as it did during the 80s, he would have made an entire album dedicated to it. Steve is also known for his expert classical guitar playing. The song "Horizons" is one of the most enduring classical guitar pieces produced during that era. Another great classic is the intro to the song "Blood on the Rooftops", which is still a staple at Steve's live concerts. In the late 1970s he became one of the first and most adventurous experimenters with analogue, and later digital, guitar synthesizers to enrich the textures of his work. Whatever its artistic merits, it is worth noting that the dramatic 'plane crash' sequence at the beginning of 'Tiger Moth' was performed solo on an early Roland analogue guitar synth. Hackett's guitar solo in the song "Firth of Fifth", from Genesis' 1973 Selling England by the Pound album, is considered by many to be one of the great electric guitar solos.

Solo Voyage

In 1975 while still a member of Genesis, Hackett released his first solo album, Voyage of the Acolyte which was met with critical and commercial acclaim. With the success of his first solo venture under his belt, he left Genesis in 1977 after the tour in support of Wind & Wuthering. Steve's last work as a nominal member of Genesis can be heard on the live album, Seconds Out, released in late 1977.

Solo Career

After leaving Genesis in late 1977 Steve released Please Don't Touch and, with the success of his first two albums, assembled a touring line-up that would help in the creation of his next two releases, Spectral Mornings and Defector. In the 1980s Steve released his first classical guitar albums Bay of Kings and Momentum which further enhanced his reputation. The tour for Momentum drew large crowds in Europe, considered unusual for a classical guitarist! In 1986, Hackett formed the supergroup GTR with former Yes and Asia guitarist Steve Howe and released a gold-selling album. Steve's solo career continued, releasing a plethora of both electric and acoustic based albums througout the 90s into the present day. One of his most memorable recordings was the neo-classical influenced A Midsummer Night's Dream which showcases his impeccable virtuosity, accompanied by The Royal Philharmonic Orchestra. Steve's younger brother John was much involved (as flute player and second guitarist) in his 1970s bands, and has often appeared as musician and collaborator on his more recent work, particularly on the ambitious 'Sketches of Satie' arranged for flute and guitar, from year 2000.
Influence

Of the five members that made up the "classic" Genesis quintet the most enigmatic was Steve Hackett. However many of Genesis' peers and concertgoers took notice and he has become one of the UK's most influential guitarists. Those who claimed Steve Hackett as an influence include Alex Lifeson, Yngwie Malmsteen, Francis Dunnery, Roine Stolt and Mike Holmes. Hackett has cited his own influences as Eric Clapton, Jeff Beck, George Harrison, and J.S. Bach. Another testament of Hackett's originality is that these influences are difficult to detect in his sound and playing.

From Wikipedia, the free encyclopedia
Official Home Page: www.hackettsongs.com