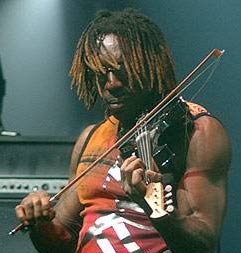 Boyd Tinsley (b. May 16, 1964, Charlottesville, Virginia) is the violinist and one of the backup singers in the American jam band Dave Matthews Band. He was raised in a highly musical family; his father was a choir director and his uncle a bass/trumpet player for local bands. Coincidentally, he grew up in the same neighborhood as future Dave Matthews Band drummer Carter Beauford and saxophonist LeRoi Moore. He learned violin by accidentally signing up for a middle school orchestra class, intending to study the guitar. The idea of learning the violin, however, was interesting enough to him so that he stuck with it.

As a teenager, he took part in forming the Charlottesville-Albemarle Youth Orchestra, in which future Dave Matthews Band member and bassist Stefan Lessard also took part. He studied under Isidor Saslav, concertmaster of the Baltimore Symphony Orchestra. Saslav offered him the chance to move to Baltimore and become a virtuoso. Tinsley was 16 at the time, and as such he realized he was not ready for the commitment that would come with it. This was also the point where Tinsley realized he did not want to pursue orchestral music. Instead, he started listening to other musicians who worked with rock, blues, and jazz.

He attended the University of Virginia and became a member of Sigma Nu which influenced him to start philanthropy work and the Bama Works Foundation. While there, he started having regular jam sessions that would last all night. This attracted more than college musicians; it even got the attention of Jorma Kaukonen (Hot Tuna and Jefferson Airplane). In the early 1990s, he formed the Boyd Tinsley Band, which lasted only a couple years.
In 1991 he was asked by Dave Matthews to play the song "Tripping Billies" with his band on their demo tape. Tinsley eventually joined the band and has been with them ever since. Aside from playing in the Dave Matthews Band, Tinsley does modeling for corporations such as JanSport or Tommy Hilfiger. In 2003, Tinsley released a solo album, True Reflections, featuring the title track he wrote over a decade earlier.

Boyd has two children with his wife Emily: A daughter, Abagail (Abby) (born 1996) and a son named Noah (born 1999).
Boyd is a avid tennis fan, who sponsors a women's tennis tournament in his hometown. He often attends the Championships at Wimbledon, recently played doubles with John McEnroe and Pete Sampras, and he has even recorded a song called "The Ghosts of Wimbledon" for the tournament. He is a close friend of tennis player Andy Roddick.

From Wikipedia, the free encyclopedia