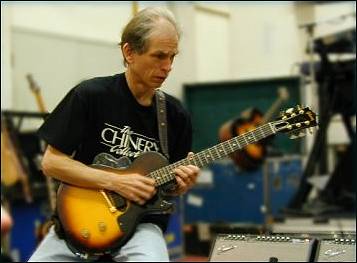 Stephen James Howe (born April 8, 1947 in Holloway, North London, England) is a guitarist best known for his work with the progressive rock group Yes. He has also been a member of The Syndicats, Bodast, Tomorrow, Asia and GTR, as well as releasing 13 solo albums as of June 2005.

Early influences

Howe was the youngest of four children who grew up in a musical household, listening to brass band music on 78 rpm records. He cites several influences from his parent's record collection including Les Paul and the group Tennessee Ernie Ford who had Speedy West and Jimmy Bryant playing guitar. In addition, Howe listened to Classical Guitar and Jazz citing Barney Kessel as a primary influence, "his playing was a remarkable mixture of 'single line' and 'chords', ya know, which inspired me to believe that any guitarist who doesn't understand chords won't be able to play much in the single line because they relate so much". Howe also credited Chet Atkins, who he first heard in 1959, as a major inspiration. Howe said he took from Atkins, ""the idea that one guitarist could play any kind of guitar style."

He received his first guitar, an f-hole acoustic, as a Christmas present from his parents at age 12 and eventually began playing in local halls. He bought his first electric guitar, a jazz-style Gibson, in 1964: "No one was playing archtop, hollowbody guitars in a rock band. People laughed at me and thought I was really snooty. To me, it was an object of art, it wasn't just a guitar," Howe said about his ES-175. He made his first recording, Chuck Berry's Maybellene, in 1964 with The Syndicats, who were produced by Joe Meek. In 1968, he recorded albums with both Tomorrow (initially called The In Crowd) and Bodast.
Howe declined offers from both The Nice and Jethro Tull while waiting for a record deal to materialize for Bodast, but the group's prospective label went bankrupt. He was then approached by the members of Yes as a possible replacement for Peter Banks, who had appeared on the group's first two albums.

Changing Yes lineup

In the spring of 1970, Howe joined Yes and played his first show with the group at Queen Elizabeth Hall on March 21, 1970. Howe was pictured with the group on the non-Europe jacket of their second album, Time and a Word, which was released in August, although it was Banks who had actually played on the recording.

Beginning with The Yes Album, Howe's electric and acoustic guitars, combined with Jon Anderson's vocals, Chris Squire's bass, and Tony Kaye's keyboards were seen as an essential part of the band's early sound. The addition of Rick Wakeman after the departure of Tony Kaye for the following album, Fragile, created the classic Yes sound of Anderson-Howe-Squire-Bruford-Wakeman associated with the peak of the band's early achievements. To his already-formidable assortment of electric and acoustic guitar sounds, Howe added a unique prog-rock approach to pedal steel guitar in the next album, Close to the Edge. His classical and jazz influences, along with his penchant for ongoing experimentation, helped produce a playing style unique among rock musicians, while the group as a whole took a position as a leading progressive rock band.

Although the band underwent some personnel changes in the 1970s, Howe, Anderson, and Squire were the constant elements for the entire decade. In early 1980, however, Anderson and Wakeman left the group and were replaced a few weeks later by Trevor Horn and Geoff Downes. This second departure of Rick Wakeman was particularly difficult for Howe, who believed the two produced their best work while they were together. Howe continued with the band until Yes officially split up on April 18, 1981. Over the next few years, Howe contributed to several albums produced by Horn for other artists (including Frankie Goes to Hollywood and Propaganda).

In 1989, Jon Anderson asked Howe, Wakeman, and Bill Bruford if they could record some tracks together. They released an album and completed a tour under the name Anderson Bruford Wakeman Howe, leading to minor legal battles over ownership of the name "Yes". Eventually, they all joined forces with the members of Yes (which still included Anderson, plus Tony Kaye, Trevor Rabin, Chris Squire and Alan White) as a "mega-Yes" lineup to record the album, Union, which was released in 1991. Shortly therafter, Howe worked on guitar parts for a "Symphonic Yes" album of re-recordings, and then left the band after the Victory Music label left him out of an invitation to participate in the studio sessions that would lead to their next album. In 1991, he contributed a flamenco inspired guitar solo to the epic Queen song Innuendo, which would be featured on the album Innuendo.

Howe rejoined Yes for good in 1996. Since Keys to Ascension, Howe has again appeared on all the albums recorded by Yes.