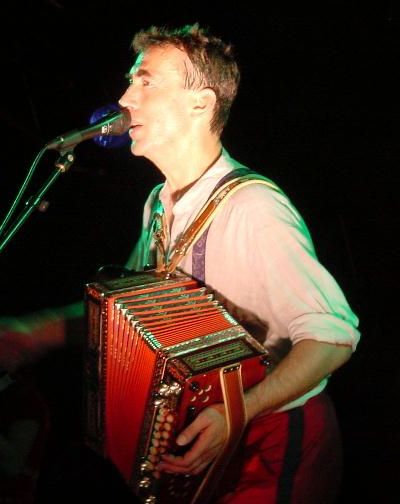 The musician so many people know as Hubert von Goisern was born on 17th November 1952 as Hubert Achleitner. Music was soon of great importance to Hubert and he told his parents at the age of 5 that he wanted to be a conductor. As music lessons could not be afforded, he joined the local brass band. It was here that he learnt his first instrument - the trumpet. However, despite being a model band member and turning up to every rehearsal, Hubert became fed up with having no say in what the band played. The band leader also took exception to Hubert's long hair and so Hubert left. The downside being that he had to return his trumpet.
After leaving the band, Hubert took classical guitar lessons. When he came to the conclusion that this was too quiet for him, he bought himself an electric guitar with his own money. However, practising was difficult as his loud playing upset the guests in the spa town, who were looking for a little more peace and quiet than Hubert's guitar allowed. His grandfather introduced him to the accordion when Hubert returned from his travels later in life. At first he refused to have anything to do with the instrument, but picked it up one night and began to play. Hubert has taught himself most of the instruments you see him play, with the exception of a few lessons on the guitar, trumpet and clarinet. His travels throughout the world were also an opportunity to come into contact with more diverse instruments.
As Hubert von Goisern entered his twenties, he decided that he had finally had enough of answering to authority in Austria; his homeland simply became to confining for him. He emigrated to South Africa with his girlfriend and worked there as a chemistry laboratory technician. After three and a half years, the racial segregation became too much for Hubert although he had tried himself to fight it by organising sports events where blacks and whites could meet.
He returned home, but once back in Austria, he met a Canadian girl who had eyes only for him. They married and he moved to Toronto with her. He also took her surname, Sullivan, for the sake of simplicity.
It was at the age of 27 that Hubert made a conscious decision that he wanted to be a musician. His wife was not especially happy about this and his parents finally had to put away their hopes for their son becoming a doctor. Hubert studied music in Toronto for two years, including lessons in flamenco guitar. After his relationship with his wife came to an end, Hubert went travelling again, this time ending up in the Philippines. Here he lived with head hunters for a while and took the opportunity to learn to play the nose-flute. He taught the Filipinos Austrian folk songs while they sang him theirs and it was here that he realised that perhaps he could find a way to his own native musical traditions.
In 1984, Hubert returned to Austria and found that his English was now more mature than his German. He worked as a freelance musician and composer and studied electroacoustics as well as experimental music at the Musikhochschule in Vienna.
Hubert met fellow musician Wolfgang Staribacher in Vienna in 1986. A year later, the instrumental Solide Alm was written and together they formed the Alpinkatzen. It was also at this time that Hubert took his stage name, Hubert von Goisern, because quite simply, his partner was Wolfgang from Vienna and he was Hubert from Goisern. After playing in various bars and clubs, a manager of a record company finally discovered the duo and offered them a contract.
Although success did not seem to be forthcoming, and although Wolfgang and Hubert occasionally played before audiences of no more than five people, they made their first album - Alpine Lawine. The album was released by Alpinkatzen featuring Hubert von Goisern and showed evidence of Hubert's English language influences, as six of the eleven songs contained at least some English lyrics. The album also contained the first version of Kren und Speck.

The Watzmann tour followed. This was a story of country life, written by Josi Prokopez and presented by Wolfgang Ambros. Unfortunately for Wolfgang Staribacher, this tour brought his working relationship with Hubert to an end. He went on to write a book entitled Unten und Oben (Under and Over). However, Hubert wanted to continue with the Alpinkatzen project and was now looking for a new band.

Wolfgang Spannberger, Hubert's sound technician, was responsible for introducing him to both keyboard player Stefan Engel and drummer Wolfgang Maier. Reinhard Stranzinger, the Alpinkatzen's future guitarist, introduced himself after his own music project began to face problems. The band was completed after Hubert's neighbour, knowing he was looking for a singer, gave him a tape of her niece performing with the Walchsee Seerosen Trio. The niece was Sabine Kapfinger and she joined Hubert von Goisern, as a studio singer at first, then on stage at the age of 18. With her, Sabine brought the important ingredient of folk music - yodelling. Hubert learned from Sabine, by listening to her on his Walkman and practising on motorway bridge where nobody could hear him.

The second CD, Aufgeigen stått niederschiassen, was released in 1992. This album contained some of Hubert's most well-known songs: Heast as Nit; Weit, Weit Weg and Koa Hiatamadl. The radio stations picked up on this last song and played it continuously - and suddenly Hubert von Goisern und die Alpinkatzen were in the charts.

Although Koa Hiatamadl was the breakthrough for the Alpinkatzen, it was a mixed blessing. To Hubert's displeasure, the radio stations rarely played any other track. Even six years after he left the Alpinkatzen, when Hubert made his comeback in November 2000, all the interviewers wanted to know if he would be playing Koa Hiatamadl live again. The answer came: a resolute 'no'.

Demand increased to see Hubert and the band live on stage. Rather than an audience of fifty, they were now playing to five thousand people at a time. The band toured all around the German speaking countries, even going as far as Denmark.

Aufgeigen stått niederschiassen soon went gold and Hubert invited the press and the record company officials to the top of Dachstein - a 3004m high mountain in Austria for the presentation. The climb was not easy - a metre of fresh snow had fallen on the two metres of old snow.

In 1994, the next album followed - Omunduntn. This featured Goisern, Hubert's tribute to his hometown of Bad Goisern adapted from Hoagy Carmichael's Georgia. Also on the album was Kokain Blues, a German translation of Cocaine from Alpine Lawine, plus another version of Kren & Speck.

The Omunduntn album was also accompanied by Das Video. This documented the band's travels to France for the Les Eurofolies Festival and to America to play in Austin. Although many in the audience may not have been able to follow many of the lyrics, Hubert introduced and spoke about each song in perfect English. From standing ovations and encores in Texas the band moved on to play a club in New York before flying back home.

There was no time for rest though. Hubert and the band continued the Omunduntn tour around Germany, Austria and Switzerland. However, the news soon broke that this would be the last tour. On the 1st November 1994, Hubert von Goisern und die Alpinkatzen would play their last concert. One of the last appearances at Circus Krone in Munich was recorded for posterity, with no expense spared, by the husband and wife team, Joseph Vilsmaier and Dana Vavrova. The resulting film was Wia die Zeit Vergeht (How The Time Flies). This was presented at the Munich Film Festival on the 1st July 1995.

Although an era had ended for Hubert von Goisern, he was by no means at a loose end, designing two fashion collections with tailor and friend, Klaus Höller, manufactured by the fashion house Meindl. He even made his acting debut on the TV film Hölleisengretl in 1994. He played one of the leading parts - Matthias - opposite Martina Gedeck as Gretl. Directed by Jo Baier, Hubert von Goisern played the role of the hunchbacked Hölleisengretl's husband. Matthias returns from Russia after the war and marries Gretl. After the wedding, however, he changes - spending more time in the inn and beginning to beat his wife. Apart from appearing in front of the camera, Hubert was unable to stay away from music and composed the soundtrack with Stefan Melbinger.

In 1995, the live CD from the Omunduntn tour was release, entitled Wia die Zeit Vergeht. The two CD set, filled with all the greatest hits, was preceded by a final single Weit, Weit Weg.

Joseph Vilsmaier originally wanted Hubert von Goisern to play the main part of Elias in his next film, Schlafes Bruder (Brother of Sleep), however, the restraints of the final tour meant that Hubert could not accept the part. He instead wrote the soundtrack with Norbert J. Schneider, also spending two nights at the organ in Salzburg's cathedral with Harald Fellner. Hubert also composed music for two films by his friend , Julian Pölsler: Die Fernsehsaga - Ein steirische Fernsehgeschichte and Sehnsüchte oder Es ist alles unheimlich leicht.

Greenpeace celebrated twenty-five years in 1996 and a CD was released, entitled Taten statt Warten. Hubert von Goisern contributed one track, Aquarium, with the Leoganger Kinderchor. The song came from the soundtrack of Ein Rucksack voller Lügen - a children's film for which Hubert provided the soundtrack, working with children from the Leoganger KinderKultur programme.

Hubert von Goisern had his first contact with Tseten Zöchbauer, the head of Save Tibet, in 1995. The following March, Tseten asked Hubert to support a tour of Tibetan artists from The Tibetan Institute of Performing Arts (TIPA), around Austria. Hubert accepted the offer on the condition that he could present the tour, rather than just add his name to the posters. His interest in Tibet and its people heightened and he asked Tseten, who had not been to her homeland since she was two years old, to accompany him on a journey to Tibet.

The pair spent about six weeks in Tibet and Hubert was unfortunately realising that all the tales of oppression in Tibet were true: there was no freedom. On their return to Austria, Tseten and Hubert gave a moving interview on ORF, explaining what they had seen.

Then Hubert set off on another journey with Wolfgang Spannberger - this time to Dharamsala. As well as meeting with His Holiness the Dalai Lama, he met up with the exiled Tibetan artists from the TIPA again. After some initial recordings of Tibetan songs were made in India in his mobile recording studio, Hubert invited four of the artists - Pasang Lhamo, Sherab Wangmo, Jamjang Chönden and Sonam Püntsok - back to Salzburg. The resulting recordings became the CD Inexil.

It was during the production of Wia die Zeit Vergeht that Hubert met Jane Goodall, the British chimpanzee research scientist. Their mutual friend, publisher Michael Neugebauer introduced them one evening in Bad Goisern. Hubert was entranced by Jane's stories of Africa and the pair talked for hours. She invited him to the National Park Gombe in Tanzania. In early 1996, Hubert made his first journey to Africa. He developed the idea of making a documentary about Jane's work and after another journey to Africa, BR and ORF expressed an interest in making the documentary that Hubert dreamed of. Von Goisern nach Gombe was the result and the soundtrack to the film was released on the Gombe CD.

At Hubert's suggestion, the town of Bad Ischl invited the Dalai Lama to Austria and on the 11th June 1998, the Dalai Lama paid an official visit. The following day, Hubert was the star guest at Hallmania - a light and laser show in Hallstatt. With Pasang Lhamo at the microphone and ex-Alpinkatzen member, Stefan Engel, at the keyboard, he gave the rain-soaked crowd a small preview of the Inexil album and finished with his homage to Hallstatt, Heast as Nit. Inexil and Gombe were released at the end of the month.

Then in summer 1999, Hubert von Goisern once more felt the desire to compose. He started in October of the same year and composed into the winter. Hubert made a clean break from the Alpinkatzen and chose a new band: Bernd Bechtloff, Burkhard Frauenlob, Arnulf Lindner and Helmut Punzenberger. The new band went into the studio in the summer of 2000. Finally, after waiting for six years, on 6th November 2000 the fans were able to buy Fön - Hubert's highly successful comeback album. A tour was planned for spring 2001 and many venues quickly sold out.

The Fön tour began on 3rd March in Linz after two warm-up concerts. Agnes Grasberger joined the studio band on stage as violinist. Two days after the start of the tour, Hubert released another album - Trad. This CD fulfilled Hubert's dream to release a collection of Austrian folk songs. Among the tracks from Fön, the band played a small selection from Trad on the tour.

In May 2001, Hubert was awarded the Amadeus Austrian Music Award for Best National Artist Rock/Pop. In his acceptance speech, he criticised the Austrian music industry and radio stations for not supporting Austrian artists. Many newspapers reported what he had said the next day and there was more coverage when it turned out that ORF had cut his speech in their broadcast.

At the end of May, two members left the group: Helmut and Arnulf. They were replaced by Wolfgang Blümel and Antonio Porto respectively. At the beginning of the autumn tour, a new violinist, Burgi Höller, replaced Agnes.

After a highly successful set of tour dates throughout 2001, Hubert von Goisern was invited to play in Egypt and West Africa. With some new band members in tow - Bernhard Wimmer on drums and Gerhard Überbacher on guitar and violin - Hubert travelled to Egypt, where he played to an audience of 15,000 in Assiut. He shared the stage with Egypt's most popular pop star, Mohamed Mounir and played a duet with him - the start of a deep friendship.

After Egypt, Hubert and the band spent three weeks touring West Africa, where they played concerts and met with local musicians. A TV team accompanied the band, making a documentary which was released on the Grenzenlos DVD, along with another DVD entitled Iwasig, which contained a recording of concert in Neumarkt, 2002.

Once the summer tour began in the German-speaking countries, a new violinist, Marlene Schuen, joined the band. The first single from Hubert in eight years was released on 1st July 2002 - Poika. Recording and mixing was completed on the new CD, his first to be released after a tour rather than before it. Iwasig was released to great acclaim on 16th September.

Aside from promotion for the new CD, Hubert made time for a cause very dear to his heart: Tibet. His Holiness the Dalai Lama came to Graz, Austria for the Kalachakra 2002 and as part of the celebrations, Hubert von Goisern and Tseten Zöchbauer presented a series of concerts given by the TIPA called Sounds of Tibet.

In October, Watzmann live was released on DVD to mark the thirtieth anniversary of the original show. The DVD included a behind the scenes documentary, including some footage of Hubert with his original musical partner, Wolfgang Staribacher from when the pair were part of the production in 1991.

Shortly before his fiftieth birthday on 17th November 2002 - an occasion marked by both television and press - Hubert von Goisern went to Cairo once more to meet with Mohamed Mounir to make arrangements for more cultural exchanges in 2003. After a winter club tour through Germany, Austria, Switzerland and Italy, Hubert once more gathered his musicians around him to begin work on Trad II. They shunned the usual studio in the city, instead taking all their equipment to the abandoned mountain hotel at 2100m above sea level on the Krippenstein mountain.

February 2003 saw Hubert von Goisern's third nomination for an Amadeus Award, having meanhwhile won in 2002 with Trad: Best National Male Artist for Iwasig. Nominated in the same category were DJ Ötzi, Rainhard Fendrich, Kurt Ostbahn and Ludwig Hirsch. However, Hubert did not attend the event, in protest at the continued neglect of Austrian artists by their own country's media.

After the release of the Grenzenlos and Iwasig DVDs in May, Hubert von Goisern and his band went on tour once more, including a concert in Sarajevo and a return trip to Cape Verde, where they played at the Gamboa Festival to an audience of around 90,000 people. The concert was broadcast live on national TV.

The 2003 tour was split into two parts, with Mohamed Mounir and his band joining Hubert and his musicians for three weeks on the road. The joint concerts included separate showcases for both artists as well as two spectacular joint sets, each night ending with Madad, Mohamed Mounir's song for peace. This impressive example of cultural exchange was met with open minds and open hearts by both fans and journalists, with many rave reviews appearing in newspapers across the German-speaking area.

In October, Hubert invited colleagues and journalists up to Krippenstein in order to present the finished CD from the recording sessions earlier that year. Songs from Trad II were showcased in the mountain hotel, situated among the already snowy landscape.

After the Süddeutsche Zeitung named Hubert "Best Artist", 2003 came to an end with the broadcast of Hubert von Goisern Trad II, a film of eight songs from Trad II, woven together with Hubert travelling around his homeland of the Salzkammergut. Hubert's trusty canine travelling companion, Bongo, was also to be seen in scenes including those from Bad Goisern and Hallstatt.

The first quarter of 2004 bode well for the rest of the year: Hubert's hometown of Bad Goisern honoured him with an Ehrenbürgerschaft, making him a freeman of Bad Goisern. The next honour to be bestowed was a stamp: Hubert von Goisern graces the 55 cent stamp. An initial run of 10,000 sold out in five days and a second run, with a slightly different design followed. The Trad II tour with the new band of Monika Drasch, Arnulf Lindner, Max Lässer and regular percussionist Bernd Bechtloff was also a great success, playing to full concert halls, and continued to the winter.

In January 2005, Hubert von Goisern took his band to Mali to play at the Festival au Desert. They also performed with local balaphon virtuoso Kele Tigi in the Akwaba club in Bamako. A camera team accompanied the musicians on their trip, resulting in the 45 minute film, Warten auf Timbuktu.

Although he announced that he would not tour for a couple of years, Hubert von Goisern has kept himself busy with music. In May, he presented his sound installation in the Dachstein ice caves and in the summer of 2005 he composed the new club anthem for the Red Bull Salzburg football team.

On 7th October 2005 Ausland came onto the market. The doublepack release consisted of a live CD from the 2004 TRAD tour, with recordings from Bad Aibling, Würselen, Freiburg, Oldenburg, Trier, Soest and Vienna, as well as a DVD of Warten auf Timbuktu. The following month, the film was shown as part of the Bergfilmfestival in Salzburg.

In November the Cologne group BAP celebrated their 30th anniversary and invited other musicians and singers to join them on a double album of re-recordings of their greatest hits. Hubert von Goisern sang a duet with Wolfgang Niedecken on Rita mir zwei and played his accordion on the track too.

After his popular song Heast as nit was played at an FPÖ rally in the Tyrol in April 2006, Hubert von Goisern published an open letter to HC Strache, leader of the party, requesting that his songs not be used at further FPÖ events. "I stand for an open, tolerant society, for the destruction of fear of the unknown and new, and not for the fomentation thereof," he wrote, "I stand for looking changes in the eye and looking forward, not for the attempt to stop time, or to even turn it back; that is the content of Heast as nit..."

Since autumn 2005, Hubert von Goisern has been preparing his grand vision for 2007 to 2009, with shows and artists from across Europe. However, before he begins the new project next year, a new release comes onto the market on 14th July. The double CD Derweil is a collection of 34 of the best songs from Hubert's career so far, chosen by Hubert himself. All his musical developments are represented and as a special treat, several new mixes and one previously unreleased song with Mohamed Mounir are to be found on the album.

Sarah Marchant
© www.hubertvongoisern.com