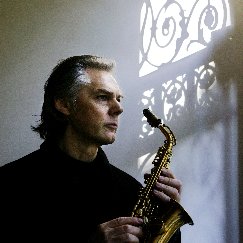 Jan Garbarek born 4 March 1947, in Mysen, Norway. Inspired by hearing John Coltrane on the radio in 1961, Garbarek taught himself to play tenor saxophone (subsequently adding soprano and bass saxophone). In 1962 he won an amateur competition, which resulted in his first professional work, and he was soon leading a group with Jon Christensen, Terje Rypdal and Arild Andersen. In 1968 he was the Norwegian representative at the European Broadcasting Union festival, and the recordings of this (notably an impressive version of Coltrane's "Naima") brought him to wider notice when they were transmitted throughout Europe.

Subsequently his style has become more severe, sometimes almost bleak, although there is a restrained warmth to his sound. Garbarek's playing is representative of the kind of music associated with Manfred Eicher's ECM Records and of a characteristically Scandinavian strand of jazz, melodic and atmospheric, which has little overt emotionalism but does not lack intensity. His writing and playing display considerable concern with tone and texture and appear to have exerted some influence on Tommy Smith and post-sabbatical Charles Lloyd (with whom he has shared colleagues Christensen, Keith Jarrett and Palle Danielsson) as well as a variety of European players such as Joakim Milder and Alberto Nacci. In the mid-70s he worked in Jarrett's 'Belonging' band with Christensen and Danielsson, recording the much-praised Belonging and My Song, and also played with Ralph Towner on Solstice and Sounds And Shadows. In the 80s his own groups have featured Eberhard Weber, Bill Frisell and John Abercrombie among others. His tours in the late 80s with a band including the remarkable percussionist Nana Vasconcelos were highly acclaimed and inspired many other musicians and bands to essay the juxtaposition of glacially imposing saxophone lines with exotic, tropical rhythm. Garbarek has also worked with Don Cherry, Chick Corea, David Torn and with George Russell during Russell's residency in Scandinavia in the late 60s - an association which resulted in a fine series of recordings that featured the young Garbarek, notably Othello Ballet Suite, Trip To Prillarguri and Electronic Sonata For Souls Loved By Nature (though none was released until the 80s).
Garbarek has also shown an increasing interest in folk and ethnic musics that has not only coloured his own playing but led to him recording with Ravi Shankar on the 1984 Song For Everyone and producing an ECM album for the Norwegian folk singer Agnes Buen Gurnas, 1991's Rosensfole. For Ragas & Sagas (1993), Garbarek collaborated with the Pakistani classical singer, Usted Fateh Ali Khan and trio of musicians playing tabla and sarangi, a 39-string violin. Garbarek's melodic solos effectively complemented the traditional Pakistani instrumental sounds. In the same year, Garbarek's Twelve Moons concentrated once again on the Scandinavian-folk melodies he is continually exploring. The album's emphatic rhythmic 'feel' was due in no small part to the presence of drummer Manu Katche and bassist Eberhard Weber. Rather surprisingly, given his avoidance of gallery-pleasing pyrotechnics, Garbarek has steadily acquired a public following equal to his huge critical reputation. Observers of the UK Top 75 album chart in the spring of 1996 would not have been as shocked as would a jazz fan, but horror upon horror, Garbarek's Visible World became a hit. The highly accessible nature of the opening tracks such as 'Red Wind', 'The Creek' and the folk inspired 'The Survivor' aided it's wider appeal. World music followers would also have found a great rapport with the 12-minute mantra 'Evening Land', featuring some wonderful vocals from Mari Boine.