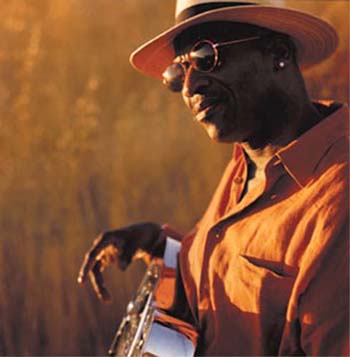 Henry Saint Clair Fredericks, better known by the stage name Taj Mahal (born May 17, 1942), is an American blues musician.
Taj Mahal was born in Harlem, in New York City, but grew up in Springfield, Massachusetts. His father was a jazz pianist/composer/arranger of Jamaican descent, while his mother was an African American schoolteacher from South Carolina who sang gospel. His grandfather married a St. Kitts woman. His sister was Carole Fredericks. In his song titled "Ain't It Funky Now", he talks about his past and where he grew up.
In the early 1960s he studied agriculture and animal husbandry at the University of Massachusetts Amherst and graduated in 1964. (The same university also gave him an honorary Doctor of Fine Arts degree in 2006.) While there he formed Taj Mahal & the Elektras; using a stage name of the Taj Mahal was inspired by a dream.
After college, he moved to Los Angeles and formed the group Rising Sons with Ry Cooder in 1964. The group signed with Columbia Records and released one single and recorded another album which was not released by Columbia until 1992. Taj, frustrated with the mixed reaction to his music quit the group and went solo. Still with Columbia, he released a well-received, self-titled album in 1968, and based on its success released a second album, Natch'l Blues that same year. The two-record set Giant Step, released in 1969 firmly established Taj as an American blues artist, with its title track becoming a cult favorite still popular with today's audiences. Taj and guitarist Jesse Ed Davis are also known for their performance in 1968 on The Rolling Stones Rock and Roll Circus. His music blends various sources: blues, reggae, Cajun, gospel, bluegrass, Hawaiian, African and Caribbean musical traditions. He plays an assortment of musical instruments.
He has received two Grammy Awards in the category Best Contemporary Blues Album, the first in 1997 for Señor Blues, and again in 2000 for Shoutin' In Key. In 2002, he featured on the Bo Diddley tribute album Hey Bo Diddley - A Tribute!, performing the song "Bo Diddley". He has performed on various movie soundtracks including Sounder and Blues Brothers 2000 in which he also appeared. He also appeared briefly in the motion pictures Bill and Ted's Bogus Journey (as the gatekeeper), Six Days Seven Nights (as the singer at a resort hotel), Divine Secrets of the Ya-Ya Sisterhood (as the leader of a swing band performing at a party), Outside Ozona and The Song Catcher. He can also be heard singing the theme song and playing the acoustic guitar soundtrack on the children's cartoon Peep and the Big Wide World. In addition, he wrote and performed the title theme song to the Star Wars spinoff cartoon series, Ewoks. He is also the composer of the famous song She Caught The Katy (along with Yank Rachel) which is the first song performed by Jake Blues (John Belushi) at the beginning of the movie The Blues Brothers.
In 2006, he appeared as a guest musician on the Ladysmith Black Mambazo album Long Walk to Freedom, playing an electric guitar backing for "Mbube" ("The Lion Sleeps Tonight"). On February 8, 2006, Taj Mahal was designated the "official Blues Artist" of Massachusetts by Chapter 19 of the Acts of 2006. On December 16, 2006, he appeared with his band, Taj Mahal Trio, at the 18th Annual Warren Haynes Xmas Jam in Asheville, NC. The appearance was recorded for an upcoming DVD which is to be released in early 2007.
In 2006, Taj Mahal moved from Hawaii, where he had lived during the peak of his career in the 1970s and since 1992, to Berkeley, California, where he had lived previously, during the days of the Free Speech Movement (1964–1965). Earlier, on 8 February 2006, he was named the official Blues Artist of the Commonwealth of Massachusetts.