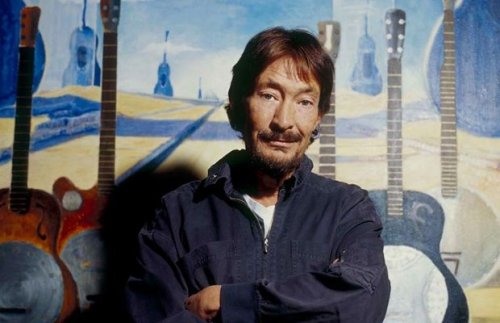 Left handed singer/song writer Chris Rea was a late starter in anyone's terms, learning guitar (as a right hander) in his late teenage years and released his first single "So Much Love" in 1974. It was not a success.
After several years refining his skills in a local band "Magdelene" later renamed "The Beautiful Losers", Chris Rea began work on an album with Gus Dudgeon which finally attracted some attention. 1978's "Whatever Happened To Benny Santini" included the hit "Fool (If You Think It's Over)" which charted well in the US and prompted its re-release in the UK where it eventually cracked the Top 30. The album achieved gold status in the States and "Fool..." was nominated for a Grammy but failed to win. However in his homeland "...Benny Santini" disappeared as quickly as it came.
The follow up album also produced by Dudgeon reversed the trends. It charted in the UK but bombed in the US. The single "Diamonds" however charted well in both the US and the UK reaching both Top 50's.
The follow up albums "Tennis" and "Chris Rea" likewise had moderate success in the UK, no doubt bolstered by the many live shows Chris Rea embarked on. In the US however the albums were less successful and whilst there was some single success for "Loving You" from the self-title album, neither album charted.
In 1983 with things looking grim, a lifeline from the Continent and Ireland saved Rea from packing things in. "In 1983 it was just about rock bottom", says Chris. "I was ready to give up." It was a call from Ireland wanting to promote the album "Watersign" that changed everything. Although the US by now had permanently lost interest, and the UK was not taking much notice, Ireland and Europe were keen to hear more . The dance-beat single "I Can Hear Your Heartbeat" and the album both cracked the Top 20 of several European countries and a full scale tour was conducted to consolidate on the successes being realised.
The album "Wired To The Moon" released the following year yielded the hit Single, "I Don't Know What It Is But I Love It". A UK Top 100 hit and another dance beat single that, along with "...Heartbeat", became club hits in Europe and were given the remix treatment. "Wired To The Moon" was Rea's most successful album to date in the UK cracking the Top 40.
In 1985 "Shamrock Diaries" was released and yielded the hit singles "Josephine" and "Stainsby Girls" reaching number 67 and 27 in the UK respectively. This success was repeated in many European countries especially Germany, Holland and Belgium. This was also the album that "broke" for Rea in Australia where it also sold well.
The follow up album and single "On The Beach" also sold very well just failing to reach the UK Top 10 album charts and went gold in Australia, New Zealand and Japan.
"Dancing With Strangers" contained Rea's biggest selling single "Let's Dance" that peaked just outside the UK Top 10 singles and sparked a brief resurgence in the US where it reached the Top 100 singles. The album though finally reached Number 2 in the UK going gold in its first week. A tour of Australia ensured his moderate success there was maintained and the European tour after that did the same there.
With a new record company the "On The Beach" single and album was re-issued and charted better than the original placing in the UK. The re-recorded compilation "New Light Through Old Windows" was released to let those late-comers in on what they had missed. Rea felt many of his earlier recordings needed polishing. Included for completists were two new tracks. The album reached number 5 in the UK and made a brief appearance in the US Top 100 albums.
The album "The Road To Hell" released the following year was an instant smash. Number 1 in the UK and containing two more hit singles "Tell Me There's A Heaven" and "Texas". A 52-date UK and European tour followed to capitalise on this success.
Another tour the following year to promote "Auberge" was just as successful and "Auberge" debuted in the UK Number 1 album spot. Four singles from the album all sold well, three reaching the Top 50.
"God's Great Banana Skin" the following year failed to sell quite as well but still went UK Top 5 with the Top 20 Single "Nothing To Fear" also proving a success. A four-month tour of Europe followed.
In 1993 Rea got involved in his first soundtrack work for the film "Soft Top Hard Shoulder" writing the entire score. Another album went Top 10 "Espresso Logic" which contained his last Top 20 single "Julia". Chris starts to follow his other passion, motor racing.
A planned Canadian/European tour for 1995 was called off when it was discovered that Chris was not well. "First I had a collapsed colon, which needed immediate surgery, then I had a post-operational abscess which gave me full-scale peritonitis." He still managed to write a track for use by the Ford motor company and oversaw a Best of album that again charted UK Top 5 and sold well throughout Europe.
The following few years were quiet musically for Chris Rea. A film written by, acted in and scored by Chris, "La Passione", is received to mixed reviews and a less than ecstatic fan base. The acting bug bit again and saw Chris act in a film called "Parting Shots" that was fairly savaged by the critics.
Not content to leave it there, Chris wrote and performed a song for the German film series "Schimanski". The song was "The Blue Cafe" and became the title track to his follow up album which was his last Top 10 album.
The Road to Hell 2 is released the following year and marked quite a musical change. Inspired by the traps of modern living, the album was a collection of tunes dominated by drum programs and computer samples. Again the fans were mixed in their opinions.
Illness again forced Chris to reassess and whilst holidaying in the Bahamas, inadvertently wrote the lyrics to his most recent album "King Of The Beach". Two singles have so far been released but chart success now appears to be a thing of the past.
Deciding that there was nothing left to prove musically, Rea began work in 2001 on his pet project, a Chicago blues sounding album. Locking hinself away in France with his trusted bunch of muso mates, they completed "Dancing Down The Stony Road" and the accompanying Making Of documentary, available on DVD. This double CD was a dream realised. Finally, Rea had produced the album that heHad always wanted to. The fledgling lable Jazzy Blue signed Rea and the album, and fans and critics were almost unanimous in their praise. Several singles were released though none saw great chart success.
Touring was back on the cards and a small European and UK tour played to solid and loyal houses.
2003 saw the release of the mostly instrumental blues album, "Blue Street (Five Guitars). The album was again well received, though some long-term fans still harken for the good old days of Rea's pop/rock leanings. Released simultaneously was the album "Hoffner Blue Notes" that was a sort of companion piece, though more a jazz-blues sound, but it has signalled a new phase of Rea's career.
What lies ahead? Only Chris Rea possibly knows that.
In summary, Chris Rea's career spans 25 years, 23 albums and numerous singles and tours. Whilst the heady days of chart success are probably behind him now, there still exists a very large and strong fan base that eagerly awaits each release, even if some albums of late have been less commercial. Success in Europe is still guaranteed, lack of success in the States has been accepted and the UK and the rest of the world seem interested in varying degrees. I guess when you've had number one albums and success like this, it can lose its appeal. Chris Rea has been there and done that. He's still doing it but very much on his own terms.