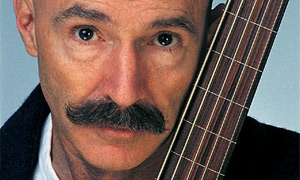 Tony Levin (born June 6, 1946) is an influential and prominent bass player. He has played with Peter Gabriel, King Crimson, Yes, Liquid Tension Experiment, Pink Floyd, John Lennon, Dire Straits, Joan Armatrading, Alice Cooper, Seal, David Bowie, Pandora's Box, Carly Simon, California Guitar Trio, Sarah McLachlan, Kevin Max, and Paul Simon, among many others. Known for his innovative spirit, Tony Levin is partly responsible for popularizing the Chapman Stick and the NS Upright Bass. He has also created Funk Fingers, a device for mimicking the sound of hitting the strings with drumsticks. Levin is a widely-respected bass player, who famously brings great playing, great grooves, great humour and great espresso to any project he touches. He's probably most famous for that bassline from Peter Gabriel's "Sledgehammer", but most fans would point to King Crimson for his best work. In addition to his work as a sideman and in collaborative projects, he has various solo albums (Waters of Eden, Pieces of the Sun), and a live Tony Levin Band album.
Tony Levin was born in Boston on June 6, 1946. He grew up in the suburb of Brookline and began playing upright bass at 10 yrs old. In high school, he picked up tuba, soloing with the concert band. He also started a barbershop quartet. But he primarily played classical music on the upright, most notably performing at the White House with a youth orchestra for John and Jackie Kennedy. He then attended the Eastman School of Music in Rochester, NY and played in the Rochester Philharmonic. Also at the school was Steve Gadd, now a renowned drummer, who introduced Tony to playing a higher level of jazz and rock. He traded in his Ampeg baby bass for an old (at that time) Fender Precision Bass, which was his only instrument for many years.
In 1970, Tony moved to New York City, joined a band called Aha, the Attack of the Green Slime Beast, with Don Preston of The Mothers of Invention. Soon after, he began working as a session musician and through the 1970's he played bass on many albums. In the late '70s wanting to do more live playing, Tony joined Peter Gabriel's band. He had met Peter through producer Bob Ezrin (with whom Tony had recorded Alice Cooper's Welcome to My Nightmare, and Lou Reed's Berlin.) Tony has played with Gabriel, both on the road and in the studio, since then. On that first Peter Gabriel album, Tony played some tuba as well as bass, and directed a short barbershop quartet version of a song. It was in these early years with Gabriel that Tony developed his playing of the Chapman Stick. More recently, the song Big Time, from Gabriel's So album, inspired the development of Funk Fingers, which are chopped off drumsticks used to hammer on the bass strings. Levin credits Gabriel with the idea, and Andy Moore, his tech at the time, with actually making them workable.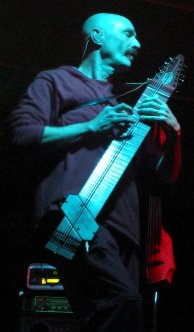 In 1978, Tony moved to Woodstock, NY, to join the band L'Image, which included his old friend Steve Gadd, as well as Mike Mainieri and Warren Bernhardt. The band, which did some very special music, broke up after a year, and Tony stayed in Woodstock, where he still lives. On Peter Gabriel's first album, Tony met Robert Fripp and, in 1980, after having played on Fripp's solo album Exposure, he became a member of the '80s incarnation of King Crimson. Through the years, Tony has toured with quite a few artists including: Paul Simon (with whom Tony appeared in Simon's 1980 film "One Trick Pony"), Gary Burton, James Taylor, Herbie Mann, Goro Noguchi, Judy Collins, Joe Yamanaka, Carly Simon, Peter Frampton, Anderson Bruford Wakeman Howe, Tim Finn, Richie Sambora, and Claudio Baglioni.
In 1984 Tony released "Road Photos," a collection of black & white photos taken during his travels with Crimson, Gabriel, Simon and others. Tony's brother, Pete, is a New York keyboardist and writer who is best known for his work with Gil Evans. Back in the 70's, Tony and Pete collaborated with Steve Gadd in the comedy band The Clams. Tony still threatens to release some Clams material some day. Tony was part of King Crimson up until the breakup of the "Double Trio" line-up of the band which consisted of Tony Levin, Robert Fripp, Adrian Belew, Trey Gunn, Pat Mastelotto and Bill Bruford; he also took part in two of the post-breakup experimental sub-groups ProjeKct One (1997) and ProjeKct Four (1998). Robert Fripp then reformed King Crimson as a quartet, without Levin and Bruford.
In 1998, Levin and Bruford formed Bruford Levin Upper Extremities with trumpeter Chris Botti and guitarist David Torn; the group released albums in 1998 and 2000. Levin also continued producing solo albums (see discography). In 1998, Levin joined Liquid Tension Experiment, a Dream Theater side-project. The combo recorded two albums, Liquid Tension Experiment and Liquid Tension Experiment 2 in 1998 and 1999 respectively. They also played some live shows in New York, Philadelphia, and Los Angeles.
In 2004, Trey Gunn left King Crimson, and Tony Levin rejoined in his stead. Although the future of King Crimson, especially as a touring band, is unclear, Tony Levin remains a member of the band.