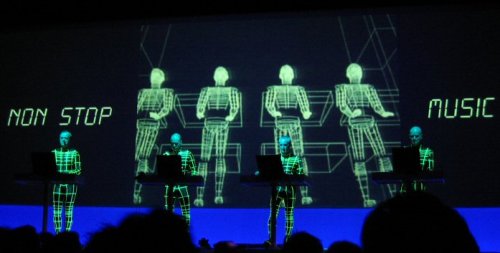 Kraftwerk (pronounced [ˈkʁaftvɛɐk], German for "Power plant") is a German musical group who have made significant contributions to the development of electronic music. The band was founded by Florian Schneider-Esleben and Ralf Hütter in 1970, but became widely known as a quartet consisting of Wolfgang Flür and Karl Bartos alongside the founding members. The techniques Kraftwerk introduced, together with the equipment they developed, are now commonplace in modern music. They have been a major influence on the popular music of the end of the 20th century. Some have even suggested that Kraftwerk are as influential as The Beatles.
History
Kraftwerk was founded in 1970 by Florian Schneider-Esleben (flute) and Ralf Hütter (keyboards), the pair setting up their Kling Klang studio in Düsseldorf. The two had met as students at the Düsseldorf Conservatory in the late 1960s, participating in the experimental music scene of the time which the UK music press dubbed "Krautrock". The early Kraftwerk line-ups (1970-1974) fluctuated, Hütter and Schneider working with around half a dozen other musicians over the course of recording four albums and sporadic live appearances - most notably guitarist Michael Rother and drummer Klaus Dinger, who left to form Neu!. The input, expertise and influence of producer/engineer Konrad "Conny" Plank was also significant. Plank worked with many other leading German acts (including members of Can, Neu!, Cluster, Harmonia) and largely as a result of his work with Kraftwerk, Plank's studio near Cologne (Köln) became one of the most sought-after studios in the late 1970s. Plank produced the first four Kraftwerk albums, but ceased working with them after the commercial success of Autobahn, apparently over a dispute about contracts. Painter Emil Schult became a regular collaborator with the band beginning in 1973 (originally playing bass guitar and electric violin, then designing artwork and additional lyrics, and accompanying them on tour). What is generally regarded as the classic Kraftwerk line-up formed in 1975, for the Autobahn tour. This saw the band presented as an electronic quartet, with Hütter and Schneider joined by Wolfgang Flür and Karl Bartos as electronic percussionists. This quartet would be the band's public persona for their classic output of the 1970s and 1980s. (Flür had joined the band in 1973 as a drummer, in preparation for a television appearance to promote their third album. This show saw the public debut of the group's striking self-built electronic percussion pads, played by Flür). The band is notoriously reclusive, so much so that it is rumoured that their own record company does not have their phone numbers. Another notable example of their eccentric behaviour was reported to Johnny Marr of The Smiths by Karl Bartos, who explained that anyone trying to contact the band for collaboration would be told that their studio telephone did not have a ringer, as during recording the band did not like to hear any kind of noise pollution. Instead, they were instructed to phone the studio at a certain time on the dot, whereupon the phone would be answered by Ralf Hütter, despite himself never hearing the phone ring. Hütter: "The telephone is an antiquity — you never know who is calling, there is no image, it is an outmoded product which constantly disrupts work." (interviewed in Liberation, 1991) After years of withdrawal from live performance, Kraftwerk began to tour again more regularly from the late 1990s onwards. Ralf had wanted to play more shows over the years, but the undertaking of shipping all their huge, analog equipment hindered world tours and travel outside of Europe. During this decade the band often stated they were working on new material — though speculation about release dates fell through several times. The growing time between recordings, the rarity of live performances and the increasingly exacting and protracted nature of the recording process were the major reasons behind the departure of Flür and especially Bartos, whose improvisations were an essential part of the earlier Kraftwerk recordings. Following the departure of Flür and Bartos, various Kling Klang studio personnel such as Fritz Hilpert and Henning Schmitz have appeared in the Kraftwerk line-up.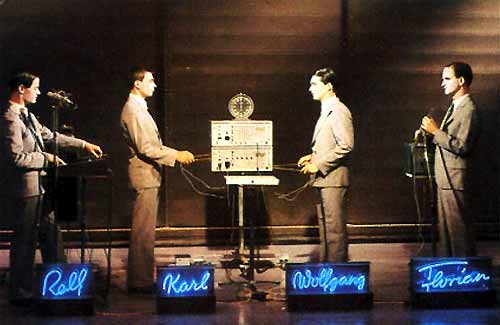 A website, www.kraftwerk.com appeared in November 1996, with further development work occurring since 1999 and the resumption of audio releases by the group. Like the parallel releases of both German and English language recordings, the website is now accessible with either international (.com) or German (.de) locators. There has also been a separate merchandise website www.klingklang.com since Kraftwerk gained control of that domain name from a previous owner. In late summer 1999 the original recordings of "Tour de France" were finally released on CD, signalling the re-commencement of public activity. The single Expo 2000, their first new song in 13 years, was released in December, 1999, and was subsequently remixed by contemporary electronic musicians such as Orbital. The electronic drum pads in use during a performance in 1975. In 2000, ex-member Flür published his autobiography in Germany, Kraftwerk: I Was a Robot, which revealed many previously unreported details about life in the band. This book met with hostility and litigation from Hütter/Schneider, who disputed several of its claims (e.g. that Flür had built the band's first electronic drum pads) and objected to the public discussion of personal information. In August 2003, the band finally released Tour de France Soundtracks, their first album of new material since 1986's Electric Café. June 2005 saw the release of a live album, Minimum-Maximum, which was compiled from the shows on the band's European tour of spring 2004 and received extremely positive reviews. Most of the tracks featured had been heavily reworked and remodelled from the existing studio versions. The album was nominated for a Grammy Award for Best Electronic/Dance Album. Released with the album was a Minimum-Maximum DVD, featuring live footage of the band performing the Minimum-Maximum tracks in various venues all over the world.

Music
After several early experimental albums, their breakthrough came in 1974 (1974 in music) with the Autobahn album and its 22-minute title track featuring the "motorik" beat (you can hear a sample on the album's page), which was a worldwide hit and demonstrated their increasing reliance on synthesizers and electronics. This was followed by a trio of albums that were to exert a huge influence on popular music — Radio-Activity (1975), Trans-Europe Express (1977) and the seminal The Man Machine (1978). Kraftwerk's lyrics deal with postwar European urban life and technology — travelling by car on the Autobahn, travelling by train, using home computers and the like. The lyrics are usually very minimal, but reveal both an innocent celebration of, and a knowing caution about, the modern world, as well as playing an integral role in the rhythmic structure of the songs. Many of Kraftwerk's songs express the paradoxical nature of modern urban life — a strong sense of alienation existing side by side with a celebration of the joys of modern technology. Kraftwerk were one of the first "pop" acts to record using pure electronic (or electronically processed) instruments and sounds exclusively. Many of the vocals in Kraftwerk songs are processed through a vocoder, or generated using speech synthesis software — in addition a Texas Instruments Speak and Spell (and Speak and Math) was used on their 1981 album Computer World. They also pioneered the use of backing tracks that were generated by the electronic sequencing of purely synthetic sounds. Notably, all of their albums from Radio-activity onwards have been recorded in two separate versions: one with German vocals for sale in Germany, and one with English vocals for international sale, with occasional other language variations when conceptually appropriate. The single "Tour de France" featured lyrics in French (as does the 2003 album Tour de France Soundtracks). The German language versions are Kraftwerk's attempt to provide an alternative to the dominant Anglo–American influence in rock and pop music: "So you see another group, like Tangerine Dream, although they are German they have an English name, so they create onstage an Anglo–American identity, which we completely deny. We want the whole world to know that we are from Germany, because the German mentality—which is more advanced—will always be part of our behavior. We create out of the German language, the mother language, which is very mechanical; we use it as the basic structure of our music." (Hütter)
Albums
1970: Tone Float (as Organisation)
1970: Kraftwerk
1971: Kraftwerk 2
1973: Ralf und Florian
1974: Autobahn
1975: Radio-Activity (German title: Radio-Aktivität)
1977: Trans-Europe Express (German title: Trans-Europa Express)
1978: The Man-Machine (German title: Die Mensch-Maschine)
1981: Computer World (German title: Computerwelt)
1986: Electric Café
1991: The Mix (remix album)
2003: Tour de France Soundtracks
2005: Minimum - Maximum (live album)
2006: The Catalogue / Der Katalog (remastered box-set of albums 1974–2003, planned for release on compact disc, vinyl record and Super Audio CD format for summer 2006)
Live shows

Live performance has always played an important part in Kraftwerk's activities. Also, despite their live shows generally being based around formal songs and compositions, live improvisation often plays a noticeable role in their performances—this trait can be traced back to the group's roots in the experimental krautrock scene of the late 1960s, but significantly, it has continued to be a part of their playing even as they make ever greater use of digital and computer-controlled sequencing in their performances. Many of the band's familiar compositions have been observed to have developed from live improvisations at their concerts or sound-checks.
Early gigs 1970–1974

Early in the group's career, between 1970 and 1974, the group made sporadic live appearances, mostly in their native Germany, with a variety of different line-ups. A few of these performances were for television broadcasts. The only constant figure in these line-ups was Schneider, whose main instrument at the time was the flute, and also violin and guitar, processed through a varied array of electronic effects. Hütter (who left the band for a 6 month period in 1971) played electronic keyboards (including Farfisa organ and electric piano). At least some of their performances were made as a duo, using a simple "beatbox"-type electronic drum machine with preset rhythms (taken from an electric organ). Various other musicians who appeared on stage as part of the group during these years included Klaus Dinger (acoustic drums), Andreas Hohmann (acoustic drums), Michael Rother (electric guitar), Charlie Weiss (drums), Eberhard Kranemann (bass guitar), Plato Kostic (bass guitar), Emil Schult (electric violin, electric guitar), Klaus Roeder (electric violin, electric guitar), and Wolfgang Flür (electronic percussion). Documentation of this period in the group's history is sparse, with Hütter and Schneider not keen to talk about it in interviews. A few bootleg recordings are in circulation. The only official released material is their 1971 performance on the German Beat Club TV show, which is available on DVD.
Tours with the 'electronic quartet' line-up, 1975–1981
1975 saw a turning point in Kraftwerk's live shows. For the first time, with financial support from their record company, they were able to undertake a multi-date "tour" (to promote the Autobahn album). This tour took them across the Atlantic to the USA for the first time. The tour also saw a new stable live line-up, in the form of an "electronic quartet". Hütter and Schneider both mainly played keyboard parts on synthesizers such as the MiniMoog and ARP Odyssey, with Schneider's use of flute diminishing. The two of them also sang vocals on stage for the first time, with Schneider also using a vocoder live. Wolfgang Flür and new recruit Karl Bartos performed live electronic percussion using custom-made (and at the time, unique) sensor pads hit with metal sticks to complete a circuit and trigger analogue synthetic percussion circuits (initially cannibalized from the aforementioned organ beatbox). Bartos also used a vibraphone/Glockenspiel instrument.

Between 1975 and 1981, Kraftwerk toured regularly to accompany each of their album releases (the exception being for The Man-Machine), with the same Hütter-Schneider-Bartos-Flür line-up. Emil Schult generally fulfilled the role of tour manager. As this period progressed, the band's set focussed increasingly on song-based material, with vocals, using less acoustic instrumentation (flute, vibraphone) and increasing amounts of sequenced and automaticed electronic equipment for percussion and musical lines. Their approach was generally to use the sequencing equipment interactively, however, allowing them still to improvise. Flür was heavily involved in designing customized modular housing and packaging for their equipment, culminating in the Computer World tour of 1981, where the band effectively packed up their entire Kling Klang studio and brought it on the road with them. The band also developed an increasing use of visual elements in the live shows during this period. This included back-projected slides and films, increasingly synchronised with the music as the technology developed, an experimental light-beam activated "drum cage" allowing Flür to trigger electronic percussion through arm gestures, use of hand-held miniaturised instruments during the set, and perhaps most famously, the use of accurate replica mannequins of themselves to 'perform' onstage in the song "The Robots". Several bootleg recordings of this period have been widely available, some even in high-street retail stores, particularly from the Autobahn and Computer World tours.
1990s and beyond
The completion of the 1981 Computer World tour then saw almost a decade-long hiatus in Kraftwerk's live activities. They did not perform again until 1990, by which time Flür had left the band. The next proper tour was in 1991, for the album The Mix. By this time, Bartos had also left the line-up. Hütter and Schneider wished to continue the "electronic quartet" style of presentation, and recruited engineers Fritz Hilpert, and initially Portuguese Fernando Abrantes, soon replaced by Henning Schmitz, to take to the stage with them. From this point onwards, the band's equipment increasingly deprecated manual playing, replacing it with interactive control of sequencing equipment. Hütter retains the most manual performance, still playing selected musical lines by hand on a controller keyboard, and singing live vocals. Much of Schneider's live vocoding has been replaced by software controlled speech-synthesis techniques. By 2002, the band were touring using four laptop computers, running all their sequencing, sound generating and visual display software. Back-projected computer-generated video, synchronised with the songs, was an increasingly integral component of the show. The band also continued to develop their "robots", which by now featured computer-controlled mechanically pivoted limbs, allowing them to "dance". The increased availability and sophistication of portable digital recording equipment means that bootlegs from this period are numerous, despite the band's efforts to prevent such recordings. In 2005, the band released their first ever official live album, Minimum-Maximum, recorded on their 2004 tour.

A DVD of their 2004 world tour, Minimum-Maximum DVD is also currently available.
* The Guardian, Desperately seeking Kraftwerk
* NME, Kraftwerk : Minimum-Maximum Live
From Wikipedia, the free encyclopedia
Home page: www.kraftwerk.com