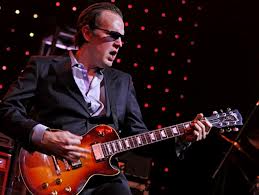 Joe Bonamassa (born May 8, 1977) is an American blues rock guitarist and singer. He began his career playing guitar in the band Bloodline, which also featured the offspring of Miles Davis, Robby Krieger of The Doors, and Berry Oakley of The Allman Brothers Band. He released his first solo album A New Day Yesterday in 2000, and has since released ten more solo studio albums, five live albums and four live DVDs, along with three albums with the band Black Country Communion, one with funk super-group Rock Candy Funk Party and two albums in collaboration with vocalist Beth Hart. He tours the world regularly, and has developed a large following in the U.S. and U.K. specifically. His most recent album, Driving Towards The Daylight, reached #2 on the U.K. Top 40 Albums Chart, and he completed an arena tour there in 2012. In 2009 he was the recipient of the Classic Rock Magazine "Breakthrough Artist of the Year" award, and The Guardian said of him: "the 35-year-old from upstate New York has consolidated a reputation as the pre-eminent blues-rock guitarist of his generation".

Bonamassa has collaborated with numerous artists, including B.B. King, Eric Clapton, Blondie Chaplin, Beth Hart, Paul Rodgers, Leslie West, Jon Lord, Vince Gill, Sandi Thom and Glenn Hughes. He also played with Hughes in Black Country Communion, along with Jason Bonham and Derek Sherinian. Joe Bonamassa's music contains a mix of several different genres: although it is primarily blues rock, since relocating to Santorini, Greece in 2009 to record the album Black Rock (named after the studios in which it was created), his music has gained eastern influences, with the addition of instruments such as the bouzouki and clarinet (for instance, on "Black Lung Heartache" from Dust Bowl and "Athens to Athens" from Black Rock). He has also covered songs by John Hiatt and Leonard Cohen.

In 2009 Bonamassa, bassist and vocalist Glenn Hughes, drummer Jason Bonham and keyboardist Derek Sherinian formed the supergroup Black Country Communion. They were forced to add the word 'Communion' to their name after another band called Black Country raised an objection. The band's first album, Black Country, was released in September 2010 to critical acclaim, charting in the U.K. Top 20 and the U.S. Top 60. The band continued working with Kevin Shirley for their second album, simply titled 2, which arrived in June 2011. In February 2012 the band released its first concert album, Live Over Europe. Their third album Afterglow will be released in 30 October 2012. Bonamassa is primarily the group's guitarist, but has also contributed lead vocals to some songs, such as "Song of Yesterday" and "The Battle for Hadrian's Wall".

In March 2013, Bonamassa released a statement saying that he was "Happily no longer involved" with Black Country Communion, followed a few days later by a statement from Glenn Hughes stating that the band was "over".