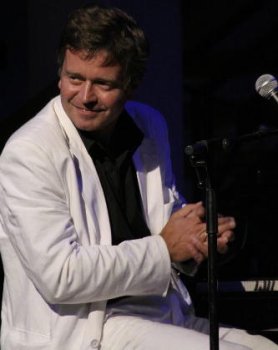 Michael Pewny was born in Vienna on November 11th, 1963. As making music runs in the family, he started playing classical piano at the age of six. At age thirteen, he taught himself to play Blues & Boogie Woogie piano by listening to old records of his favourite piano players, Albert Ammons, Pete Johnson and Meade Lux Lewis, who were popular in the USA in the late 30s. It was the legendary 1976 Vienna Boogie Woogie Session which inspired him to intensify his piano efforts.
Already in 1979 Michael had his first concert at the VHS in Hietzing and then at the Viennese blues club "Papa's Tapas" not before 1981. After nine years of playing in clubs (especially at Jazzland and Roter Engel) to finance his university studies and during the ensuing military service, he recorded his first LP "Vienna Boogie Woogie" with Torsten Zwingenberger on drums in 1988.
In 1990, Bellaphon became interested in his music and released "Left Hand Roller" featuring Michael together with the British singer Dana Gillespie. After several trips to the USA with Günther Schifter, primarily to New Orleans, and journeys to Asia, he recorded his second CD "Boogie On My Mind" featuring Martin Wichtl on saxophone and the singer Sabine Ruzicka from Krems (unfortunately the cooperation came to a halt when she pursued a medical career).
In 1994, Bellaphon released the CD "Vienna Boogie Woogie", followed by "Crazy 'Bout Boogie" in 1996, which featured Christian Dozzler on harmonica, vocals and accordion. Festivals in Austria (Vienna) and abroad (Munich, Paris, Ecaussinnes and Burghausen) as well as trips to L.A. and Barcelona gave Michael inspiration and ideas for the recording of "Movin' To Chicago" in 1999, which features Al Cook, Martin Breinschmid and his father Leopold. It was the first recording under the control of his own label "Susy Records".
In 2000, on the occasion of his 20th stage anniversary, which coincided with the Millennium year, he released "20 Years Jamboree" in co-operation with Oscar Klein, Gerd Stächelin and Hans Bichler.
In 2001 Steamin' Blues was released by Susy Records which has been featuring Sister Shirley Sydnor (USA), Katie Kern, Gerald Seilinger, Alfred Winter and Heini Altbart.
2003 was an interesting and very international year. First of all the production of his first DVD and then festivals in Lugano (Switzerland) with Silvan Zingg and Axel Zwingenberger, La Roquebrou (Southern France) with fellow musicians from all over the world, including Jean Paul Amaroux, Martijn Schok, Ricky Nye, Christian Bleiming, Errol Dixon, Stefano Franco und Greta Holtrop, and last but not least Chicago and his meeting with US performer Karen Caroll with whom we did start 2004 in a concert.
At the occasion of this year's concert at Burg Perchtoldsdorf it was decided this year to release the 2002 recordings with Anke Lamprecht and the Timeless choir and the 2003 recordings with Karen Caroll on CD.
This year, Michael is celebrating his 25th anniversary in stage. Festivals in Hamburg (with Axel Zwingenberger, Joe Bohnsack, Wince Weber) as well as his visit to the U.S. and his meeting with The Comets in Las Vegas (50 Years of Rock`n Roll at the Vienna Konzerthaus on Nov. 12th) and Fats Domino in New Orleans, gave Michael more inspiration and motivation for the next Concerts in Vienna with Sweet System (F), Axel Zwingenberger, Christian Dozzler and Christoph Steinbach and for the next year.
Nowadays, Michael plays solo or with his band and he loves playing with blues musicians from all over the world like Big Jay McNeely, Bill Haley's Original Comets,Vera Love, Mojo Blues Band, Axel Zwingenberger, Silvan Zingg, Jean Paul Amaroux or Jean Pierre Bertrand, just to mention a few. Very interesting meetings at concerts with Memphis Slim, Sammy Price, Blind John Davis, Big Joe Turner or Linda Hopkins unfortunately never did end in a musical-cooperation apart from having a wonderful session with Champion Jack Dupree at Jazzland, Vienna.
We all are looking forward to meet you at our next concerts to celebrate together Michael`s 25th anniversary on stage this year.
Leopold Pewny, Vienna, 2004
Official Homepage: www.pewnyboogie.at