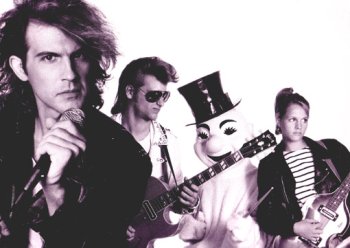 Men Without Hats are a pop group from Montreal, Quebec that achieved their greatest popularity in the early to mid 1980s. They were characterized by the deep, expressive vocals of their lead singer Ivan and their elaborate use of synthesizers and electronic processing. Their most-remembered single was titled "The Safety Dance".
Men Without Hats - a new wave band. At the core, Men Without Hats consisted of Ivan Doroschuk and his brother Stefan Doroschuk, with various other members, including his third brother, Colin Doroschuk, as well as Jeremy Arrobas, Tracy Howe, Roman Martyn, Mike Gabriel, Jean-Marc Pisapia, Lenny Pinkas, and Allan McCarthy. They emerged with an EP called Folk of the 80's (1980). Tracy Howe was only with the band briefly, but long enough to be credited on a reprint of Folk of the 80s, despite not appearing on it. Pisapia went on to form The Box, and later, Arrobas and Gabriel left to work with him for a while, eventually founding their own group, Isinglass.A popular but unconfirmed tale is that the name originated from a misread announcement to one of their early gigs as "Men Without Hate" by a francophone MC in Montréal.
Though that tale may be unconfirmed there is fact that Men Without Hats first started off in bars as Men With Hate, but they decided to change the name to Men Without Hats as they always threw their hats off at the end of a performance. The band erupted onto the international scene a couple of years later with their hit single "The Safety Dance" from their debut album Rhythm of Youth. They charted once again with the title track from their 1987 album, Pop Goes the World. The song was also featured in the movie Date with an Angel (1987), starring Phoebe Cates, Emmanuelle Béart and Michael E. Knight. The next album The Adventures of Women & Men Without Hate in the 21st Century, released in 1989 featured a cover of ABBA's song "SOS".
Their 1991 album Sideways, dominated by processed electric guitars instead of keyboards, revealed a dramatically different sound for the band. The album failed to attract an American label, and the band broke up. Following the break-up, Ivan released a solo album, The Spell, in 1997. Stefan and Mack MacKenzie (of 3 O'Clock Train) released Ride of Glory, a post-modern Western-themed CD.
Stefan and Ivan regrouped to release No Hats Beyond This Point in 2003.

From Wikipedia, the free encyclopedia