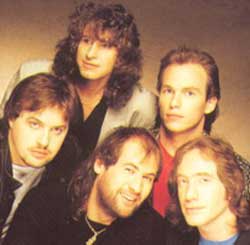 Marillion first appeared in a recognisable form in early 1982, when the line-up of Fish - aka. Derek W. Dick (vocals), Steve Rothery (guitar), Mark Kelly (keyboards), Pete Trewavas (bass) and Mick Pointer (drummer) began exhaustively touring around the Aylesbury and London area. The combination of imaginative, enthralling music and image-filled lyrics soon found favour amongst their expanding fan base and journalists who had tired of some of the more formulaic music that dogged the live scene of the time. Several sold out nights at the legendary Marquee Club forced the record labels to recognise the impact of their music and a deal with EMI was quickly signed.

The release of such classic albums as Script For A Jester's Tear (1983) and Fugazi (1984) bolstered their reputation, and their lineup was further strengthened when drummer Ian Mosley replaced Pointer in 1984. Misplaced Childhood followed in 1985 (which included the hit singles "Kayleigh" and "Lavender") and promptly hit the coveted number one slot. But, following the tour to support 1987's Clutching At Straws, Fish suddenly and unexpectedly quit the band to pursue a solo career. He was replaced by the equally imposing figure of Steve Hogarth, whose input helped to freshen and augment their sound.

The resulting albums of Season's End (1989), Holidays In Eden (1991), Brave (1994), Afraid Of Sunlight (1995), This Strange Engine (1997), and Radiation (1998) proved Marillion's continued determination to release inventive and emotional music, irrespective of whether their music was picked up by radio stations or made an impact on the charts.

By 1997, Marillion had realised that the Internet provided an ideal opportunity to nurture a closer contact with the fans, and a fan-instigated whip round on their e-mailing list produced enough funds to allow the band to tour the USA. The release of the album Marillion.com in 1999 flagged their newly launched website and record label, but it was the revolutionary concept of asking their fans to pre-order and pay for the recording costs of an album some 12 months in advance of its release that hit the headlines in 2001. Astonishingly, over 12,000 of their fans pre-ordered and an additional deal was struck with EMI to market the resulting Anoraknophobia album. A similar campaign was also launched to fund the band's latest release, Marbles, but this time all the money raised is going into a campaign fund to promote the album. In terms of fan loyalty, it can be said that Marillion have an international underground following to rival the mainstream.

Their new album Marbles is a CD packed full of atmospheric and stirring songs. Intense, deep-seated and musically rewarding - you'll either "get it" or you won't!
Official Site: www.marillion.com