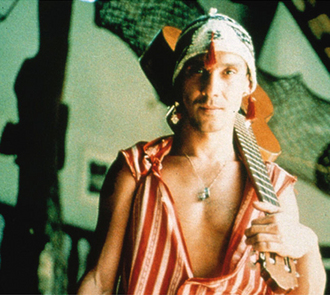 Manu Chao (born José-Manuel Thomas Arthur Chao on June 21, 1961 in Paris, France) is a French-born and raised singer from Spanish origins (mainly Galician and Basque). He sings in French, Spanish, Arabic, Galician, English, Portuguese, and Italian. He is also occasionally credited as Oscar Tramor.
Chao's mother was Spanish from Bilbao, the Basque Country in Northern Spain; his father, writer and journalist Ramón Chao, was Galician, from Vilalba. They moved to Paris to escape Francisco Franco's dictatorship, which lasted until the dictator's death in 1975. Shortly after Manu's birth, the Chao family moved to the outlying suburbs of Paris, and Manu spent most of his childhood in Boulogne-Billancourt and Sèvres. Whilst growing up he was constantly surrounded by artists and intellectuals, most of whom were his father's acquaintances with wide multicultural diversity that influenced his personality to a large extent. He grew up with thoughts of social equality and a thirst for diversity which largely shows in the mixture of distinct exotic sound without boundaries in his music.
Heavily influenced by the UK punk scene, particularly The Clash - Chao and other musicians formed the Spanish/English rockabilly group Hot Pants in the mid-80s. The group released a demo entitled "Mala Vida" in 1984, evincing plenty of local critical praise but otherwise gaining them little attention. By the time the group released their first album in 1986 the Parisian alternative music scene had taken flight, and Manu, his brother Antoine Chao, and friends such as Alain from Les Wampas formed Los Carayos to incorporate this sound with the rockbilly and punk styles of Hot Pants. Los Carayos remained a side interest of the artists for eight years, releasing three albums in the first two years followed by a final album in 1994. In 1987, the Chao brothers and their cousin Santiago Casariego founded the band Mano Negra. Starting on a smaller label, the group released a re-worked version of the Hot Pants single "Mala Vida," which quickly became a hit in France. The group soon moved to Virgin, and their first album Patchanka was released the following year. Though the group never gained a foothold in the Anglo market, popularity throughout the rest of the world soon followed. Gained Top #5 in Netherlands, Italy and Germany, In South America, the band achieved some fame from 1992's "Cargo Tour," where the band played a series of shows in port cities, performing from a stage built into their tour ship's hold. Still, rifts began to grow among band members during that tour and the following year's train station tour throughout South America; many band members, including Manu's brother Antoine, had left the group by the end of 1994. Following that year's release of their final album, Casa Babylon, Manu Chao moved the band to Madrid, but legal problems with former bandmates led Chao to disband the group in 1995. Mano Negra's sound is mostly characterized by lively rhythms which transmit a vibrant energy, symbolized by the title of their first album, "Patchanka" (which is a colloquial term for "party"), and a distinct informality which allows the audience to get involved and feel familiarly close to their sound. The mixing of music genres is present throughout their albums and can generally be categorized as folkloric rock punk with reggae fragrances of a highly innovative nature.
After arriving in Madrid, Chao and other bandmates from Mano Negra formed a new group, Radio Bemba Sound System (named for the communication system used in the Sierra Maestra by the Castro- and Guevara-led rebels in the Cuban revolution), featuring artists from widely varying groups such as Tijuana No! (from Mexico), Skank (from Brazil), and Todos Tus Muertos (from Argentina). The goal was to replicate the sound of street music and bar scenes from a variety of cultures; to that end, Chao and the group spent several years travelling throughout South and Central America, recording new music as they went. The resulting music differed drastically from Mano Negra; the songs were primarily sung in Spanish with far fewer French tracks, and the musical style had shifted from punk and alternative styles to the street vibe Chao was aiming for. The songs were collectively released as Clandestino in 1998, under Manu Chao's own name. Though not an instant success, the album gained a steady following in France with hits such as "Bongo Bong" and "Clandestino," and the album eventually earned the Best World Music Album award in 1999's Victoires de la Musique awards. Chao's second album with Radio Bemba Sound System, Próxima Estación: Esperanza, was released in 2001. This album, named in the fashion of Madrid metro station stops (the title translates to "next station: Hope"), features similar sounds to Clandestino but with heavier Caribbean influences than the previous album. The album was an instant hit, leading to a successful tour that resulted in the 2002 live album - Radio Bemba Sound System. Two years later, Chao returned to his French roots with the French-only album Sibérie m'était contée, which included a large book featuring lyrics to the album and illustrations by Jacek Woźniak. Manu Chaos next album La Radiolina was released on September 17th, 2007. This was the first international release since 2001's Próxima Estación: Esperanza. "Rainin in Paradise" was the first single from the album, available for download on his website before the release of the album. Concert reviews indicate that music from La Radiolina was already being performed live as early as April 2007's Coachella show.