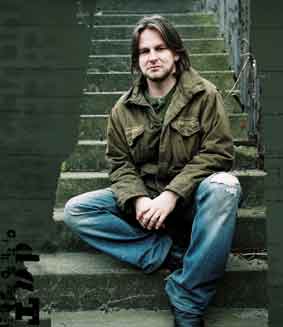 Gifted with a warm, gravelly voice, Scottish singer Ray Wilson has had a career of high and lows thus far. A Levi's TV ad dragged him out of rock limbo and propelled his group Stiltskin into the UK charts. A few months later, his hiring as Phil Collins' replacement in Genesis shoved him into the spotlight, but only for a brief period of time. The group's quick abandon in the face of adversity (i.e. unsatisfactory sales of the album Calling All Stations) brought Wilson down and left him unfairly carrying the weight of the failure. He is slowly building back a solo career.
Ray Wilson was born in Dumfries, Scotland, September 9, 1968. His first high school rock bands included his brother Steve. In 1988 he met bar pianist Paul Holmes at a bar where his girlfriend sang. They started a songwriting partnership and two years later they formed Guaranteed Pure, which also included Steve Wilson and future Cut bassist John Haimes. The group released a couple of tapes and one CD, Swing Your Bag which they recorded at Fish's studio. The title track appeared on the Fish curated compilation Outpatients '93, but the group failed to attract much interest. Holmes returned to the piano bar circuit and Guaranteed Pure disintegrated.
Ray Wilson was not left without a band for long. In January 1994 he was asked by to join Stiltskin. The group immediately entered the studio to record The Mind's Eye (1995). In the meantime, the song "Inside" got featured on television in an advertisement for Levi's jeans. The exposure shot the single to No. 1, but the group fell apart over internal dissensions.
That's when Wilson heard that Genesis were looking for a new singer. He passed the audition and sang and contributed lyrics to the 1997 album Calling All Stations. His voice being somewhat reminiscent of Peter Gabriel, fans of the band were hoping for a return to the group's earlier sound, but the singer never had a chance to leave his imprint. After album and ticket sales failed to meet expectations in America, part of Genesis' 1998 world tour was cancelled, the group put on the ice, and Wilson unofficially sacked. He immediately formed Cut with drummer Nir Z. (Collins' drumming replacement), John Haimes and brother Steve, releasing Millionairehead on the German market in 1999. In 2001 he made an acoustic solo tour of Europe which yielded the self-released album Unplugged, retitled Live and Acoustic when picked up by Inside Out Music in mid-2002.

Official Homepage: www.raywilson.net

François Couture, All Music Guide