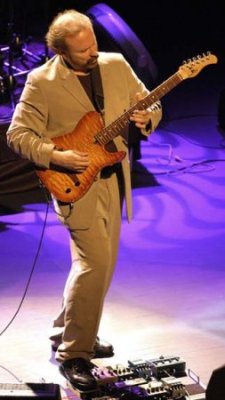 Daryl Mark Stuermer (born November 27, 1952) is a musician who plays guitar and bass for Genesis during live shows, and lead guitar for Phil Collins during most of his solo tours and albums.
Stuermer was born on November 27, 1952 in Milwaukee, Wisconsin and is a 1970 graduate of St. Francis High School. Discovered playing with his Milwaukee band Sweetbottom, Stuermer auditioned for and won a spot backing up jazz violinist Jean-Luc Ponty in 1975, with whom Stuermer recorded four albums. In late 1977, Stuermer on insistence of friend Alphonso Johnson was recommended as a replacement for Steve Hackett, he joined up with Genesis as touring guitarist and bass player at first and retained that position until 1992. In 1982, Stuermer followed Genesis front man Collins as the lead guitarist for the rock star's solo career. In doing so, he went from what Collins called a "permanent-part-time member" of Genesis to a "permanent-touring-recording member" of Collins' new group. The collaboration has been a successful one for both musicians, and Stuermer has earned co-writer credits on several of Collins' songs.
Stuermer has recorded five solo albums, Steppin' Out, Live and Learn, Another Side of Genesis, Waiting in the Wings, and most recently Retrofit. Released in 2002 was a Sweetbottom live reunion album, recorded at Shank Hall in Milwaukee, Wisconsin. He is a graduate of St. Francis High School in St. Francis, Wisconsin, and returned to his hometown in the summer of 2002 to play a free concert.
His album Go! was scheduled for release in early 2007. It contains many older tracks from Stuermer's Sweetbottom days, and includes appearances from Alphonso Johnson, Kostia, John Calarco, and Eric Hervey. Stuermer has also rejoined Genesis for their 2007 Turn It On Again: The Tour reunion effort.
Stuermer also has been a Fender Stratocaster user for mainly all of his career with Phil Collins his main ones are a Candy Apple Red and a Brown Sunburst and he also plays Banjo on the Phil Collins song "The Roof Is Leaking". In addition to the Fender Stratocaster in his tenure with Collins and Genesis, he played a Gibson Thunderbird bass guitars and Ibanez electric guitars in 1978 (would revert back to Ibanez for the 1983/84 Mama Tour). Then switched to a Suntec Stratocaster from 1980 to 1983 and used a Shergold Bass Guitar (1980), a Fender Precision Bass guitar in 1981/1982, Steinberger bass guitars (1983-87) and guitars (1986/1987), a Yamaha bass guitar in 1992 and again in 2007.