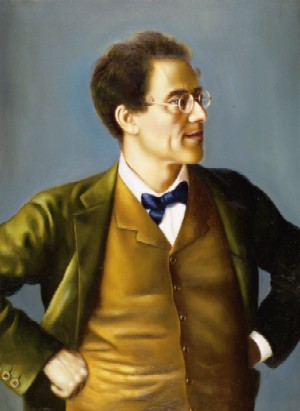 Gustav Mahler (July 7, 1860 – May 18, 1911) was best known in his own time as one of the leading Austrian conductors of his day, but is now remembered as an important composer linking the late 19th century with the modern musical period, particularly for his vast symphonies and his symphonic song cycle, Das Lied von der Erde. His third symphony, at approximately 95 minutes, is one of the longest symphonies ever performed, and is currently the longest of all symphonies in the general symphonic repertoire.

Mahler was born into a Jewish family in Kaliste, Bohemia. His parents moved to Jihlava, Moravia in the first year of his life, where Mahler spent his childhood. In 1875 he was admitted to the Vienna Conservatoire where he studied piano under Julius Epstein. Subsequently, Mahler attended lectures given by Anton Bruckner at Vienna University. His first major attempt at composition came with Das Klagende Lied which he entered in a competition as an opera (he later turned it into a cantata). However, he was unsuccessful, and turned his attention to conducting. After his first conducting job at Bad Hall, he took posts at a succession of increasingly larger opera houses; Ljubljana in 1881, Olomouc in 1882, Kassel in 1884, Prague in 1885, Leipzig in 1886 and Budapest in 1891. He then secured his first long-term post at the Hamburg Opera in 1891, where he stayed until 1897. While there, he took his summer vacations at Steinbach-am-Attersee, during which he concentrated on composition. He completed his Symphony No. 1 and the Lieder aus 'Des Knaben Wunderhorn' in this period.

In 1897, Mahler converted from Judaism to Roman Catholicism in order to secure a post as artistic director of the prestigious Vienna Court Opera (Jews were virtually prohibited from holding the post at that time). For the next ten years he stayed at Vienna, where he was noted as a great perfectionist. He ran the Opera for nine months of the year, spending the other three composing, mainly at Maiernigg, where he had a small house on the Wörthersee. There he composed his symphonies 4 through 8, as well as the 5 Rückert-Lieder, the Kindertotenlieder and his last song from texts in Des Knaben Wunderhorn entitled 'Der Tambourg'sell'. He married Alma Schindler (1879–1964) in 1902. They had two daughters, Anna (1904–1988) who later became a sculptor, and Maria Anna (1902–1907) who died of scarlet fever or diphtheria in 1907. In the same year he discovered he had heart disease (infective endocarditis), and he lost his job at Vienna, hounded out by a largely anti-semitic press after trying to promote his own music, which was not well received on the whole. While his 4th Symphony was well received by some, not until the performance of his Symphony No. 8 in 1910 did Mahler have a true public success with his music. The pieces he wrote after that were not performed in his lifetime.

Mahler was coming under increasingly virulent anti-semitic attacks — in 1907 these became almost unbearable — when Mahler received an offer to conduct Metropolitan Opera in New York. He conducted a season there in 1908, only to be set aside in favor of Arturo Toscanini. Mahler returned to New York the next year to become conductor of the newly formed New York Philharmonic Orchestra. Around this time, he completed Das Lied von der Erde, and the Symphony No. 9, which turned out to be his last completed work. During his last visit to America in February 1911, he fell seriously ill and was taken back to Vienna at his request.
He died there from a streptococcus infection on May 18, 1911 in Vienna, Austro-Hungarian Empire (now Austria), leaving his tenth symphony incomplete. His last word was: 'Mozart'. He is buried in Vienna, in the Grinzinger Cemetery.

Symphonies:
* Symphony No. 1 (D major), Titan (1884–1888)
* Symphony No. 2 (C minor, ends in Eb major), Resurrection (1888–1894)
* Symphony No. 3 (D minor) (1895–1896)
* Symphony No. 4 (G major, ends in E major), (1899–1901)
* Symphony No. 5 (C# minor, ends in D major), (1901–1902)
* Symphony No. 6 (A minor), Tragic (1903–1904)
* Symphony No. 7 (E minor, ends in C major), Song of the Night (1904–1905) (Subtitle not by Mahler)
* Symphony No. 8 (Eb major), Symphony of a Thousand (1906) (Subtitle not by Mahler, and, in fact, strongly derided by him)
* Symphony No. 9 (D major, ends in Db major) (1909–1910)
* Symphony No. 10 (F# minor/major) (1910, incomplete, Adagio and Purgatorio prepared for performance by Ernst Krenek, completed versions by Deryck Cooke (1964, 1972, 1989), Clinton Carpenter (1966), Joseph Wheeler (1948 – 1965), Remo Mazzetti, Jr. (1989), Rudolf Barshai (2000), and Nicola Samale/Giuseppe Mazzucca (2002)). (Several prominent Mahler conductors refused to perform the complete 10th Symphony for various reasons, Bruno Walter and Leonard Bernstein most notably.)

Song cycles, song collections and other vocal works:
* Das Klagende Lied 1880
* Drei Lieder (three songs for tenor and piano, 1880)
* Lieder und Gesänge aus der Jugendzeit (fourteen songs with piano accompaniment, 1880–1890)
* Lieder eines fahrenden Gesellen (for voice with piano or orchestral accompaniment, 1883–1885)
* Lieder aus 'Des Knaben Wunderhorn' (for voice and orchestra, 1892–1896, two others from 1899 and 1901)
* Rückert Lieder (for voice with piano or orchestral accompaniment, 1901–1902)
* Kindertotenlieder (for voice and orchestra, 1901–1904)
* Das Lied von der Erde, (1907–1909)