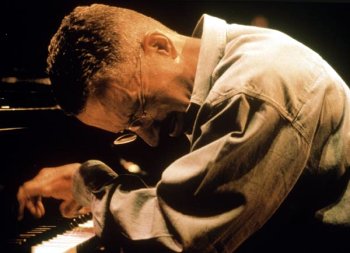 Born: May 8, 1945 in Allentown, PA.
Genres: Jazz.
Styles: Avant-Garde Jazz, Contemporary Jazz, Post-Bop, Fusion, Classical.
Instruments: Electric & Grand Piano

One of the most significant pianists to emerge since the 1960s, Keith Jarrett's career has gone through several phases. He gained international fame for his solo concerts which found him spontaneously improvising all of the music without any prior planning, but he has also led a couple of dynamic quartets/quintets, performed classical music and recently been playing explorative versions of standards with his longtime trio. Although his tendency to "sing along" with his piano now and then is distracting, Jarrett continues to grow as a powerful improviser after 30 years of important accomplishments.

Keith Jarrett started on the piano when he was three and by the time he was seven he had already played a recital. A child prodigy, Jarrett was a professional while still in grade school. In 1962 he studied at Berklee and then started working in the Boston area with his trio. He moved to New York in 1965 and spent four months with Art Blakey's Jazz Messengers. As a member of the very popular Charles Lloyd Quartet (1966-69), Jarrett traveled the world and became well-known; he also began doubling occasionally on soprano (which he would utilize through the 1970s). During 1969-71 he was with Miles Davis's' fusion group, playing organ and electric keyboards; Chick Corea was also in the band for the first year. Jarrett can be heard "battling" Corea throughout Davis's Live at the Fillmore but is in more creative form on Live/Evil.

Upon leaving Miles Davis, Keith Jarrett permanently swore off electric keyboards. He had cut sessions as a leader for Vortex (1967-69) and Atlantic (1971) but starting in November 1971 he recorded extensively for ECM (in addition to some sessions in the 1970's for ABC/Impulse), an association that continues to the present day. In the 1970s Jarrett led two groups, an exciting unit with Dewey Redman, Charlie Haden, Paul Motian and occasional percussionists (often Guilherme Franco) and a European band with Jan Garbarek, Palle Danielsson and Jon Christensen that recorded the popular "My Song." In addition, starting in 1972 Jarrett began his famous series of improvised concerts which resulted in such popular recordings as Solo Concerts, Koln Concert and the mammoth Sun Bear Concerts. By the 1980s Jarrett was performing classical music as much as jazz but in the 1990s he has recorded extensively (including a six-CD live set) with his "standards trio" that includes Gary Peacock and Jack DeJohnette. Although initially influenced by Bill Evans, Keith Jarrett has had an original and influential style of his own since the early '70s and remains a vital force in jazz.
Unoficcial Fansite: www.keithjarrett.org