Genesis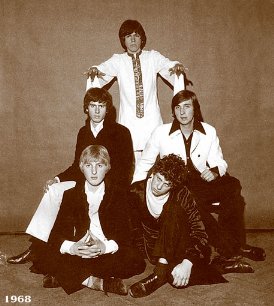 Tony Banks

met

Peter Gabriel

;

Mike Rutherford

met

Anthony Phillips

. Out of these teenage friendships and songwriting partnerships a band called

Genesis

emerged. In 1967, at the height of the psychedelic boom, they began recording together with the man who thought up their name, producer and pop star in waiting Jonathan King.

In pursuit of success, Genesis took the scenic route. It was ten years before they scored their first hit single. Long, radio-unfriendly epics such as 'Supper's Ready', a 26-minute controlled freak-out from the 'Foxtrot' album, were their original stock in trade. Band members subsisted on a retainer of £10 per week. Hotels proving sadly unaffordable, the group would drive home to London and Surrey after every gig. Their live show looked great - a riot of masks and weird costumes - but it cost next to nothing. "The challenge was to create something visually striking that was also cheap," Banks remembers, "which was a good discipline."

By 1970 Genesis were making headway with their uniquely theatrical brand of progressive rock. A series of personnel changes introduced a new drummer,

Phil Collins

, and guitarist

Steve Hackett

. Gradually, the world started to prick up its ears. Mike Rutherford: "We've always gone down well in the big industrial cities of the East Coast and Mid West (America), maybe because of the element of fantasy and escapism in our shows."

Following the extraordinary success of the band's seventh album, a soundtrack to their spectacular stage show 'The Lamb Lies Down On Broadway,' Peter Gabriel left in 1975. "We came close to calling it a day when Pete left," Rutherford recalls, "It wasn't that we lost our nerve. We were always confident we could write the music, because Tony and I had done most of 'The Lamb.' It was just a question of whether the public would accept us." They did. Collins took over on vocals "because he really wanted to do it, basically" and the next installment of Genesis, 'A Trick Of The Tail,' promptly outsold all of their previous releases.

After the departure of Hackett in 1977 the creative nucleus of the band re-configured as a trio, aptly expressed in the album of the following year, '...And Then There Were Three,' on which Rutherford played both guitar and bass. The album also spawned the group's first real UK single chart success with 'Follow You, Follow Me.'

As the 1980's dawned Genesis veered in another direction, one that would introduce shorter, more radio friendly songs, and lead to enormous commercial success. The 1980 album 'Duke' bridged the two eras well with the highly acclaimed group of linked songs known as the 'Duke Suite' and the US chart success of 'Misunderstanding'. 1981's 'Abacab' album also proved to be a huge hit worldwide. "I think the fact that we were all in our thirties by the time we became really successful was a great help," says Banks. "To this day we've never had an argument about money."

Even without Peter Gabriel's showmanship, the band continued to set new standards as a live act. On their 1981-82 world tour they broke box office records in North America when they went out with a revolutionary lighting system, Vari-lite.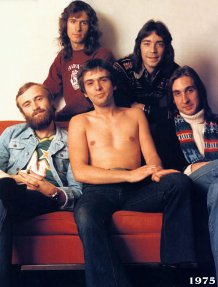 However, Gabriel made a brief return to the fold on October 2nd 1982 at the Milton Keynes Bowl for a one off reunion show 'Six Of The Best', this was primarily to help Gabriel's 'WOMAD' project out of an awkward financial situation. Steve Hackett made an even briefer re-appearance when he came out on stage for the encore of the same show. An unforgettable day for all those who witnessed the event.

Banks, Collins and Rutherford went back into the studio to record 1983's self titled album 'Genesis' which spawned two of the band's all time classic tracks, the hugely successful 'Mama' and the brilliant live track 'Home By The Sea'. Their 1986 album, 'Invisible Touch', broke more records when it yielded five US tope ten singles. "Despite the media's perception of us, we didn't think of ourselves as a singles band," says Rutherford. "In our minds we were a band that did long songs but just happened to have a few hits." The accompanying 'Invisible Touch' tour generated the highest average gross per venue of any act on the road that year. A total of 3 million people worldwide attended. In 1987 Genesis were voted Band Of The Year in Rolling Stone Magazine's Reader's poll.

Following a lay-off during which band members pursued individual projects, Genesis re-convened in 1991 to record 'We Can't Dance'. "We were quite surprised Phil wanted to make a Genesis album," Banks recalls. "We felt incredibly loyal to one another, but the pressures of his solo success made it increasingly difficult for us to function as a band." Difficult, but by no means impossible. 'We Can't Dance' sold over 10 million copies to become Genesis' biggest seller so far. A triumphal romp around the world saw the band play their largest-ever British audience when they sold out at Knebworth in the Summer of 1992.

After another break for soloing, Genesis and Phil Collins finally parted company early in 1996. "It did briefly occur to us that we should put Genesis to rest," Rutherford admits, "But Tony and I have never stopped writing songs since we were teenagers, so we thought, why should we give up now?" Most of the songs for the 1997 album 'Calling All Stations' were written before the selection of new vocalist

Ray Wilson

- a singer whose voice has more in common with Peter Gabriel than Phil Collins, an appointment that signalled a return to Genesis' rockier roots. Banks: "We liked Ray immediately because of the sort of sound pictures his voice conjures up. It has a natural darkness. With Ray we can write in a heavier, more atmospheric way than we did with Phil. We also like the fact that he doesn't have much history."

The release of 'Calling All Stations' didn't meet the same commercial success as past releases had. It was relatively successful around Europe reaching number 2 in the UK album charts. However, it was received poorly in North America and following poor ticket sales, the North American leg of the 'Calling All Stations' tour was sadly called off.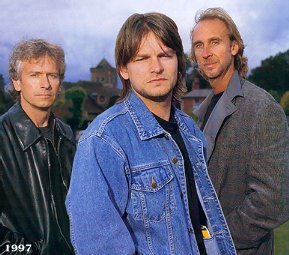 1998 saw Genesis revisit their past with the release of the first Genesis Archive (1967-75) Box Set, this included early demos and rarely heard live material.

The end of 1999 saw Genesis hit the charts once more with a collection of their more commercially successful songs. 'Turn It On Again - The Hits' briefly reunited the 'classic' line up of Banks, Collins, Gabriel, Hackett and Rutherford in a re-make of 'The Carpet Crawlers' from 1974's album 'The Lamb Lies Down On Broadway'.

So what does the future hold for 'Genesis', is this the end? Rutherford: "I don't really know, I never really know what's going on. We haven't really thought about what we're going to do over the next year. There's nothing planned at the moment, but there never really is. It's a little tough for Genesis at this moment in time, actually - for a lot of the older acts, to be honest. I can't complain, it's been 30 years of plain sailing, but getting no airplay makes whatever you do a little harder."

Banks: " My own feeling is that the Genesis time has probably run out. We haven't made a final decision yet, is the truth of the matter. We'll decide on that. We've had a fantastic career and I can't think of a reason to end it on a low. It's very uphill everywhere you look at the moment. I don't know. The kind of music we do best, particularly what we were trying to get back to on 'Calling All Stations' is extremely unfashionable now. But as for the moment there are no plans to go back into the studio with Ray, you have to be honest. We're going to review it, but one has to say that the chances are that we might now be nearing the end."

And what of the others? Gabriel is concentrating on getting his next solo album finished, Hackett always has at least one project simmering, but of all the past members the one that has expressed a possible interest in returning in some form is Phil Collins. Phil would be more than happy to take part in a reunion tour behind the drum kit and has also talked about the possibility of recording something new with Banks and Rutherford. Whether it happens and goes under the name Genesis remains to be seen...



Photos

form Genesis News Com




... and the word was ... (Decca Records, 1968)
Trespass (Virgin Records, 1970)
Nursery Cryme (Virgin Records, 1971)
Foxtrot (Virgin Records, 1972)
Live (Virgin Records, 1973)
Selling England by the Pound (Virgin Records, 1973)
Rock Theatre (Virgin Records, 1973)
The Lamb lies down on Broadway (Virgin Records, 1974)
Wind & Wuthering (Virgin Records, 1976)
A Trick of the Tail (Virgin Records, 1976)
Seconds Out (Virgin Records, 1977)
...and they were three... (Virgin Records, 1978)
Duke (Virgin Records, 1980)
ABACAB (Vertigo, 1981)
Three Sides Live (Vertigo Records, 1982)
Mama (Virgin Records, 1983)
Genesis (Virgin Records, 1983)
Invisible Touch (Virgin Records, 1986)
We can't dance (Virgin Records, 1991)
Genesis Live: The Way We Walk, Vol. 1 (The Shorts) (Virgin Records, 1992)
Genesis Live: The Way We Walk, Vol. 2 (The Longs) (Virgin Records, 1992)
Congo (Virgin Records, 1997)
Calling all stations (Virgin Records, 1997)
Turn it on again - The Hits (Virgin Records, 1999)

Live Over Europe 2007 (Virigin Records, 2007)
R-Kive (Virigin EMI Records, 2014)
Remixes, Tributes:
Hits & ballades by The Royal Philharmonic Orchestra (Edelton, 1992)
Genesis for two Grand Piano (Camino Records, 2001)
In Too Deep - A Tribute To Genesis (Anagram Records, 2002)