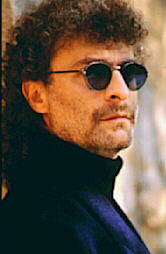 Michael Cretu, also known as Curly M.C. (born May 18, 1957 in a suburb of Bucharest, Romania), is a Romanian musician best known as the creator of the Enigma project. He has worked with many producers, musicians, and artists in his long career. These include Sandra Cretu, Frank Farian, Boney M, Goombay Dance Band, Peter Cornelius, Manfred "Tissy" Thiers and Mike Oldfield in his pre-Enigma days, and Jens Gad, Frank Peterson, David Fairstein, ATB, Jam & Spoon, Peter Ries, Ruth-Ann Boyle and Andru Donalds during the course of the project.
Background
Cretu studied classical music at Lyceum No 2 in Bucharest in 1965 and in Paris, France in 1968. He later attended the Academy of Music in Frankfurt, Germany from 1975 to 1978, attaining a degree in music. Cretu was taken on as a keyboard player and producer for Frank Farian, the German mastermind behind successful acts of the 1970s and 1980s such as Boney M and Milli Vanilli. Cretu was also one of the producers of Mike Oldfield's 1987 album, Islands, specifically in the sixth track, "The Time has Come". Cretu met his future wife Sandra Lauer when he was playing keyboards on the Arabesque live touring show. He produced several successful albums and singles for her, beginning with the song "Maria Magdalena" which reached the number one position in 21 countries. Cretu married Sandra on January 7, 1988. They have twins named Nikita and Sebastian who were born in 1996. He owned the A.R.T. Studios in Ibiza, before moving to a new mansion in the Ibiza hills. His new house on the wild and romantic western coast of the island Ibiza is a spectacular Moroccan style mansion and was designed and built over nine years by Bernd Steber and Gunter Wagner. It also features a brand new, state-of-the-art recording studio, from which he hopes to release more albums in the future. In 1998, Cretu once again teamed up with Jens Gad (they previously worked together on Le Roi Est Mort, Vive Le Roi!) and created the album The Energy of Sound under the name Trance Atlantic Airwaves. Cretu and Gad also worked with Jamaican singer Andru Donalds, being particularly successful in Europe with a cover version of the song "All Out of Love" (1999).

Cretu as a solo artist
Cretu's first solo release was the single Wild River, in 1978. His first solo album was released in 1979 and was entitled Ausgewählte Goldstücke as a German release, and Moon, Light & Flowers as an English release. Cretu's second solo album, titled Legionäre, was released in 1983. This album had German lyrics and was sung by Michael. It was co-produced and supervised by Harald Steinhauer and mastered by Armand Volker. Cretu's third solo album was entitled Die Chinesische Mauer, and was released in 1985. The literal English translation of the title is "The Chinese Wall", or as it is better known, "The Great Wall of China". Like his previous album, this had German lyrics, was sung by Michael, and was co-produced by Armand Volker. This album was also released as a separate album with English lyrics and a different track listing under the name "The Invisible Man". Several of the tracks on "The Invisible Man" were edited slightly, and, therefore last for a different length than the German versions on Die Chinesische Mauer.

The Enigma project

After Cretu's marriage to Sandra in 1988, he had an idea, following suggestions made by David Fairstein, for a musical "new age dance" project under the name, presented by Fairstein, of "Enigma". Cretu worked with Frank Peterson and David Fairstein to create their ground-breaking first single "Sadeness" which became a surprise hit. MCMXC a.D., the album,, which was released in 1990, was hugely successful. It is thought to have sold about 30 million copies worldwide. One of the aims of Enigma was to present music that has never been heard before and is not being produced anywhere, which also forced Cretu to continually move in new musical directions and to stay ahead of imitators. MCMXC a.D. stayed on the charts for 282 weeks on the Billboard charts and dropped off shortly before their second album, The Cross of Changes was released in 1993. Prior to this, Frank Peterson had some disagreements with Cretu and he left the project in 1991. Cretu changed Enigma's direction from Gregorian chants to tribal chants for the second album, and this led to "Return to Innocence" which became a worldwide hit. Cretu was approached by Paramount Pictures to write the soundtrack for the movie Sliver and he came up with another 1993 single, Carly's Song, the title of the track based on the character of the leading actress in the movie. In 1996, Enigma's third album, Le Roi Est Mort, Vive Le Roi! was released. Stylistically, it sounded like a combination of the first and second album, but failed to achieve the same level of success. For the fourth album, Cretu steered the project in another direction by using samples of Carl Orff's "Carmina Burana" for The Screen Behind the Mirror. Andru Donalds and Ruth-Ann Boyle first appeared on this album. Although Jens Gad had been working with Cretu in the earlier albums, this was the first time that he had been credited on the album. Deciding that the first chapter for Enigma was closed, Cretu released two sets of compilation albums — Love Sensuality Devotion: The Greatest Hits and Love Sensuality Devotion: The Remix Collection. By then Cretu was undecided if he should continue with the project, but eventually he came up with Voyageur in 2003. Familiar sounds of the Shakuhachi flute, tribal or Gregorian chants were replaced with more pop-oriented tunes and beats. In March of 2006 a new single called "Hello & Welcome" was released in anticipation of another album.