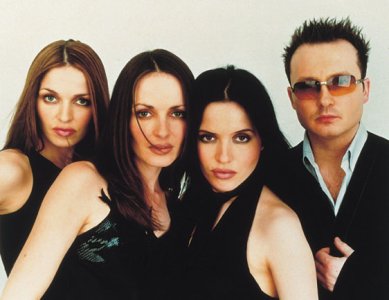 The Corrs are a folk rock band from Ireland, consisting of three sisters and one brother from the Corr family; Sharon, Caroline, Andrea and Jim Corr. The band rose to prominence in the late 1990s.

History
The Corrs were formed to audition for the 1991 film The Commitments. Jim, Sharon, and Caroline had a small part as musicians, while Andrea got a speaking part as Sharon Rabbitte, sister of the main character. While auditioning for the movie they were noticed by their future manager, John Hughes. Their music has been released through Atlantic Records, part of the Warner Music Group. The band was relatively unknown outside of Ireland until 1994 when American ambassador to the country Jean Kennedy Smith invited the group to perform at the 1994 World Cup in Boston. This performance also led to the band becoming the supporting act for Celine Dion on her 1996 world tour. Their first album, Forgiven, Not Forgotten, had its greatest success in Australia, Sweden, Spain and Ireland, gaining later success in the UK and in Canada. In 1998 they released Talk On Corners, which was primarily popular in Ireland and Britain, but then successfully spread across the globe. Both have been certified gold in the United States, and In Blue has been certified platinum by the RIAA. In 2004, they released Borrowed Heaven, which has been very popular globally. They also recorded Canto Alla Vita with Josh Groban for his self-titled album, and also been involved with a number of collaborations including with Rod Stewart, Alejandro Sanz, Ron Wood from The Rolling Stones, Sheryl Crow on C'mon, C'mon and Bono from U2. In 2005 the band returned with Home, a traditional Irish album celebrating their roots, many of the songs coming from their late mother's songbook including two songs in the Irish language. In October 2005 the band released All The Way Home an up-to-date documentary on the band along with a live concert from their Borrowed Heaven tour in Geneva recorded in 2004. The band became the second Irish band to sell over a million albums in Ireland.

Band members
The four core Corrs were born in Dundalk, Ireland, the children of Gerry and Jean Corr, two musicians. The group contains all the Corr siblings, three sisters and their brother.

Jim Corr
(born James Steven Ignatius Corr, on July 31, 1964) is the oldest member of the band. He mainly plays the guitar, but is also proficient on the keyboards and the piano.
Sharon Corr
(born Sharon Helga Corr, on March 24, 1970) plays the violin and performs backing vocals.
Caroline Corr
(born Caroline Georgina Corr, on March 17, 1973) plays drums, percussion, bodhrán, piano, backing vocals, and tambourine.
Andrea Corr
(born Andrea Jane Corr, on May 17, 1974) sings lead vocals, backing vocals, and plays the tin whistle.
All members can also play the piano which was taught to them by their father Gerry Corr. All four siblings were made Honorary Members of the Order of the British Empire in 2005 for their outstanding contribution to music and charity work. This was met with some discontent in Ireland as the Order is a British award headed by Queen Elizabeth II.

Support
The band's usual support musicians are Anto Drennan (lead guitar) and Keith Duffy (bass guitar). From 2004, Duffy's brother Jason Duffy joined on percussion, with Kieran Kiely on accordion and keyboards. The band excel in their live shows and have been called by U2's Bono "the loudest whisper in pop".

Future
The future of the band is currently unknown. Andrea Corr is currently undertaking some new projects in acting, and just finished filming a new movie called Broken Thread alongside Linus Roache and Saffron Burrows. The film is said to be an exciting psychological thriller being compared to The Sixth Sense. And she is working on her first solo-album with (among others) Nellee Hooper. Sharon Corr recently gave birth to her first child with husband Gavin Bonnar in March of 2006 and presumably will be taking time off to look after her new family. Caroline Corr, busy with her two children, also will be taking time off. Jim Corr announced his engagement to his girlfriend late last year, former Miss Northern Ireland Gayle Williamson, who just gave birth to the couple's first child in May 2006. A wedding date has not been announced.

From Wikipedia, the free encyclopedia