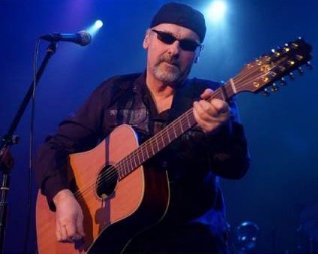 Paul Carrack: singer, songwriter, multi-instrumentalist, Sheffield Wednesday supporter and at various times a member of/or contributor to Ace, Squeeze, The Frankie Miller Band, Roxy Music, Mike & The Mechanics, The Undertones, The Smiths, John Hiatt, The Pretenders, Nick Lowe & His Cowboy Outfit, to name but most of them.
Born April 22, 1951 in Sheffield England. Musical influences cited include soul singers Stevie Wonder, the Beatles, Sam Cooke, David Ruffin and the keyboardists Billy Preston and Richard Tee. He's been reported to listen to Ray Charles, Bonnie Raitt, Little Feat, Bruce Hornsby, Aretha Franklin, Van Morrison's 'Moondance' and even Oasis.
Paul Carrack's musical career began with various semi-pro bands in and around the Sheffield area. At the age of 17 he went to Europe and played the discos and army bases. He helped to form Sheffield band Warm Dust in 1970, who recorded three albums of what could loosely be described as progressive soul or psychedelic rock.
In 1972 the band split, with Carrack going out to form Ace, who over the next five years moved from the London pub-circuit to international success, with three albums, the world wide hit "How Long" (a Carrack composition), and a lengthy coast-to-coast U.S. tour supporting Yes. However, by 1977 the band drifted apart [see A History of Ace for more], and Carrack joined the Frankie Miller Band for two albums before becoming a member of Roxy Music in September, 1978. During the next two years Carrack toured the U.K. and Europe and played on their huge selling Manifesto and Flesh And Blood albums.
In the summer of 1980, Carrack made his first solo album Nightbird, toured to promote it, and ended up joining Deptford's finest - Squeeze. With Squeeze for just under a year, he managed to tour America twice, the U.K. once, played on East Side Story and sang lead vocal on the hit "Tempted." In late 1981, Carrack worked on the Carlene Carter Blue Nun album and for the next three years he and Nick Lowe took turns fronting the band known variously as The Chaps, Noise To Go and The Cowboy Outfit; featured along Lowe and Carrack were Martin Belmont, James Eller and Bobby Irwin. During this fruitful period they recorded Carrack's second solo album Suburban Voodoo with the U.S. hit "I Need You," and also recorded the Nick Lowe albums Nick The Knife (1982), The Abominable Showman (1983), Nick Lowe And His Cowboy Outfit (1984), The Rose Of England (1985) and Party Of One (1990).
In the summer of 1985, Carrack joined Mike Rutherford's Mike + The Mechanics, who soon achieved international fame with "Silent Running" on which Carrack sang lead vocal; they toured extensively until late 1986. With Mike + the Mechanics taking a break, Carrack resumed his solo career, recording his third album One Good Reason, containg two U.S. hits - "Don't Shed A Tear" and the title track. In 1987 Carrack also cooperated on Roger Waters' Radio KAOS, in particular, he sang part of the lead vocals in "The Powers That Be," and toured the album with Waters playing keyboards and singing lead vocals on the Pink Floyd classics "Money" and "Have A Cigar".
Mike + The Mechanics resumed in late 1988, recorded their second album, The Living Years, and had a world wide hit (and U.S. number 1) with the title track being sung by Carrack. As before when The Mechanics resumed other interests, Carrack began recording his fourth album Groove Approved which was released in late 1989.
In July 1990, Carrack cooperated in the live performance of Roger Waters' The Wall in Berlin by singing "Hey You" and the finale "The Tide is Turning." During this time Mike + The Mechanics got back together and recorded their third album Word Of Mouth (1991) which included four Paul Carrack co-writes. Mike + The Mechanics (Mike Rutherford, Paul Young and Paul Carrack) also donated a performance of "Ain't That Peculiar" with Paul Shaffer and The World's Most Dangerous Band (from the Late Night with David Letterman show) to the Nobody's Child - Romanian Angel Appeal album (1990). In 1993 Carrack joined Spin 1ne 2wo featuring Rupert Hine, Tony Levin and Steve Ferrone who released a self-titled album consisting of covers of classic rock songs like Dylan's "All Along the Watchtower" and Cream's "White Room." In 1993, Paul rejoined Squeeze for the album Some Fantastic Place sang lead on the single "Loving You Tonight", and can also be heard in duet with Beth Nielsen Chapman on her album You Hold The Key.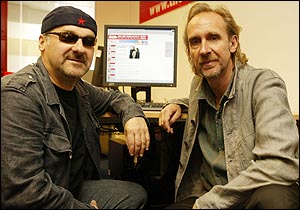 In 1994 Paul toured the U.S, U.K. and Japan with Squeeze, and joined them on a summer tour with Aimee Mann in which Paul sang (covering Aimee Mann's song "Stupid Thing" to perfection), and impressed the audience by playing keyboards and snare simultaneously. During the tour he accomodated Mike + The Mechanics in the recording of their fourth album Beggar On A Beach Of Gold (1995) which included two Carrack co-writes, one of which, "Over My Shoulder" achieved great popularity in the UK and Europe. On Paul's birthday in 1995, a live Mike + The Mechanics House of Blues concert was broadcasted on TBS, showcasing Beggar's songs as well as the Hits. Following the UK success of Beggar, a greatest hits collection "Hits" was released in the UK.
Paul released his fifth solo album Blue Views in the UK in 1995 with IRS Records. IRS folded and has been somewhat incorporated into the new Ark 21 label which released Blue Views in the US in 1997. The first US Single "For Once In Our Lives" was the #4 most popular song on Billboard's Adult Comtemporary chart. Paul's latest UK release Beautiful World is due out shortly on EMI, with the first single entitled 'The Way I'm Feeling Tonight' out on Sept. 22nd, and a UK tour in November.
In January 1996, Paul Carrack found European success with 'How Long' and 'Eyes of Blue' from Blue Views. Paul had a Gold record in Spain. 'Eyes of Blue' was featured in the soundtrack for the British football film "When Saturday". His European promotional tour for Blue Views took him from the London 100 Club to Spain, Germany and Holland. By the end of 1996 he was opening for Sting's UK tour, and sang duet with Sting nightly.
Being a huge football fan, Paul Carrack was honoured with singing the British National Anthem prior to the World Cup game between Scotland and England at England's Wembley Stadium. After England's win over Scotland Paul was considering staying with the team to bring continued luck, but his Tour with Sting was still underway.
It was during Sting's tour that Paul had the idea for Beautiful World. He felt that the success of Blue Views pleased him so much and he was having so much fun playing before an excited public that he wanted to get another album together. Toby Chapman and Gary Willis who co-produce Beautiful World were on tour with Carrack, and the vibe between them was so strong and positive that they created the new album. Some of the new songs are written by Paul alone, others with Chapman and Willis. The first single 'The Way I'm Feeling Tonight' is co-written with Graham Gouldman of 10cc. Paul Carrack would like to begin touring as soon as possible. In the meanwhile, Carrack has been very busy as a session musician, recording with Elton John, Van Morrison, Eric Clapton, Simply Red and BB King. Paul is featured in duet on the BB King album Deuces Wild.
At the end of 1997, Paul toured Europe to promote Beautiful World. The album is set for US release in the Spring of 1998. In May and June of 1998 he will be touring the UK.