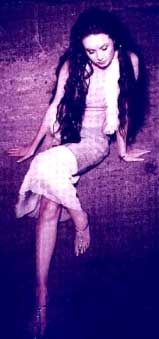 When someone asks you Who is your favourite singer and then hears the answer Brightman he feels uncomfortably, for sure. And it is enough to mention The phantom of the Opera for receiving a beautiful smile and the admittance: I enjoy this too. Ms. Sarah Brightman has got publicity in recent period (after the huge success of her 3 latest records, the concert tour and the video) and it is the most interesting fact considering her. Brightman has become famous in the world mainly because of her second husband. He was Andrew Lloyd Webber (the author numerous musicals: Song and Dance, Tell me on a Sunday, Evita, Aspects of Love, Jesus Christus – Superstar, Sunset Boulevard, Cats, Phantom of the Opera, etc.). It is possible that he has created Brightman as a person in music and has also given her a certain aversion for the crowd and gossips around her. Brightman has received the role of Christine in The Phantom (written for her voice) and has topped music charts with it. The marriage longed 6 years. The former husband has given 6000000 pounds, the gift, which hasn't been touched ever. There was Surrender record with Webber's music after that. "The former wife of Lloyd Webber" fascinated the audience all over the world. The single Time to say goodbye (with Italian tenor Andrea Bocelli) got released in 1997. It has been sold in 10 000 000 copies, it has given the popularity to Sarah. Timeless was second real success, which was sold in 3 000 000 copies. The next album Eden – in 2 000 000 copies… Eden got released just 1,5 years later after the great success of Timeless. Sarah Brightman has started her way to the top once more. One night in Eden tour included 100 concerts; the video version was certificated as gold in the USA. La Luna has received gold status on pre-orders. It was a success worldwide again. Brightman has now her own place in show business, where she is crowned as the most successive classical woman performer. Maybe it is now Frank Peterson's work, which is her producer after being Sandra's producer too. Brightman's voice is beautiful; she sings her "pieces" with a deep sensual perception. She pretends to be high-bro, a little bit out-of-date. The only question I can't answer, what is the reality for her?
BIOGRAPHY:
Sarah Brightman is an extraordinary artist: her unmatched voice and fascinating music have moved millions of people around the world. "I work hard" are the words by which Sarah herself describes her own success. Being the oldest of 6 children Sarah Brightman grows up near London. Still a child she attends art school and at the age of 12 makes her first stage appearance in a theatre piece directed by John Schlesinger. Only 14 years old Sarah starts to sing and by the age of 18 lands her first hit single "I lost My Heart To The Starship Troopers".
After a second hit Sarah decides to take another path. She further educates her classical singing and plays in the original cast of Lord Andrew Lloyd Webber`s CATS. Together with Placido Domingo she sings in Webber?s classical composition REQUIEM; later on Lord Lloyd Webber creates the role of Christine in PHANTOM OF THE OPERA especially for Sarah Brightman which she performs in London and New York. After the end of her marriage to Andrew Lloyd Webber Sarah decides to leave her mother country and moves to the USA. It is there where she meets Frank Peterson who becomes her producer. Together they put together her first solo album DIVE in 1993 which is followed by her second album FLY in 1996, also produced by Frank Peterson.
With A QUESTION OF HONOUR Sarah Brightman sings the ?prelude? for the WORLD BOXING CHAMPIONSHIP fight between Henry Maske and Graciano Rocchigiani in 1995. FRIENDS FOR LIFE, a duet with Jose Carreras, the hymn for the Olympic Games in Barcelona, takes up its place in the English, American, Australian and Japanese charts for weeks.
In 1997 the duet with the Italian tenor Andrea Bocelli TIME TO SAY GOODBYE marks a new record in the German music history: The hymn used by Henry Maske for his retirement from the international boxing scene becomes the highest and fastest selling single of all times in Germany and consequently becomes an international success.
TIMELESS, the third solo album of the outstanding artist, gets released in 1997. 21 gold and platinum album awards emphasize the success of more than 3 million albums sold worldwide. In the US and Canada as well as Taiwan, Korea, South Africa, Denmark, Sweden and Norway the album reaches platinum status. The hit single TIME TO SAY GOODBYE sells 5 million copies worldwide. Sarah Brightman?s musical style, a mix of classic and pop becomes the pioneer of an entirely new musical genre. Music - and this includes her own - has become a matter of heart for Sarah: "I sing the kind of music that I love. If I was to be untrue to myself it would not work. You have to express what comes from deep inside yourself. The audience notices any kind of betrayal."
Sarah's fourth solo album EDEN gets released in 1998 and forms the basis of her first own tour production. Her show ONE NIGHT IN EDEN which premieres in South Africa in March 1999 stands under the creative direction of the singer herself: a 1 1/2 hour long journey through Sarah Brightman?s musical world put together by Michael Bergese (choreography), Johan Engels (design) and Patrick Woodroffe (lights) creates a perfect production of different musical styles.
Together with her team of 42 people and with more than 90 dates the artist turns concert halls into her ONE NIGHT IN EDEN. With more than 70 sold-out concerts in the US and Canada Sarah Brightman sets new standards in her career. She gets all the credit from critics all over the world. The reknown Washington Post writes: "ONE NIGHT IN EDEN - a breathtaking production makes it the most memorable concert of the year". More than 2 million copies sold of EDEN underline Sarah?s international success. Awards in Sweden, Norway, Denmark, Finland, Singapure, Korea, Taiwan, Brasil, USA and Canada crown her work in the year of 1999.
With her forthcoming album LA LUNA which will be released in April 2000 Sarah Brightman will continue her creative work. Her incomparable mix of classical and pop music will again form the basis for exciting and often surprising interpretations. Once again Frank Peterson is the producer and compositions from Beethoven over Rachmaninov and Dvorak on to Morricone and Cano will document Sarah?s typical musical variety.
In the middle of the year 2000 Sarah Brightman will embark on a world tour with a new stage production and 60 concerts in the planning. After a tour start in Brazil LA LUNA will go on to the US and Canada, then Asia (Taiwan, Hong Kong, Singapure, Korea), Australia and New Zealand. Towards Christmas the tour will finish off in Europe (Scandinavia, Germany, Austria and Switzerland).
Official site:
www.sarahbrightman.com