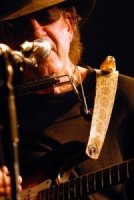 Tony Joe White (born July 23, 1943 in Oak Grove, Louisiana) is an American singer-songwriter and guitarist best known for his 1969 hit "Polk Salad Annie", for "Rainy Night in Georgia" which he wrote but first was made popular by Brook Benton, and Steamy Windows - a big hit for Tina Turner in 1989. "Polk Salad Annie" was also recorded by Elvis Presley. Nicknamed "the Swamp Fox", he is regarded as an original exponent of the sub-genre Swamp rock. His songs have been recorded by at least 25 major artists.
In late September 1973, White was recruited by producer Huey P. Meaux to sit in on the legendary Memphis sessions that became the landmark Southern Roots album of Jerry Lee Lewis. By all accounts[citation needed], these sessions were a three day, around the clock party, which not only reunited the original MGs (Steve Cropper, Donald "Duck" Dunn and Al Jackson Jr. of Booker T. and the MGs fame) for the first time in three years, they also featured rockabilly icon Carl Perkins, Mark Lindsay (of Paul Revere and the Raiders), and Wayne Jackson and The Memphis Horns. Rory Gallagher did a cover of his song "As The Crow Flies" on his live album Irish Tour.

Band Southern Culture On The Skids paid tribute to White in their 1996 song "Voodoo Cadillac" with the first stanza lyric: "Come on baby, take a ride with me / Up the Mississippi, down to New Orleans / Tuck and roll, FM stereo / Got some Tony Joe White on my radio." In 2005 UK blues singer Elkie Brooks covered Tony's Out Of The Rain releasing it as a single and featuring it on her album Electric Lady. The version is now a staple of Elkie's repertoire[citation needed] and was even given the seal of approval by Tony himself. Coincidentally Elkie had recorded an old number of White's, Aspen, Colorado in her first Rock band DADA in 1970. One of his most recent performances was on July 14, 2006 in Magny-Cours, France, as a warm-up act for Roger Waters' Dark Side of the Moon concert. His new album entitled "Uncovered" is due out September 2006 and features collaborations with Mark Knopfler, Michael McDonald, Eric Clapton, Waylon Jennings & Shelby Lynne.