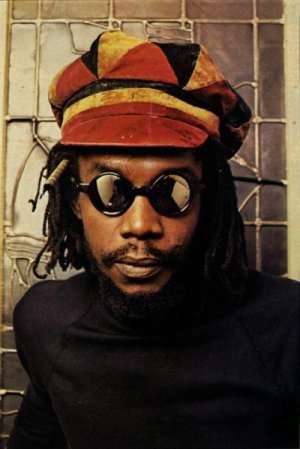 Peter Tosh, born Winston Hubert McIntosh (October 9, 1944 – September 11, 1987) was the guitarist in the original Wailing Wailers, a reggae musician, and a trailblazer for the Rastafari movement. Tosh grew up in the Kingston, Jamaica slum of Trenchtown. He stood out because of his height at 6 feet, 4 inches. His short-fuse temper and unveiled sarcasm usually kept him in trouble, earning him the nickname Stepping Razor after a song written by Joe Higgs, an early mentor. He began to sing and learn guitar at a young age, inspired by the American stations he could pick up on his radio. After an illustrious career with the Wailers and as a solo musician, he was murdered at his home. Though robbery was officially said to be the motivation behind Tosh's death, many believe that there were ulterior motives to the killing, citing that nothing was taken from the house.
In the early 1960s Tosh met Bob Marley and Bunny Wailer through his vocal teacher, Joe Higgs, and after perfecting his harmonies with Marley and Wailer, he taught Marley to play the guitar. In 1962, he was the driving force behind the trio's formation of The Wailing Wailers with Junior Braithwaite and backup singers Beverley Kelso and Cherry Smith. The Wailing Wailers had a huge ska hit with their first single, "Simmer Down," and recorded several more successful singles before Braithwaite, Kelso and Smith left the band in late 1965. Marley spent much of 1966 in America with his mother, but he returned to Jamaica in early 1967 with a renewed interest in music and a new spirituality. McIntosh and Bunny were already Rastafarians when Marley returned from the U.S., and the three became heavily involved in the Rastafari movement. Soon afterwards, they renamed the group The Wailers. Veering away from the up-tempo dance of ska, the band slowed down to a rocksteady pace, and infused their lyrics with political and social messages. The Wailers penned several songs for the American born singer Johnny Nash before teaming up with production wizard Lee Perry to record some of reggae's earliest hits including "Soul Rebel," "Duppy Conqueror" and "Small Axe." With the addition of bassist Aston "Family Man" Barrett and his brother, drummer Carlton in 1970, The Wailers became Caribbean superstars. The band signed a recording contract with Chris Blackwell and Island Records and released their debut, Catch a Fire, in 1973, following it up with Burnin' the same year. In 1973, Tosh was driving home with his then-girlfriend Evonne when his car was hit by another car driving on the wrong side of the road. The accident killed Evonne and severely fractured Tosh's skull. He survived, but became even harder to deal with. After Island Records president Chris Blackwell refused to issue his solo album in 1974, the volatile Tosh and Bunny Wailer left the Wailers, citing the unfair treatment they received from Blackwell, whom Tosh often referred to as 'Whiteworst'.
Tosh began recording under the name Peter Tosh, and released his solo debut, Legalize It, in 1976 on CBS Records. The title track soon became an anthem for the marijuana movement and was a favourite at Tosh's concerts. As Marley preached his "One Love" message, Tosh railed against the hypocritical "shitstem," and became a favorite target of the Jamaican police. He proudly wore his scars that he had received from the beatings he endured. Always taking the militant approach, he released Equal Rights in 1977. Tosh put together a backing band, Word, Sound and Power who were to accompany him on tour for the next few years, and many of whom appeared on his albums of this period. In the free One Love Peace Concert in 1978, first Tosh lambasted the audience, including attending dignitaries, with political demands that included legalizing cannabis. He did this while smoking a spliff, a criminal act in Jamaica. Bob Marley asked both then-Prime Minister Michael Manley, and opposition leader Edward Seaga onto the stage; and a famous picture was taken with all three of them holding their hands together above their heads in a symbolic gesture of peace during what had been a very violent election campaign. Bush Doctor (1978), Mystic Man (1979), and Wanted Dread and Alive (1981) followed. Released on the Rolling Stones' own record label, Tosh tried to gain some mainstream success while keeping his militant views, but was largely unsuccessful, especially compared to Marley's achievements. That same year, Tosh appeared in the Stones' video, Waiting on a Friend. After the release of 1983's Mama Africa, Tosh went into self-imposed exile, seeking the spiritual advice of traditional medicine men in Africa, and trying to free himself from recording agreements that distributed his records in South Africa. Tosh also participated in the international opposition to South African apartheid by appearing at Anti-Apartheid concerts and by reflecting his stance in various songs like "Apartheid" (1977, re-recorded 1987), "Equal Rights" (1977), "Fight On" (1979), and "Not Gonna Give It Up" (1983).
In 1987, Tosh appeared to be on the way to a career revival. He was awarded a Grammy for Best Reggae Performance in 1987 for No Nuclear War. However on September 11, 1987 a three-man gang came to his house demanding money, and when Tosh replied that he did not have any with him he was shot dead, along with disk jockey Jeff "Free I" Dixon. The leader of the gang was Dennis 'Leppo' Lobban, a man whom Peter had befriended and tried to help find work after a long jail sentence. Leppo turned himself over to the authorities, and was tried and convicted in the shortest jury deliberation in Jamaican history: eleven minutes. He was sentenced to death, but his sentence was commuted in 1995 and he remains in prison. Neither of his two alleged accomplices were found, though rumors persist that both were gunned down in the streets.