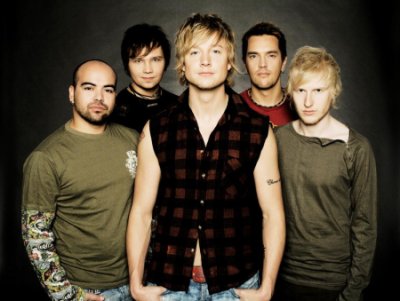 Sunrise Avenue is a Finnish rock quintet. Their style varies from hard, dynamic rock songs (e.g. "Forever Yours") to melodic rock ballads like "Heal Me".
Haber established a band called SUNRISE being only 16 years old together with a Finnish singer songwriter Jan Hohenthal. They performed in all kinds of clubs for years all over Finland. Haber moved to Spain in 1998 for 4 years and SUNRISE also performed at some Spanish private events. The guys had several different drummers and other musicians performing with them these days. Sunrise recorded several songs during that time. One of the songs was "All Because of you" that can also be found on the debut album of Sunrise Avenue. In 2002 Haber moved back to Finland and together with Hohenthal and a bass player Sami Heinänen they changed the name to SUNRISE AVENUE. Hohenthal left the band in 2002 march and started focusing on his solo career. After Sunrise Avenue lost the lead guitarist, Sami Heinänen introduced Janne Kärkkäinen to Haber.
Bass player Raul Ruutu joined the gang soon after, and Sami Osala came on as the drummer in the fall of 2005 he was recruited by Killer Aspect's Teijo Jämsä, who plays drums on several of the album's tracks. Haber had quit his day job in a sales office in 2003 and visited the record companies, producers and agents in Finland and in Sweden for 102 tomes before they finally got a record deal. Producer Jukka Backlund got interested when he saw the band perform live, and with him Sunrise Avenue decided to make a record, even before they had a deal. The first tracks Backlund and Sunrise Avenue did together also clinched the deal. A private person Mr. Mikko Virtala, a copy machine salesman and a friend of Haber's, sold his house to pay the costs of the recordings in studio.
In the summer of 2005 they were signed to Bonnier Amigo Music Group (responsible for the Finnish market), some time later to EMI world wide. Having released the first singles "All Because of You" and "Romeo" during the beginning of 2006, Sunrise Avenue published their "On the Way to Wonderland"- album in Finland in May. The third single, "Fairytale Gone Bad", was published on 23 August and reached the 5th place in the Finnish music charts. This single reached also 7th place on Polish Singles Chart. In Germany the album was released two weeks after the single "Fairytale Gone Bad" (25 August 2006). In the same time the band played their first gigs in Germany - in Cologne's Underground Club on 23 August and at The Dome (Germany's biggest musical TV-event) on 25 August.
On 20 October 2006, Sunrise Avenue received Platinum status with their debut album "On the Way to Wonderland" in Finland. The album became Gold in Sweden and Germany also. Moreover, on 19 January 2007, the band won four categories at NRJ Radio Awards (the biggest Nordic radio gala) for the best Finnish newcomer, the best Finnish song (Fairytale Gone Bad), the best Finnish album (On The Way To Wonderland) and the best Nordic artist. On 20 January 2007, they sang "Fairytale Gone Bad" in St. Jakob Halle, Basel, Switzerland, escorting Nikolay Valuev to the ring, where he defended his boxing WC title against Jameel McCline. On April 2007, the hit single "Fairytale Gone Bad" went Gold in Germany after selling more than 150.000 units (April 17th 181.826 Units total). The single reached Gold status in Sweden also, selling more than 30,000 copies.
"It's the same basic thing that The Beatles did, and what Bon Jovi and Foo Fighters have done for years. It isn't about today's trends, it's music that will work just as well today, tomorrow and in ten years time," Haber states. Debut album On the Way to Wonderland is about Sunrise Avenue's road towards its dream, the moment when the band members hold a completed album in their hands. "This album is a very direct and personal portrayal of all the different stages of traveling towards your dream: you've got the highs, the moments of boasting, and also the times when everything is going to hell," Haber describes. Sunrise Avenue has been determined on the journey to where they are now, as a recording artist with an open road filled with opportunities in front of them. We're talking about a strong live band, which has gained a lot of experience by playing all the gigs that have been there to play. That open attitude has helped spread the word about them. The main reason for playing all those gigs was simply the fact that these guys hunger for playing live.
"When you go on stage, it's never about life or death. If there's even one person who's into it, that's great. If we're enjoying ourselves, even that's enough. And if a hundred people are standing with their hands in the air, then wow! But for us playing live is the thing, that's enough to make us happy," Haber says convincingly. Sunrise Avenue want to connect with other people. The band members emphasize the audiences whenever possible. The fact that people came to the live shows even when things weren't going that great gave the band faith. "Sure we've had the moments, when we didn't think anything could ever come out of this. But those feelings disappeared every time we got on stage, and saw the guy or the girl smile. When we saw that we became convinced again that there's something to our music after all."