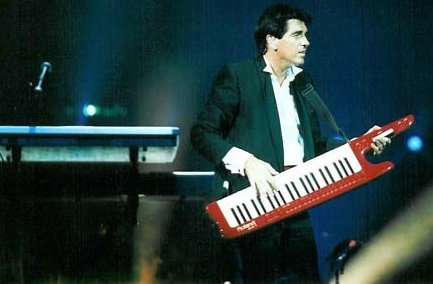 Space is a French electronic music band, one of the most notable artists of the short lived Space Disco music scene (a variation of Hi-NRG Disco and part of 70s Eurodisco).
Space was founded in 1977 by Didier Marouani (also known as Ecama). The first three albums — Magic Fly, Deliverance and Just Blue — were an immediate and staggering success (they sold over 12 million records all over the world). The album Magic Fly, which is widely considered to be their best work, was released in audio cd in 2001, 24 years after its original release. Although Didier Marouani left the band in 1979, the other two members Roland Romanelli and Jannick Top released in 1980 the album Deeper Zone under the name of Space. Then Space officially collapsed in 1981.
In early 80s Marouani, with Janny Loseth of Titanic as lead vocalist, continued to perform and record under the titles of Didier Marouani & Space, and Paris-France-Transit, before he got the brand name "Space" in the court around 1990, re-releasing classic albums and giving a concert tour. The latest Space album was released in 2002. The bands hit Magic Fly was covered in 2003 by the Belgian dance music project Minimalistix.
* * *
Didier Marouani is a French composer and musician. He is one of the pioneers in the Electronic music genre. Didier started his career as pop singer under the pseudonym ECAMA, which released the hit single "Magic Fly". Later he participated in such well-known bands as Space and Paris-France-Transit. He sold over 12 millions records all over the world. Didier Marouani & SPACE since 1977 gained the large popularity in France and Soviet Union.