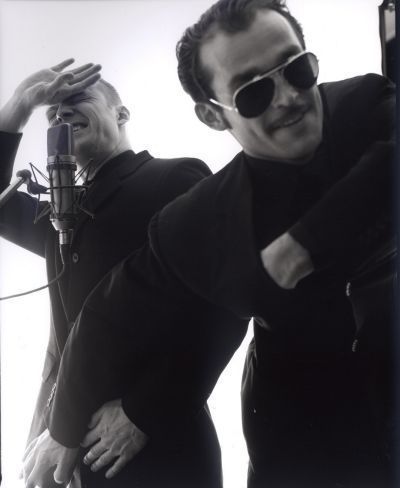 "Pop is the thing that happens if you don't use an Anti-Pop." (Jorge González).
Amazing, how clever Pink Elln and Dandy Jack arrange the sounds on their fourth album – nearly 10 years after their debut: Out of the ruins of reduced dance music they construct some sensational Pop music capable of becoming consensus at the club/airplay interface without ever betraying just a modicum of good taste ("Charlotte de Gaulle", "Gone", "Love is o.k.").
As if it is the most self-evident innovation in the musical world, "+1" compresses the most moving dancefloor styles and renovates the greyed coating of Electrofunk almost in passing. Here every little sound is in its right place and the grid, in which all notes are arranged in a highly sophisticated manner, becomes a blueprint for a state of the art dance generator born out of the progressive TecHouse era.
Meanwhile both musicians (formerly with homebase Frankfurt) reside in Berlin, which one may notice by the first-class production of "+1" emphasizing the physical element within the sensual. While Pink Elln, one of the most experienced sound engineers in Europe, carries the perfection of electronic sound design to another extreme without trailing away in ornaments or in the fairway of overproduction, supercharged Dandy Jack discreetly rattles at the organic sound frame. And they succeed – the sound is just as convincingly compact, at the same time easily accessible, with a touch of decadence ("Cleaning Windows", "TV Machine"), as only the Yellow Magic Orchestra has done it before. And these prominent Japanese guys always have been far ahead of their time, with every album anew…
Since more than 20 years the two Sieg über die Sonne visionaries do field research in the electronic music area, which they have refined within countless studio and live projects as well as with remixes and other international coups (Sun Electric, Dr. Motte, Sensorama, Plaid, Ricardo Villalobos, Tobi Neumann, 2raumwohnung, Mambotur, Jardín Secreto, just to name a few). Besides their various productive approaches have been influenced by regular cooperations with long-standing musician friends: for example both maintain projects with Atom Heart. After having released various solo recordings from 1985 on (on Cyclotron, Ongaku/RisingHigh, Lo-Fi Stereo), Pink Elln accompanies the "Electronic Dreamplant" crew StarDax to international festivals as sound designer since 1993 and published a CD of same title and supernatural beauty in 2002 (SaasFee/Kompakt). Dandy Jack erected adventurous Ambient platforms with Pete Namlook (FAX), forms the crunchy Techno body of Ric y Martín with fellow Ricardo Villalobos (Perlon, Playhouse, Forcetracks) and syncopates the current TecHouse groove alias Carabina 3030 (Perlon) – together with smart Luciano from Geneva.
The contact to Chilean Jorge González who wrote, sang and arranged all vocals on "+1" – partly live in the Sun Electric studio Berlin, partly via digital media –, exists since the mid-Nineties. The singer, bass player and most likeable superstar in the world has founded the trio Los Prisioneros in Santiago de Chile in 1978 and has been promoted to a nationwide admired celebrity within the following years. During the times of the putsch, the curfew and other restrictions the band had buoyed the Chilean youth up, had raised hopes by means of their liberating music which was understandable for everyone and their political, metaphorical lyrics. They split temporarily in 1992. In 1997 Jorge González, Dandy Jack, Pink Elln, Argenis Brito (Mambotur, multiColor) and Atom Heart managed the successful experiment in merging traditional Latin American music with digital electronics, which lead to the production of a unique album of the supergroup Gonzalo Martínez (multiColor).
Finally Jorge González reformed his original Los Prisioneros in 2001. Already at the end of the same year they played live twice in the sold out football stadium of Santiago de Chile: 70.000 spectators per evening celebrated the comeback frenetically. This is not a joke: the trio, which is showered with awards, is still as famous in Chile as the Beatles are in England! Pink Elln was booked as an engineer for the current album by Los Prisioneros. On the other hand Jorge González was looking forward to taking on the vocal parts of the new Sieg über die Sonne album. Already in 2001 he had given his voice to the club hit "I'm Not A Sound" (among others) from their third album "(–) · (–) = (+)" (multiColor). Jorge's professional approach to melody lines is remarkable, as well as his charming handling of language that, with a wink, takes the edge off tragedy and melancholy of serious topics. This way every statement is manoeuvred skillfully and accurately to the comprehension of the listener.
The adventure Sieg über die Sonne has begun in Frankfurt a.M. in 1988. The original formation consisted of six German and Chilean members who have been active in most different musical and artistic fields. In 1989 the drafts of a virtual, urban architecture became manifest in a first, limited 7"EP release. After the group's split and a 12"EP release in 1991, which already has been recorded by the core duo of the company, Pink Elln and Dandy Jack, those two produced their first, self-titled album in 1994 – a source of new rhythms and new perspectives that implied its own way of listening and own experience in space –, followed by the album "18" in 1996.
In the same year of their debut Sieg über die Sonne gave their premiere concert in front of a breathtaking Pacific panorama in the course of a total eclipse of the sun in Northern Chile. In the meantime they've had successful parties in many European first-class clubs and at internationally casted festivals (La Villette, Rex Club, Le Batofar/Paris, Fabric/London, Vision/Switzerland u.v.m.). Their live sets are designed more streamlined: They pump versions of their tracks almost bursting with energy out of their machines, which the audience is rewarding regularly with great enthusiasm.
Now the new work "+1" once more sets new qualitative standards. With nonchalant professionalism it celebrates the unity of sensual pleasures. "The Future is Boring" Jorge González insists rightly on the album's intro, since who wants to wait for the future impatiently if one is able to get the best of the finest already now…