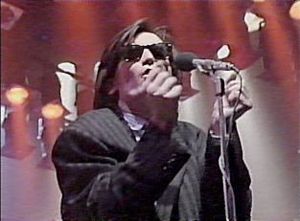 Feargal Sharkey (born Sean Feargal Sharkey, 13 August 1958, Derry, Northern Ireland) is a singer, who first found fame as the lead vocalist of pop punk band The Undertones, famous for the hit single "Teenage Kicks" and being discovered by John Peel. This was indeed the high point of his musical career, John Peel famously said in an interview,"Teenage kicks came on the radio,and I had to pull the car over to the side of the road, There's nothing you could add to it or subtract from it that would improve it". Before his solo career took off, he was also the singer of the one-shot group The Assembly, with the ex-Yazoo supremo Vince Clarke in 1983 (with their UK Singles Chart number 4 hit, "Never Never").
His best-known solo material is the 1985 UK chart-topping single penned by Maria McKee, "A Good Heart", which went to number one in several countries. His solo work is significantly different from the semi-punk offerings of The Undertones. He also got UK number 5 in 1986 with "You Little Thief". Both "You Little Thief" and "A Good Heart" have a common link. "You Little Thief" was written by Benmont Tench, a member of Tom Petty's band, in response to Maria McKee writing "A Good Heart" about him. His debut single was a collaboration with Madness member Cathal Smyth titled "Listen To Your Father", and it reached #23 in the UK in late 1984.
McKee herself later had a worldwide hit with "Show Me Heaven" from the soundtrack to the movie Days of Thunder.
Starting in the early 1990s Sharkey moved into the business side of the music industry, initially as an A&R manager for Polydor Records, and then as Managing Director of EXP Ltd. He was appointed a Member of the Radio Authority for five years from December 1998 to December 2003. He then became Chairman of the UK Government task force the 'Live Music Forum' in 2004.