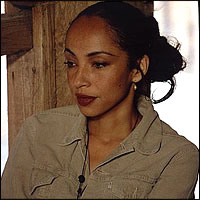 Sade (born as Helen Folsade Adu on January 16, 1959, ADO-EKITI, Nigeria)
Lovers Rock is the first collection of new work by Sade in eight years. But it's a record that says less about those years gone by than the promise and vitality of the here and now. It's an album that's by turns moving, elegiac and beautiful. Like the tender, acoustic guitar-driven first single, 'By Your Side', a song about the tensile strength of love, it is music stripped back to its essential elements: voice, melody, and meticulously arranged instrumentation. The result is a record of bare, sometimes startlingly, immediacy.
But then Helen Folasade Adu is a woman who has never had anything to hide. Born in Ibadan, Nigeria and raised in Colchester, Essex, where she moved at 4 after her English mother separated from her Nigerian father, she's spent her life trying to do what feels right, honest and true. Because by comparison nothing else has seemed as important. When she was growing up, Sade would listen to soul artists like Curtis Mayfield, Donny Hathaway and Marvin Gaye. Singers uniquely attuned to the complex sensibilities of heartache and hope, who were skilled enough to create from those feelings, something lasting and transcendent. Still she didn't think about singing herself.
Rather, she studied fashion at St Martin's art college, only signing on as vocalist when a couple of old school friends started a band "until they found a proper singer". From there to singing with early Eighties Latin funk collective Pride, she discovered a rare delight in songwriting. It was while she was with that group, Sade co-wrote 'Smooth Operator' with Ray St. John, and it was from there that Sade abandoned diffidence and finally stepped centre stage to form her own group with fellow Pride members Stuart Matthewman, Andrew Hale and Paul Spencer Denman.