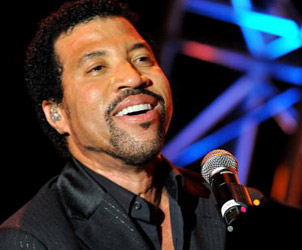 Lionel Brockman Richie (born June 20, 1949) is an American singer-songwriter and record producer who has sold (solo or as group member) more than 100 million records.

Born in Tuskegee, Alabama, Richie grew up on the campus of Tuskegee Institute. His grandfather's house was across the street from the home of the president of the Institute. His family moved to Illinois where he graduated from Joliet Township High School, East Campus, in Joliet. A star tennis player in Joliet, he accepted a tennis scholarship at Tuskegee Institute and later graduated with a major in economics. After receiving his undergraduate degree from Tuskegee, Richie briefly attended graduate school at Auburn University. Lionel is a member of Alpha Phi Alpha Fraternity.

As a student in Tuskegee, he formed a succession of R&B groups in the mid-1960s. In 1968 he became a singer and saxophonist with the Commodores. They signed a recording contract with Atlantic Records in 1968 for one record before moving on to Motown Records, being schooled as a support act to The Jackson 5. The Commodores became established as a popular soul group. Their first several albums had a danceable, funky sound with such tracks as "Machine Gun" and "Brick House". Over time, Richie wrote and sang more romantic, easy-listening ballads such as "Easy", "Three Times a Lady" and "Still" and the tragic break-up ballad, "Sail On." By the late 1970s, he had begun to accept songwriting commissions from other artists. He composed "Lady" for Kenny Rogers, which hit #1 in 1980, and he produced Rogers' Share Your Love album the following year. Richie and Rogers have maintained a strong friendship in later years. Latin jazz composer and salsa romantica pioneer La Palabra enjoyed international success with his cover version of " Lady", which was played at Latin dance clubs. Also in 1981, Richie sang a duet with Diana Ross in the theme song for the film Endless Love. Issued as a single, the song topped the UK and U.S. pop music charts, and it became one of Motown's biggest hits. Its success encouraged Richie to branch out into a full-fledged solo career in 1982. He was replaced by Skyler Jett, who became the lead singer for The Commodores in 1983. His debut album, Lionel Richie, produced another chart-topping single, "Truly", which continued the style of his ballads with the Commodores.
He released his self-titled debut in 1982, which contained three hit singles: the huge U.S. #1 song "Truly" that launched his career as one of the most successful balladeers of the 1980s. Other U.S. Top Five hits "You Are" and "My Love". The album hit #3 on the music charts and sold over 4 million copies. His 1983 follow up album, Can't Slow Down, sold over twice as many copies and won two Grammy Awards including Album Of The Year – propelling him into the first rank of international superstars. The album spawned the #1 hit "All Night Long", a Caribbean-flavored dance number that was promoted by a colorful music video produced by former Monkee, Michael Nesmith. Several more Top 10 hits followed, the most successful of which was the ballad "Hello" (1984), a sentimental love song that showed how far Richie had moved from his R&B roots. Richie had three more Top Ten hits in 1984, "Stuck On You" (#3), "Running With the Night" (#7) and "Penny Lover" (#8). Now described by one critic as 'the black Barry Manilow', in 1985 Richie wrote and performed a suitably soothing theme song, "Say You, Say Me", for the film White Nights, winning an Oscar for his efforts as well as reaching #1 on the U.S. charts and staying there for four weeks, earning him the #1 song of 1985 according to Billboard's year-end Hot 100 chart. He also collaborated with Michael Jackson on the charity single "We Are the World" by USA for Africa, another #1 hit. In 1986, Richie released Dancing on the Ceiling, his last widely popular album, which produced a run of US and UK hits including "Say You, Say Me" (U.S. #1), "Dancing on the Ceiling" (U.S. #2),"Ballerina Girl" (U.S. #7) and "Se La" (U.S. #20), The latter is Richie's most recent U.S. Pop Top Twenty hit. The title selection, which revived the lively dance sound of "All Night Long (All Night)", was accompanied by another striking video, a feature that played an increasingly important role in Richie's solo career.[1] The critical consensus was that this album represented nothing more than a consolidation of his previous work, though Richie's collaboration with the country group Alabama on "Deep River Woman" did break new ground. By 1987, Richie was exhausted from his work schedule and after a controversial year laid low taking care of his father in Alabama. His father, Lionel Sr., died in 1990. He made his return to recording and performing following the release of his first greatest-hits collection, Back to Front, in 1992. Since then, his ever-more relaxed schedule has kept his recording and live work to a minimum. He broke the silence in 1996 with Louder Than Words, on which he resisted any change of style or the musical fashion-hopping of the past decade. Instead, he stayed with his chosen path of well-crafted soul music, which in the intervening years has become known as Contemporary R&B. His albums in the 1990s such as Louder Than Words and Time all failed to achieve the previous decade's commercial success. Some of his recent work such as the album Renaissance has returned to his older style, achieving success in Europe, but only modest notice in the United States. Since 2004, he has produced a total of six Top 40 singles in the UK. On February 1st, 2010 Lionel made a remix of the We Are The World in which Justin Bieber sings his original part in the song.