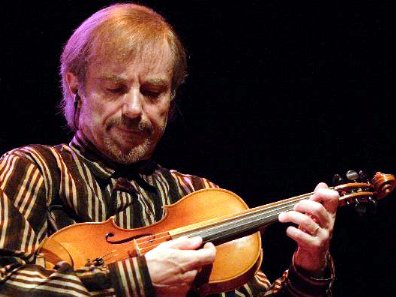 French violinist Jean-Luc Ponty (1942) is the musician who took the violin into the electric/electronic age and made it a pivotal force of the jazz-rock movement. Originally employed in a symphony orchestra, Ponty debuted at the age of 22 with Jazz Long Playing (1964). His first important composition was Suite For Claudia on Sunday Walk (1967) for a quartet with pianist Wolfgang Dauner, bassist Niels Pedersen and drummer Daniel Humair. Ponty had already developed a style at the instrument that basically imitated the phrasing of the bebop soloist and occasionally flirted with free jazz. He more than flirted with jazz-rock when, relocated to Los Angeles, he started working with rock composer Frank Zappa (1968). Ponty joined forces with pianist George Duke to form the ensemble of Electric Connection (1968), that contained his Hypomode Del Sol, and the ensemble of King Kong (1969), that performed music by Zappa (notably Music for Electric Violin and Low Budget Orchestra, a masterpiece of jazz, rock and classical fusion). (Experience and King Kong were later combined as Canteloupe Island.) Ponty's main compositions of the time reflected the Zappa influence: Contact on Experience (1969) for a quartet with Duke on piano, the 20-minute three-movement suite Flipping and the 15-minute Open Strings on the sublime Open Strings (december 1971) for a quintet with keyboardist Joachim Kuhn and guitarist Philip Catherine, Astrorama on Astrorama (1970), Concerto for Jazz Violin and Orchestra on With Kurt Edelhagen & His Orchestra (october 1971), and especially the five-movement Sonata Erotica (1972), recorded live with Ponty on acoustic violin and echo box, Joachim Kuhn on electric piano, Nana Vasconcelos on percussion, plus a bassist and a drummer, basically a reworking of the concerto for jazz violin and orchestra.
After playing with John McLaughlin's Mahavishnu Orchestra, a more electronic and energetic sound surfaced on Upon the Wings of Music (1975), with en electronic keyboardist and with Ponty playing electronically-modified violins (the overdubbed solo violin workout Echoes Of The Future). It also displayed the first symptoms of Ponty's African passion (percussionist Ndugu Leon Chancellor). That album's energetic and futuristic fusion set the pace for the subsequent albums, that mostly replicated the line-up of the Mahavishnu Orchestra (electric violin, guitar, keyboards, bass, drums): Aurora (1975), Imaginary Voyage (1976), highlighted by the 20-minute four-movement suite Imaginary Voyage, Enigmatic Ocean (1977), with Allan Holdsworth added a second guitar and two multi-part suites, Enigmatic Ocean (twelve minutes) and The Struggle Of The Turtle (13 minutes), Cosmic Messenger (1978), with Ponty doubling on synthesizer and with Peter Maunu and Joaquin Lievano splitting guitar chores (Egocentric Molecules), A Taste for Passion (1979), where the cliche' began to wear out, and Civilized Evil (1980) where the cliche was becoming unbearable. The 24-minute five-movement suite Mystical Adventures on Mystical Adventures (1982) de facto closed an era.

Ponty was ready for a major change. He embraced the electronic machines (synthesizers, sequencers and rhythm machines) and recorded albums that relied very little on his guests: Individual Choice (1983), with Computer Incantations for World Peace, Open Mind (1984), Fables (1985), The Gift of Time (1987) and Storytelling (1989). Tchokola (1991) and No Absolute Time (1993) were collaborations with West-African musicians, devoted to various styles of African pop music,.The Rite of Strings was a group formed in 1995 with guitarist Al DiMeola and bassist Stanley Clarke. Life Enigma (2001) was mostly a (mediocre) solo effort.
Official Homepage: www.ponty.com