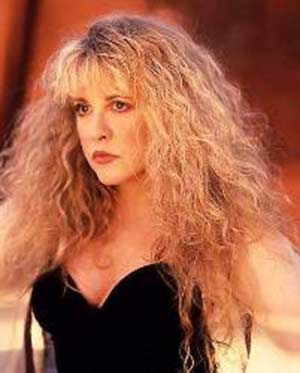 Stephanie Lynn Nicks was born on May 26, 1948 under the sign of Gemini. Her parents Barbara and Jess Nicks lived in Phoenix, Arizona at that time.

At the age of four, Stevie starts practicing song and dance routines at home in front of the mirror on weekends. Her grandfather A.J., an ardent country crooner, teaches her to sing the female parts of call-and-response country songs. He takes her along with him, to perform in gin mills, where she sings and dances as he plays.
"I danced around as Isadora Duncan at four years old. And my parents said 'What are we gonna do?' I'd pay my brother 50 cents a week, just to dance with me, just because I loved to dance so much. I didn't want to go to ballet school every day, and study, and kill myself either; because I knew I couldn't bluff my way through, say Russian ballet. So I had to figure out another way to do something wonderful without working at it. So as a real little girl I started singing along with the Beach Boys, learning all the words ... Working out my routine, sort of, and that's not easy when the mirror starts at right where your chest starts, and you're trying to work out the whole stage show, but that's what i did." Young Stevie

As Stevie's father Jess, a food business executive, climbed the ladder of success, he and the family moved from one Southwestern outpost to another. The list of places where Stevie lived sounds like an uninspired lyric from a blues country tune; baby years in Phoenix, a year in Albuquerque, New Mexico, five years in El Paso, Texas, two years in Salt Lake City, Utah, two years in Los Angeles, several years in the suburbs of San Francisco. On her 16th birthday, her parents give Stevie her first guitar, a Goya, which had belonged to her music teacher (she took music lessons for all of a month). On that same birthday she composes her first song "I've Loved And I've Lost Lost (and I'm Sad but not Blue)" ". Since that day she says, I've been the mad songwriter ... I just can't stop it. In 1965, Stevie attends Arcadia High School in Los Angeles and joins her first band, "Changing Times", a four member folk/rock group fashioned after "The Mamas & The Papas". Jess Nicks and family are transferred to San Francisco. Stevie attends Menlo-Atherton High School, and in her first experience of peer popularity, is voted runner up to the homecoming queen. She meets Lindsey Buckingham; They sing a duet together but don't see one another again for the next two years.

"I went to kind of church meeting that nobody really went to for church; everybody went, to get out of the house on Wednesday night. And it was fun, even I went and I didn't go anywhere. Lindsey walked into the room and sat down and started playing a song. I just happened to know every word and harmony perfect, "California Dreaming", and I thought he was absolutely stunning. So I kind of casually maneuvered my way over.... He was somewhat, I guess ever-so-slightly, impressed. Not to let me know it, but he did sing another song with me, which let me know he did like it." Fritz The Nicks family moves to Chicago in 1967, but Stevie stays in the Bay area and attends San Jose State College where she majored in communications. While still in college, she joins up with Lindsey Buckingham in a psychedelic rock band, called "The Fritz Rabyne Memorial Band" or just "Fritz", playing regularly all over the Bay area. The two other members from "Fritz" were Calvin Roper and Javier Pacheco.
"They were really playing, so it was almost as bad as joining a big Rock 'n' Roll band, cause it was serious. 'You be there', I was the only girl and I was always late for everything ... but I was one on-time person, mostly. I had no social life at all, but I had money, I got paid, at least."

Fritz disbanded in 1971 and Stevie and Lindsey, who had become romantically involved at that time, decide to go on as a duo. In 1972, Stevie composes "After The Glitter Fades", to be heard nine years later on her first solo album. They use an inheritance of Lindsey's to record demos for an album. "It was a goodly amount of money, especially then, and especially for two people who had no money. Lindsey bought an Ampex 4-track with it - he is very brilliant and I can't even plug in the stereo - and his dad let us have this tiny little room in his office plant. All the workers would leave around 7:00 and we'd get there at 7:30 and leave at 6:00 in the morning, just before they'd come in. It was this big, huge building, it was scary, and we'd lock ourselves in. Just me, Lindsey, and the Ampex, everything we owned on the floor in this tiny room, and just sing and play and record. We did seven songs and it took us a year. They were really good, and when they were finished we got in Lindsey's car and drove to LA, where every record company in the world passed on us. We were devastated, but we still knew we were good." Buckingham/NicksMiraculously, Stevie and Lindsey's fortunes change and they are signed to Polydor Records in 1973. Keith Olsen engineers the songs they recorded in the coffee factory, which are released on an album titled "Buckingham/Nicks". Immediately after release, the album is dropped. "It was like it never existed, and it was worse then before, because first of all, somebody had to go back to work, and second of all you knew who it was going to be ... We had tripped the light fandango, we'd recorded in the studio, we'd had the big sounds, we were happening and all of a sudden we were nobody ... And something in our hearts said 'we'll beat this, we'll sing our songs.' That's really the point were we both became aware that if we didn't fight back, they'd break up our love, they'd break up our house, they'd break up our music. So we walked away from them first."

After losing the little money they had, Stevie and Lindsey move in with Richard Dashut (who later will produce several Mac and Lindsey albums). Stevie cleans Keith Olsen's house and works as a waitress while Lindsey works on the music. She composes "Rhiannon". They go into the studio again to work more on Buckingham/Nicks with Keith Olsen. On New Years Eve, Olsen calls and tells them that Mick Fleetwood of Fleetwood Mac wants the two of them to join the band. "I said, 'Right Keith, they want Lindsey to join the band, right?' And he said, 'Well, maybe, but they know they're not going to get him without you anyway, so you're invited at least.' And I said, 'This is kind of a big band, isn't it?' And he said, 'Well, relatively yes, this is a big band, they've been famous for a long time, they're mysteriously occult/English. They're all the things that you love and they want to meet you.' Lindsey talked to him for a little while, and the next day, we pilched every bit of money we could get our hands on. Mind you, we were on cloud nine, because nothing had gone right for us in so long. We bought all the Fleetwood Mac albums and we listened to them, front to back, back to front, again and again to see if there was any reason for us to make Buckingham/Nicks a part of Fleetwood Mac. And there was a mystical side to it, and there was that guitar, that Peter Green thing that Lindsey is very adept at and that he and I both love. There were a lot of threads that worked for both of us, even though it probably wasn't the perfect thing. But it could have been a band that we absolutely hated. As it was, we were very excited. We went into rehearsal a week later, went into recording four weeks later, finished the album in three months and we were on the road. So it happened overnight." Stevie 1975 In 1975, the Fleetwood Mac "White Album" is released, featuring the hit single "Rhiannon" written by Stevie. She composes "Leather and Lace" for Waylon Jennings and Jessie Colter (who break up and won't record the song). She also writes "The Highwayman" and "Think About It" (the latter for Christine McVie who is splitting from husband John). All three tunes will later appear on "Bella Donna", her first solo LP.
When Fleetwood Mac goes into the studio in 1976 to record the follow-up for the "White Album", there are a lot of conflicts going on in the band. Christine and John were splitting up, Mick was in the middle of a divorce and Stevie and Lindsey were breaking up as well. So what happened was that Stevie, Lindsey, and Christine were all writing about their crumbling relationships. They all dealt with their problems in their own way however Stevie, for her part, kept mostly to herself. Outside of a short romance with drummer/singer Don Henley of The Eagles, she spent her days either in the studio or at home writing and taping her songs. Stevie composes "Dreams", the only number one hit for Fleetwood Mac in the States so far. Two other Stevie songs were on the multimillion selling album; "I Don't Want To Know" and "Gold Dust Woman" and she co-wrote "The Chain" with the rest of the band. Although all of these songs are masterpieces, the magnificent "Silver Springs" was held back from the album for rather dubious reasons, and it would remain a sore spot in Stevie's mind for many years to come. The "Rumours" tour takes Stevie and Lindsey to Europe and Australia for the first time along with the rest of the band. The tour lasted over a year and during that time Stevie and Mick became romantically involved. Their relationship didn't last very long, but they did seem to find comfort in one another -- apparently understanding what each other was going through at the time. It is at this time that Stevie wrote "Sara" -- about her 'great dark wing' which apparently was Mick.

After thirteen months of recording the double LP "Tusk", it is finally released in 1979. It includes several Stevie's tracks like "Sara" (a major hit) and "Angel". A year-long worldwide tour follows. A live album culled from the tour, "Fleetwood Mac Live '80", is released, followed by another worldwide tour, which ends in the fall. Three weeks later, Stevie composes "Bella Donna" to fulfill the solo album concept she's had in mind. "The song 'Bella Donna' is about getting a little bit of my life back. But the album, in a larger sense, was my finding out if I could still do something on my own. You start to doubt yourself after seven years with Fleetwood Mac. My life was completely, undeniably, wrapped around the band. You stop living in the real world. You come home, you've been under this great pressure to go on stage and be wonderful, and you walk around and wonder; What am I going to do with myself? They just drop you off one day and say, 'see you in three weeks or three months.' And you can't sleep. You're all dressed up with no place to go ..." Stevie Stevie, who was a big fan of Tom Petty and the Heartbreakers, wanted to work with Tom and his band. So she contacted their producer Jimmy Iovine, who wasn't thrilled with the idea at first because he didn't want any woman on a Heartbreakers album. But Stevie didn't give up very easily -- and so it happened that she recorded the duet "Insider" with Tom for their next album "Hard Promises". She also sang background vocals on "You Can Still Change Your Mind". Tom even wrote a duet for Stevie and himself, "Stop Dragging My Heart Around". Tom's producer Jimmy Iovine became Stevie's producer and also her boyfriend. They ended up moving in together not long after. 1981,Stevie's first solo LP; "Bella Donna" is released to critical acclaim and sells millions of copies worldwide. Later, it will be certified Triple Platinum in the US for selling three million copies. The album enters the Billboard chart at number 12 in July 1981. She does a Southwestern US tour and an hour long HBO Cable TV concert special.

The Tom Petty duet "Stop Dragging My Heart Around" becomes a top 5 hit and completes a ten week run in the top 10. The second single, "Leather And Lace", a duet with former Eagles frontman Don Henley, does almost as well reaching number 6 on the charts. On her first tour as a solo artist, Stevie begins working with two women who were her roommates, touring background singers and later lifetime friends -- Sharon Celani (who Stevie met while she was singing in a nightclub in Hawaii) and Lori Perry, who ended up marrying Stevie's brother Chris a few years later. In February 1982, the third single, "Edge Of Seventeen" enters the charts climbed all the way up to number 11. At the 24th Annual Grammy Awards, "Edge Of Seventeen" is nominated for best rock vocal performance by a female artist while "Stop Draggin' My Heart Around" is nominated for best vocal performance by a duo or group. A year later, "Bella Donna" is declared the best-selling album by a female artist for the second consecutive year by the National Association of Recording Merchandisers. It is the only time an album has won that citation two years in a row. While July 27, 1981 should have been one of the happiest days in Stevie's life (because it marks the release of her first solo album), it unfortunately proved to be one of the saddest days. That's the day she received some awful news about her lifelong best friend Robin Anderson. Stevie and Robin met in Junior High School in San Jose. It was for Robin that Stevie played her first song, "I've Loved and I've Lost (and I'm Sad but not Blue)". They were best friends from that point on. They moved together to LA where Robin became secretary to the co-owner of Modern Records. Robin's boyfriend was Kim Anderson, a guy who worked at Warner Brothers. The three of them always went out and had fun together.

Stevie and Kim Anderson On the eve of the release of "Bella Donna", Stevie's friends threw a party for her on a boat. Just when about Stevie wanted to leave for the party she received a distressing telephone call. Robin had Leukemia. While Robin was at the City Of Hope hospital, Stevie went to visit her every day. It was during these difficult times that Stevie started to paint. Then Robin did something she wanted to do for a long time, she married Kim. Stevie was ecstatic, but her joy soon turned into shock when Robin announced that she was going to have Kim's baby. Robin wanted to leave Kim with something. Their son, Matthew, was born two months premature. Shortly after his birth, Robin died. Stevie and Kim shared their tragedy together, because they were the only two people who did really understand the pain the other one felt. Soon after, Stevie announced that she and Kim were getting married. Stevie and Kim were married by the minister who had given Robin comfort in her last days. The wedding itself was more like a fairy-tale. All rose and lace, held at a poolside with Stevie's friends as bridesmaids and flowers everywhere. Stevie herself looked like a princess, her hair done in golden ringlets and her eyes wet with tears of both happiness and sadness. That's how Stevie became stepmother to baby Matthew, to help Kim to raise her best friends child. But the marriage only lasted a few months. Years later, Stevie said the following about her marriage; "We didn't get married because we were in love, we got married because we were grieving and it was the only way that we could feel like we were doing the right thing. And we got divorced three months later, and I haven't seen Kim, nor Matthew, since that day. I suppose that Matthew will find me when he's ready."

When Fleetwood Mac went to Herouville, France, to record the "Mirage" album, Stevie isn't there at the first recording sessions, but she joins the rest of the band a few days later. She adds three songs to the album, "That's Alright" which was written during the Buckingham Nicks era, "Straight Back" and "Gypsy". The latter was released as a single and then as an award-winning videoclip. The release of the album in the summer of 1982 is followed by a major US tour. Stevie during The Wild Heart tour At the same time she worked on "Mirage", she was also completing songs for her next solo album, "The Wild Heart", which was released in June 1983. The album was spearheaded by the single "Stand Back", a top 5 hit in the States. The song also became a big dance club hit, reaching number 12 on the Billboard dance/disco chart and got nominated for "Best Rock Vocal Performance by a Female Artist" at the 26th Annual Grammy Awards. The album itself, completed an 11-week run in the top 10, went platinum, but wasn't the smash hit that "Bella Donna" had been. The second single, "If Anyone Falls" didn't chart high enough to really make a huge impact. Stevie opened an extensive American tour with a smashing performance at Southern California's US Festival, playing to an estimated 200.000 people. "Rock A Little", Stevie's third solo album, was scheduled for release in late 1984. Jimmy Iovine started to produce the album, but when they both decided it just wasn't working anymore, he was replaced by Keith Olsen, known by Stevie since the Buckingham / Nicks era. Because of all the problems at the start of the recording sessions, the album wasn't released until November 1985. Three singles were released from the album; "Talk To Me" (reached #4), . the un-Stevie like "I Can't Wait", and the third single "Has Anyone Ever Written Anything For You" . The album reached #12 and went Platinum. .

Stevie went on a four month American tour to support the record which started in April 1986 followed by some concerts in Australia. Those concerts were the first concerts she gave as a solo artist outside the States. In 1986, Stevie checked herself to the Betty Ford clinic for drug rehabilitation and has been clean ever since. "Yes, the drugs were bad and they got everybody sick and made a lot of problems. However, there's the tragic artist drug syndrome that sometimes makes for great art. So I would go back and change any of it? No I wouldn't. I think it all happened for a reason. But I got through it, so I was lucky.I would never lecture anybody because I don't think that's the way to get to people. It certainly wasn't the way to get to me. "I decided to go to Betty Ford. Nobody came and threw me in a van and took me. That was my decision. I booked the room. I paid for it. So I really think when it comes down to that stuff, it's really all up to you." Where's John? In 1987, it was time for another Fleetwood Mac album. Again, Stevie composed three songs for the album, "Welcome To The Room ... Sara", "When I See You Again", and "Seven Wonders" (the latter being one of the singles). It reached the top 10 on the U.S. Album Charts and made it to number one in Europe (a feat which both "Tusk" and "Mirage" did not achieve). Stevie didn't spend much time in the studio, preferring to record most of her vocals alone. Not surprisingly, this caused a little resentment with the other members. (but they did ultimately understand that Stevie was very busy with her own career). "Tango In The Night" was followed by a huge American and European tour which lasted for about nine months. It was the first time the band went out on the road without Lindsey since 1974. He left right after the release of the album and was replaced by Rick Vito and Billy Burnette.

Fleetwood Mac also released a "Greatest Hits" album in 1988, which included a new song by Stevie, "No Questions Asked". Stevie didn't give herself much time to rest though. She almost immediately started to work on a new solo album. Her friends Sharon Celani and Lori Perry, who had became Stevie's brother Chris' wife, joined her on the background vocals and to support Stevie emotionally and mentally during the recording of the album. The first single from this album "The Other Side of The Mirror" was "Rooms On Fire", which turned out to be Stevie's biggest hit ever in Europe. Then came the duet with Bruce Hornsby called "Two Kinds Of Love" and then the third single --"Whole Lotta Trouble" (which was released in the States). An additional single, "Long Way To Go", was released in Europe and Japan. The tour that followed started in America and finally brought Stevie to Europe, the first and until now the last time she ever toured the European continent without Fleetwood Mac. The first Fleetwood Mac album since 1975 that was recorded without Lindsey Buckingham, was "Behind The Mask" in 1990. Stevie lived up to her part of the deal, and contributed four songs to the album. The tour, which followed the release of the album, was the longest Fleetwood Mac tour ever. It took the band from Australia to the States, over to Europe and then back to North America. When the tour was over Stevie announced that she didn't wanted to work on another Fleetwood Mac album. Some people said it was because Stevie didn't like what Mick wrote about her in his book he just published, but the real reason was that Warner Brothers didn't allow Stevie to use The Mac's version of "Silver Springs" on her soon-to-be-released "Timespace" album. At the time she thought that it was Mick who had made that decision, but in actuality it was Warner Brothers. Although Stevie wrote the song, she didn't have the power to release it. She was upset and, at the time, blamed Mick. She has since forgiven him

In July 1991, Stevie started a short US tour, which was called the "Whole Lotta Trouble" Tour. Stevie played only in a handful of cities in the States and in the meantime a new album was released. That album, "Timespace", is actually more a compilation of 10 years of solo hits and a few new songs, like "Love's A Hard Game To Play", "Desert Angel", and Jon Bon Jovi's "Sometimes It's A Bitch", which was released as a single. It didn't become a hit, but as is the case with much of Stevie's material -- the songs are classics to the legions of Stevie fans around the world. The album itself gained the platinum status in the States. Sharon Celani, Stevie and Lorri Perry

Although, Stevie had sworn to never go onstage again with Mick Fleetwood, in 1992 the "Rumours" line-up reunited for President Clinton's inauguration ceremony. They performed the Mac classic "Don't Stop". "It was great", says Stevie about that evening. "It was something I don't think any of us will ever, ever forget. Walking out on stage . . . and knowing that we were walking out because Bill Clinton wanted us. That was the most incredible thing. You couldn't feel more special than we did that night."
After the performance, Stevie decided to officially leave Fleetwood Mac. "It was very hard to leave, she says. I just couldn't leave them after Lindsey left in 1987. I couldn't do that to them, I just couldn't. But after Lindsey came and played the inauguration with us, I realized that i could never deal with Fleetwood Mac again unless it would be the five of us. And it will never be that way again. So I decided my part in that particular Shakespearean drama is over." Now that Stevie was completely on her own and didn't have to think about anything else but her solo career, she started to work on her fifth album, "Street Angel". For this album, Stevie worked with artists like Sandy Stewart and Mike Campbell and also used "Just Like A Woman" from Bob Dylan. Bob even joined Stevie in the studio to record the guitar and harmonica parts of the song. "Street Angel" was released in May 1994 and was Stevie's only solo album which only made Gold and never was never certified Platinum. Stevie also toured in the States to promote the release. The singles released from "Street Angel" were "Blue Denim" and "Maybe Love Will Change Your Mind". Maybe Love Will Change Your Mind

In 1996, Stevie recorded a duet with Lindsey Buckingham for the movie "Twister". The song "Twisted" was their first musical collaboration since they both joined Fleetwood Mac in 1975, and was what you could call a fresh start to fix the broken pieces in their relationship. In May of that year, while the 20th anniversary of the "Rumours" album was approaching, Mick Fleetwood, Christine and John McVie and Stevie reunited on stage at the Kentucky Derby. Immediately the rumours about a possible reunion began. Stevie's only live performances in 1996 were on the St. Petersburg Pier for the annual July 4th free concert and at the Boston Mix Fest in October. The Rumours line-up reunited In early 1997, plans for a Rumours line-up reunion began to become reality. The members were contacted by MTV to do a television special, before embarking on a summer tour. The TV special was recorded at the Warner Bros Studios in Fairbank, California on May 22 and 23 and it seemed as if they picked up where they left at the 1982 Mirage tour. The TV show and the following tour was a compilation from their greatest hits and a few new songs like Stevie's "Sweet Girl". Also "Silver Springs" was performed live, made it to the CD and the video from the TV show called "The Dance" and was released as a single. Finally justice was done and the thing that everyone thought was impossible did happen. The Mac was back, and better then ever before. "The Dance" tour started in September and lasted till November. They played in every major city of the States but never made it to Canada, Europe or Australia because the tour stopped before they made it outside the USA. The CD became a big success in the States but never really made it in Europe, due to a lack of promotion from the record company. Along with the other band members, Stevie was inducted into the Hall Of Fame in January 1998. Stevie during the Dance tour Stevie, who was working on a solo album when the Fleetwood Mac reunion took place, went back into the studio and decided to release a 3 CD Boxed set called "Enchanted". A perfect name for this boxed set which contains album tracks, B-sides, soundtrack songs, duets, and unreleased songs. This release proved to be a treasure trove for Stevie fans.

About a year after it's release, the boxed set was certificated Gold in the States, a significant accomplishment for a 3CD set. The Enchanted tour in the summer of 1998 was the largest one Stevie ever did. The concert at the Woodstock festival closed the tour in early August. Later that year Stevie started to work together with Sheryl Crow on two songs for the soundtrack of "Practical Magic". A remake of the Buckingham Nicks song "Crystal" and "If You Ever Did Believe" which was released as a single. VH1 also made a Stevie "Storytellers" episode -- a show where she sang and told the stories of her songs. In 2001, Stevie released a solo album called "Trouble In Shangri-La" and then toured the U.S. that summer. Then, in 2003, she got back together with her Fleetwood Mac bandmates (sans Christine McVie) and recorded 2003's Say You Will. That wonderful album gave fans an exhaustive 18-month World Tour which finally came to a bittersweet end on September 14, 2004. What followed for Stevie in 2005 was a three month summer solo tour. The tour had three distinct parts to it -- some Vegas solo shows, a short tour with Don Henley, and some dates with up and coming singer Vanessa Carlton. Recently we learned that Stevie's father Jess passed away on August 10, 2005. Such a loss for the entire Nicks family. -- a very close family indeed. On the upside, Stevie just completed a ten date tour of Australia and New Zealand which included a inspiring performance with the Melbourne Symphony Orchestra. Word has it that this recording will end up on a DVD. It's clear that Stevie Nicks is a legendary artist. But she also connects with her fans in a way that is absolutely unparalelled in music history. She continues to enchant and inspire, not only with her music but with her various charitable efforts.

To be a Stevie Nicks fan is to be very proud indeed.


"Like a charmed hour
And a haunted song
And the angel of my dreams"
from "Angel" (S. Nicks)