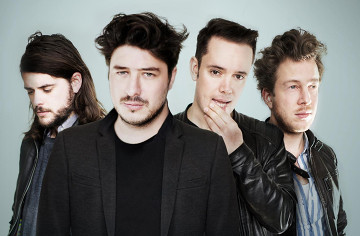 Mumford & Sons are an English rock band from London, formed in 2007. The band consists of Marcus Mumford (lead vocals, electric guitar, acoustic guitar, drums), Ben Lovett (vocals, keyboard, piano, synthesizer), Winston Marshall (vocals, electric guitar, banjo) and Ted Dwane (vocals, bass guitar, double bass). Mumford & Sons have released three studio albums: Sigh No More (2009), Babel (2012) and Wilder Mind (2015). Sigh No More peaked at number two on the UK Albums Chart and the Billboard 200 in the US, with Babel and Wilder Mind both debuting at number one in the UK and US, the former becoming the fastest-selling rock album of the decade and leading to a headline performance at Glastonbury Festival in 2013. The band has also issued two live albums: Live at Shepherd's Bush Empire (2011) and The Road to Red Rocks (2012). The band have won a number of music awards throughout their career, with Sigh No More earning the band the Brit Award for Best British Album in 2011 and six overall Grammy Award nominations. The live performance at the 2011 Grammy ceremony with Bob Dylan and The Avett Brothers led to a surge in popularity for the band in the US. The band received eight total Grammy nominations for Babel and won the Grammy Award for Album of the Year. The band also won the Brit Award for Best British Group in 2013.

Mumford & Sons have been described by The Hollywood Reporter and Forbes as a folk rock band. They began by using bluegrass and folk instrumentation, with the core instruments of acoustic guitar, banjo, piano and a double bass, played with a rhythmic style based in alternative rock and folk. In the documentary Big Easy Express, Marcus Mumford recognises the Old Crow Medicine Show influence: "I first heard Old Crow's music when I was, like, 16, 17, and that really got me into, like, folk music, bluegrass. I mean, I'd listened to a lot of Dylan, but I hadn't really ventured into the country world so much. So Old Crow were the band that made me fall in love with country music." Mumford acknowledges that "the band inspired them to pick up the banjo and start their now famous country nights in London." Ketch Secor, Old Crow front-man, concurs: "Those boys took the message and ran with it."

Much of Mumford & Sons' lyrical content has a strong literary influence, its debut album name deriving from William Shakespeare's Much Ado About Nothing. The track "Sigh No More" includes lines from the play such as Serve God love me and mend, For man is a giddy thing, and One foot in sea and one on shore. The title of the song "Roll Away Your Stone" is an allusion to Macbeth; the song includes the line Stars hide your fires/ And these here are my desires which borrows and pares down Macbeth's line in act 1, scene 4: Stars, hide your fires,/ Let not light see my black and deep desires. Additionally, "The Cave" includes several references to The Odyssey, in particular the sirens that Odysseus encounters on his journey home. The song also contains many references to G.K. Chesterton's book, St. Francis of Assisi, in which Chesterton uses Plato's Cave as a way of explaining how St. Francis views the world from God's perspective. "Little Lion Man" appears to be a retelling in dramatic monologue form of Chretien de Troyes' Yvain, the Knight of the Lion, which is the story of a knight who goes mad after betraying a promise to his wife to return to her. Both "Timshel" and "Dust Bowl Dance" draw heavily from the John Steinbeck novels Of Mice and Men, East of Eden and The Grapes of Wrath. The band's change in sound on their third album was described by Lovett as a "natural departure." At the end of the Babel tour Winston Marshall traded his banjo for electric guitar in sound checks and Mumford started playing more drums as the band jammed on heavy instrumentals and even some Radiohead tunes. Banjo does not feature on the record, an instrument that had become synonymous with the band. NME reported that the band's sound is "More expansive than ever and decidedly heavier, thanks to the shift in instrumentation." The group also employed a full drumkit instead of kick drum. "We've had our standard line-up of instruments for the last six years and we felt like that was our palette, [but] we started picking up other stuff," said Lovett. "It's a very natural departure from some of that rootsier stuff." Lovett told NME that working with James Ford for Wilder Mind was part of trying something new. "We felt a need for change. Not from Markus [Dravs], but he was so closely attached to those first two records that as we had taken that time off, we wanted to try doing something new. It felt like, if we do our third record with Markus, does that mean we do our ninth and 10th records with Markus? At some point you have to try different things, as we collectively felt like it was time to try other stuff. Markus knows that we might well make the next record with him. We definitely haven't broken up [with Dravs], we're just playing the field!"