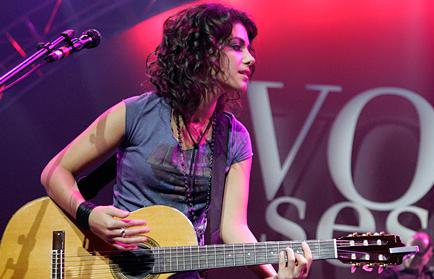 Katie Melua was born in Georgia (former USSR) in 1984 growing up in the capital Tbilici and later the seaside town of Batumi. The family left Georgia when Katie was 8 and moved to Belfast due to her father's profession as a heart surgeon. When Katie told this to one of her teachers later on in England he described the move as: "from the frying pan into the fire". She never really viewed it as that because she had a great childhood both in Georgia and Northern Ireland. Katie found the people in Northern Ireland extremely warm and made great friends at St. Catherine's Primary School and Dominican College, Fortwilliam - Katie went to catholic schools in Northern Ireland while her younger brother went to a protestant school.
Katie didn't always want to be a singer or songwriter. Her ambition when she was thirteen was to be a politician or a historian "I honestly thought I'd be able to bring peace to the world... If I ruled it!" The family lived in Belfast for five years before moving to South East London. When Katie was fifteen she entered a TV talent competition called Stars Up Their Nose - singing Mariah Carey's "Without You". Despite just entering for fun, she won the competition (the prize was a bedroom makeover and an arm chair for her dad) and also gained valuable experience by performing live on ITV three times.
After her GCSEs Katie joined the Brit School for Performing Arts where she undertook a BTEC and Music A-level. "A friend of mine had already enrolled and it sounded like a good place ... and it was free!" During her time at the Brits she discovered different styles of music including Queen, Joni Mitchell, Bob Dylan, Irish folk music and Indian music. On hearing an Eva Cassidy song Katie was blown away and when she discovered that Eva was no longer alive wrote the song 'Faraway Voice' as a tribute to her.
The composer and producer Mike Batt paid a visit to the school looking for musicians to form a jazz band. At the last minute Katie decided to perform 'Faraway Voice' and Mike realised that he had found someone very special: "artists like Katie don't come along very often, she is a true original". Katie signed to Batt's record label Dramatico but stayed at the Brits to complete her studies -- she graduated with distinction in July 2003.
Katie and Mike teamed up in the studio where Mike's wealth of experience and proven song-writing ability worked brilliantly with Katie's fresh approach, unique view of life and exceptional voice. The resulting album housed original songs by both Katie and Mike as well as some carefully selected covers. Her sensational voice caught the attention of Terry Wogan who, as he did with Eva Cassidy, chose to pioneer Katie, playing the single "The Closest Thing To Crazy" throughout the summer of 2003. Michael Parkinson had also picked up the mantle giving her frequent air-time on his show. The release of the single saw Katie achieving her first hit single entering the charts at No. 10.
Music, both the creation and performance is obviously a deep passion for Katie: "I started writing songs in 2001 and have, with my parents help, a small studio set up at home. I strongly believe that music should be performed live and that great artists are original and talented in their music performance. I always get a warm feeling when I see someone holding a guitar or violin case on the street. It's like I know I'd get on with that person. I always smile and say hi!"
The end of 2003 was a very exciting time for Katie. She was invited to perform at the Royal Variety, where she met the Queen who said 'I have heard your record on the radio, it is very nice'. In November 2003 Katie headlined her own gig at the Shepherds Bush Empire ("Melua stunned the audience into silence with warm pure jazz vocals" - The Times), it was here that her new fans really could see her natural talent for performing. Her debut album Call Off the Search was released in November and shipped over 1.2 million copies, reaching number 1 in the UK charts and obtaining quadruple platinum status. At the end of February 2004 Katie embarked on her debut live tour in which she will played 14 dates, she said "I love walking out on stage and connecting with my band and the audience, there's nothing like it". As well as playing large gigs Katie also enjoys the smaller acoustic venues, such as London's 12 Bar and the Enterprise, as she appreciates the intimacy. At the other end of the scale, Katie and Jamie Cullum performed a superb version of the The Cure's Love Cats at the Brit Awards 2004. Katie's second single "Call Off The Search" was released on March 15th 2004.