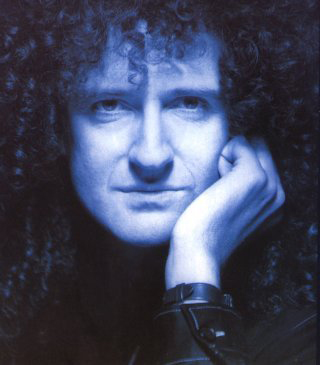 Brian Harold May CBE (Born July 19, 1947) is the guitarist for the English rock band Queen. As a guitarist, he is known for his distinctive tone as well as for the fact that he built (with his father) his own guitar, called the 'Red Special'. He also wrote many of the band's hits, including "We Will Rock You", "Tie Your Mother Down" and "Who Wants to Live Forever".

Brian May, the performer

Brian May's guitar work is some of the most memorable guitar work of all time. His guitar sound is instantly recognizable, and, while many have tried to emulate it , reproducing his distinctive recorded trademark tone has been largely impossible. May has played a range of guitars, most often the "Red Special", which he designed with his father, Harold May, and built with wood from an 18th century fireplace. His comments on this instrument, from Queen In Their Own Words (ed. Mick St. Michael, Omnibus Press, 1992, p. 62) are: I like a big neck – thick, flat and wide. I lacquered the fingerboard with Rustin's Plastic Coating. The tremolo is interesting in that the arm's made from an old bicycle saddle bag carrier, the knob at the end's off a knitting needle and the springs are valve springs from an old motorbike. Due to the uniqueness of his guitar, the Red Special, which he built himself, May was often able to create strange and unusual sound effects. For example, he was able to imitate an orchestra in the song "Procession", the opening track of Queen II; in "Get Down, Make Love", he was able to create sound effects with his guitar that were so unusual that many thought a synthesizer was being used. In "Good Company" he used his guitar to mimic a trombone, a piccolo and several other instruments for the song's Dixieland jazz band feel. In addition to using his homemade guitar, he prefers to use coins (especially sixpenny pieces) instead of a more traditional plastic plectrum, on the basis that their rigidity gives him more control in playing. He is known to constantly carry coins in his pockets specifically for this purpose. May's early heroes were Cliff Richard and The Shadows, whom he says were the most metallic thing out at the time. Many years later he gained his opportunity to play on separate occasions with both Cliff Richard and Shadows lead guitarist Hank Marvin. He has collaborated with Cliff Richard on a rerecording of the Cliff Richard and The Shadows hit Move It which will be released on the forthcoming album Cliff sings Duets which is due for release in November 2006. May was proud upon hearing that Cliff Richard had mentioned in an interview that he would have Brian May in his personal fantasy band. As well as recording with Hank Marvin, May also contributed to the 1996 album "Twang!: A Tribute to Hank Marvin & the Shadows," playing FBI. The album featured other renowned guitarists such as Mark Knopfler of Dire Straits, Tony Iommi of Black Sabbath, Ritchie Blackmore of Deep Purple, Peter Green of Fleetwood Mac, Neil Young, Francis Rossi, and Rick Parfitt of Status Quo. In Queen's three-part vocal harmonies, his was generally the lower-range backing vocal. On some of his songs he sings the lead vocal, such as "Some Day One Day", "All Dead, All Dead", "Leaving Home Ain't Easy", "Good Company", and (most famously) "'39". Throughout the last several years, he has overseen the remastering of Queen albums and various DVD and Greatest Hits releases. In 2004, he announced he and drummer Roger Taylor were going on tour for the first time in 18 years as "Queen," along with Free/Bad Company vocalist Paul Rodgers. Billed as "Queen + Paul Rodgers," the band has played throughout 2005 and 2006 in South Africa, Western Europe, Japan, and North America. In the Queen's birthday honours list of 2005, he was made a Commander of the Order of the British Empire "for services to the music industry".

Brian May, the person

May attended Hampton School and the prestigious Imperial College London Physics & Mathematics departments and had been part way through a Ph.D. programme at the Imperial College (in the physics/infrared astronomy field) there when Queen became successful, and never completed his Astronomy doctorate. He had written most of his thesis but never submitted it, although his professors claimed it was strong enough to earn him the doctorate. He was a coauthor of two scientific research papers: MGI Emission in Night-Sky Spectrum (published in Nature 240) and Investigation of Motion of Zodical Dust Particles (published in Monthly Notices of the Royal Astronomical Society 166). He was awarded the honorary degree of Doctor of Science in November 2002 by Hertfordshire University, although it is not typically customary in the United Kingdom for honorary doctors to be called "Doctor". May, unlike fellow bandmates Freddie Mercury and Roger Taylor, and other rock stars, never used recreational drugs, was not sexually promiscuous, doesn't smoke and rarely drinks alcohol. When he does drink, his favorite beer is Guinness, and his favorite liquor is Baileys. May is known for being rather quiet and reserved at parties. He has stated in interviews that he suffered from depression in the late 1980s, even to the point of contemplating suicide, and that drug use would have exacerbated any problems he faced. At the time, during the recording sessions of the Queen album The Miracle, he was splitting up with his wife, his father died, and as a result of Freddie Mercury's illness, Queen retired from touring. May's father Harold had been a longtime cigarette smoker, and this likely contributed to his early death. As a result, May dislikes smoking, even to the point where he specifically prohibits smoking indoors at his more recent concerts. He often writes about his opinion on smoking on his website: http://brianmay.com. His avoidance of alcohol can be traced to an early concert where Queen played with the band Aerosmith, and May had a conversation with fellow guitarist Joe Perry backstage. Perry brought out a bottle of whiskey, which the two drank between themselves. May felt so unpleasant during the concert that he promised himself never to have more than one drink before playing. He has been quoted throughout the years as saying: "I live in my head too much." May married actress Anita Dobson of Eastenders fame, on November 18th 2000. He has four children: Rachael, born April 30th 1983, James (Jimmy), born June 15, 1985, Louisa, born on May 22, 1987, and Emily Ruth, born on February 17, 1989.

The Brian May Band

The Brian May Band was officially formed in late October 1992, following the release of his album Back To The Light. A proto version of the band was loosely formed for October 19th, 1991, when May took part in the Guitar Legends guitar festival in Seville Spain. The line-up for his performance was May (Lead Vocals & Lead Guitar), Cozy Powell (Drums & Percussion), Mike Moran (Keyboards), Rick Wakeman (Guitar), Maggie Ryder (Backing Vocals), Miriam Stockley (Backing Vocals) and Chris Thompson (Backing Vocals). Following the death of Freddie Mercury in 1991, May decided to deal with his grief by committing himself as fully as possible to work, first by finishing the album and then hitting the road worldwide to promote it. He has said in numerous interviews that this was the only form of self-prescribed therapy he could think of. The original line-up was Brian May (Lead Vocals and Lead Guitar), Cozy Powell (Drums and Percussion), Mike Caswell (Guitar), Neil Murray (Bass), Maggie Ryder (Backing Vocals), Miriam Stockley (Backing Vocals) and Chris Thompson (Backing Vocals). This version of the band lasted only during the South American support tour (supporting The B-52's and Joe Cocker) on only five dates. Afterwards, May made significant changes, feeling the group never quite gelled. Most significantly, May brought guitarist Jamie Moses onboard to replace Mike Caswell. Brian considered Moses a perfect fit to the band. The other change made was in the backing vocal department. Ryder, Stockley and Thompson are replaced with Catherine Porter and Shelley Preston. February 23rd, 1993, saw the new and improved line-up of The Brian May Band begin its world tour in the US, both supporting Guns 'n Roses and headling a few dates. The tour would take them through North American, Europe and Japan. After the tour ended on the 18th of December, 1993, May returned to the studio to work with fellow surviving Queen band members Roger Taylor and John Deacon to work on Queen's Made In Heaven album. This would occupy him for the next two years. In spite of this, Spike Edney, Cozy Powell, Neil Murray and Jamie Moses decided they enjoyed working together so much, they formed the SAS Band. Murray would end up only playing with them in their early gigs, before commitments with Whitesnake and other projects pull him away. The SAS Band (which stands for Spike's All-Star Band) would gone on to recorded one studio album and one live album. In 1995, May began working towards a new solo album of covers tentatively named Heroes. He also worked on different film projects and collaborations. The SAS Band played gigs and began recording their first (and ultimately only) studio album. By 1997, the self-titled album SAS Band is released. The creation of the songs (a mix of straight covers, new songs, and songs by the band members brought in from previous ventures) kept with Spike Edney's vision of the band, to collaborate freely with other singers and musicians as described by Edney in the liner notes as "a musician's social club. A place where great singers and players come to display their talents and have fun." Brian May, meanwhile, had changed the approach of his new album from covers to focus on the collaborations and new material he was writing. The songs recorded for the new album, Another World would feature mainly Edney, Powell, Murray and Moses, who had become his core support/collaborative team. Sadly, on April 5th, 1998, Cozy Powell was killed in a car accident on the M4 Motorway near Bristol, England. This threw a huge unexpected dent in the upcoming tour for The Brian May Band, with the need for a new drummer on short notice. Steve Ferrone is brought on to help Brian finish recording drums for the title track "Another World" and to join the band for the early stage promotional tour of five dates in Europe before the world tour. The line up was then Brian May (Lead Vocals & Lead Guitar), Spike Edney (Keyboards), Neil Murray (Bass), Jamie Moses (Guitar), Steve Ferrone (Drums & Percussion), Susie Webb (Backing Vocals) and Zoe Nicholas (Backing Vocals). Webb and Nicholas worked with the SAS Band on SAS Band album and were brought on to replace Porter and Preston. Porter has since pursued her own singing/songwriting/performing career. May hinted in at least one interview that the two (Preston and Porter) didn't get along, though he may have been joking. After the early promo tour, Eric Singer replaced Steve Forrone for the full 1998 world tour. The Band then became Brian May (Lead Vocals & Lead Guitar), Spike Edney (Keyboards), Neil Murray (Bass), Jamie Moses (Guitar), Eric Singer (Drums & Percussion), Susie Webb (Backing Vocals) and Zoe Nicholas (Backing Vocals). In 2005, Edney and Moses were recruited along with Danny Miranda (Bass) to join the Queen + Paul Rodgers tour, to fill the roles of keyboard player and second guitarist respectively.

Highlights

Brian May began composing in 1968/1969. He covered a wide variety of styles, but basically he wrote ballads and hard rock. From the first group perhaps the most respected piece is Who Wants To Live Forever, which has been covered by artists like Seal and Sarah Brightman. His most popular rock number is We Will Rock You, a very simple ABABAB composition with pentatonic melody and ostinato percussion. Among his most ambitious works were Procession (Queen II, 1974), a pseudo-baroque short piece for guitar octet, and The Prophet's Song from (A Night At The Opera, 1975). Of which the latter is said to have come to him in a dream. Through the years he wrote some songs with other people, the most memorable being Too Much Love Will Kill You, composed with Frank Musker and Elizabeth Lamers, which won Ivor Novello Award for Best Song Musically & Lyrically in 1996. As a meticulous arranger he focused on multi-part harmonies, often more contrapuntal than parallel — a rarity for rock guitar. Good examples are found in Queen's albums A Night at the Opera and A Day at the Races, where he arranged a jazz band for guitar mini-orchestra (Good Company), a vocal canon (The Prophet's Song) and guitar and vocal counterpoints (Teo Torriatte). As a performer, he is primarily respected as a guitarist. May explored a wide variety of styles in guitar as well. Playing lead some of his best works include sweep picking ("Was It All Worth It"), tapping ("Bijou", "Resurrection", "Cyborg"), Hendrix-like licks (Liar, Brighton Rock) and melodic parts ("Bohemian Rhapsody", "Killer Queen", "These Are The Days Of Our Lives"). Some of his solos and orchestral parts were composed by Freddie Mercury, who then asked May to bring them to life ("Bicycle Race", "Lazing On A Sunday Afternoon"). May also performed notable acoustic works, including the fingerpicked solo of "White Queen" (Queen II, 1974) and the skiffle-influenced '39. May's abilities are not restricted to one instrument. During his Queen days he performed ukulele ("Good Company" and "Bring Back That Leroy Brown") and sometimes piano, detaching on a soft and gentle style ("All Dead, All Dead", "Save Me", "Dear Friends"). He recorded some other instruments (maracas, banjo, etc), including the harp on "Love Of My Life", which was recorded in overdubs and mixed to sound as one performance. May was an excellent singer too. His wide vocal range went from notes around low A (110 Hz) to very high tenor Ds and Es (mostly in his solo career). Occasionally he contributed falsetto parts as well (Ogre Battle, Why Don't We Try Again). In some Queen songs, such as Good Company, Some Day One Day, '39, Sail Away Sweet Sister, Sleeping On The Sidewalk, Long Away, All Dead, All Dead, Leaving Home Ain't Easy, or She Makes Me, he sang all the vocals. On Who Wants To Live Forever, he sang the opening line before Mercury took over.
Gear

Most of May's guitar work was done on the Red Special. However, he has used a number of other electric guitars, including a Burns Double Six (Long Away), a Fender Telecaster (Crazy Little Thing Called Love), an Ibanez JS (Nothing But Blue) and a Parker Fly ('Mother Love'). In early Queen tours he had a Stratocaster as spare guitar, replacing it with a Les Paul Deluxe in 1974, then a John Birch replica of his Red Special the next year. In a concert in the States on the 1982 Hot Space North American tour, he got frustrated with that instrument and smashed it, thereafter using a Gibson Flying V until he got more suitable replicas of his beloved Red Special. For acoustic guitars, he mostly used Ovation 12-Strings, Martins, and a Gibson Chet Atkins for nylon-string parts. He created the unique "buzzing" tone heard on "White Queen (As It Began)" and "Jealousy" by placing pieces of piano wire under the frets. His ukulele was Aloha. Pianos he recorded include Bosendorfers, although in concerts he relied on Freddie Mercury's Steinway. May used Yamaha DX7 synths for some of his most memorable inputs: the opening sequence of "One Vision" and the backgrounds of "Who Wants To Live Forever", "Scandal" and "The Show Must Go On". May was keen on using some toys as instruments as well. Some of his early acoustic works were done on a cheap Hairfred he had conserved from his childhood. He also used a Yamaha plastic piano in Teo Torriatte, a "genuine George Formby Ukulele-Banjo" in Bring Back That Leroy Brown and a toy mini koto in The Prophet's Song. May has used Vox AC-30 amplifiers almost exclusively since a meeting with his long time hero Rory Gallagher at a gig in london during the late 60s/early 70s. He always used a 'treble booster' of some kind which with the AC-30 went a long way in helping create many of his signature guitar tones. Live, he used banks of AC-30 amplifiers keeping some amps with only guitar and others with all effects such as delay, flanger and chorus. Also live, he frequently uses metal coins in place of picks. Bandmate and electrical engineer John Deacon also built May a small DC-powered amplifier which he often used when recording. Known as the 'Deacy amp', it was reproduced as the "Brian May Special" by Vox in 2003.

Brian May's input in songs credited to Queen

After the famous Live Aid concert in summer 1985, Mercury rang his band mates and proposed writing a song together. The result was One Vision, which was basically May on music (the Magic Years documentary shows how he came up with the opening section and the basic guitar riff) and Roger Taylor on lyrics, with Freddie Mercury being more a producer and arranger than a proper co-writer, and John Deacon mostly absent. For their 1989 release album, The Miracle, the band had decided that all of the tracks would be credited to all the band, no matter who had been the main writer. Still, interviews and musical analyses tend to identify the input of each member on each track. May composed "I Want It All" for that album, as well as "Scandal" (based on his personal problems with the British press). For the rest of the album he didn't contribute so much creatively, although he helped building the basis of Party and Was It All Worth It (both being mostly Freddie's pieces) and came up with the guitar riff of Chinese Torture, an unreleased track of those sessions. Queen's next album was Innuendo, on which May's contributions increased, although more in arrangements than actual writing in most cases; for the title track he did some of the arrangement for the heavy solo, then he added vocal harmonies to "I'm Going Slightly Mad" and composed the solo of "These Are The Days Of Our Lives", a song for which the four of them decided the keyboard parts together. He changed the tempo and key of Mercury's song The Hitman and took it under his wing, even singing guide vocal in the demo. May also co-wrote some of the guitar lines in Bijou. Two songs that May had composed for his first solo album, Headlong and I Can't Live With You, eventually ended up in the Queen project. His other composition was The Show Must Go On, a group effort in which he was the coordinator and primary composer, but in which they all had input — Deacon and Taylor with the famous chord sequence, Mercury with the first verse.
From Wikipedia, the free encyclopedia