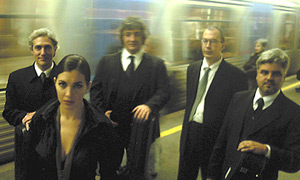 The Portuguese group Madredeus comprises vocalist Teresa Salgueiro, guitarists José Peixoto and Pedro Ayres Magalhães, violin player Francisco Ribeiro, harmonica player Gabriel Gomes, and keyboard player Rodrigo Leão.
Influenced by the music of Lisbon, the band travelled throughout Europe and became especially popular in Belgium. Madredeus' debut album Os Dias da Madredeus was released in 1987 followed three years later by Existir and Lisboa Live in 1992 on Blue Note; the group also appeared in the 1994 Wim Wenders film Lisbon Story (Viagem A Lisboa), in which Ayres Magalhães and Salgueiro played quite prominent roles.
In 1995, two albums followed, Ainda and O Espiritu Da Paz. Other releases include 1999's O Porto. Antologia followed a year later. Movimento, which was issued in summer 2001.
Madredeus' musical machine continued into the next year; he switched up his inviting nature for the eclectic electronic remix effort Electronico in summer 2002.
John Bush - All Music Guide