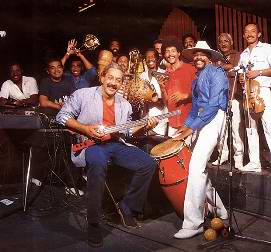 Heralded as "The Rolling Stones of Cuban music," (and called el tren, "the train," in Cuba), Los Van Van was founded in 1969 by bassist/composer Juan Formell, and has since remained as one of the most influential dance bands on the island. Formell's success as a chronicler of the Cuban daily experience is apparent in his lyrics, and his musical tastes brought about remarkable changes to the son-derived dance music of the era.

Formell introduced elements of North American pop and rock music and transformed the otherwise traditional charanga instrumentation (Cuba's "classical" orchestra with violins and flute), adding truly American ingredients: the drum set and electric guitar. Together with drummer-percussionist José Luis Quintana "Changuito," Formell developed a new rhythmical approach in his music called songo, which emerged as a fusion of son and other Cuban rhythms with the influences of rock and pop. These changes inspired Cuba's dancing public to react, stimulating a more evocative (and sensual) movement.
In time, the band changed its format again, replacing the guitars with trombones, and adding electric keyboards and synthesizers. Much of the band's sound, and a number of its hit songs, are attributed to pianist/composer César "Pupy" Pedroso, whose influential piano style inspired future generations of timba musicians. Van Van's tours throughout Latin America and Europe soon had people everywhere dancing to this new sound in Cuban music while it continued to reign at home as the island's premiere dance band.
After making numerous recordings in the more traditional setting, Van Van's live 1993 recording Lo Ultimo en Vivo gave listeners a taste of what live fans had known for decades: this band rocked! The 15-piece band made its first appearance in the United States in 1998, which generated a media frenzy. The two-time Grammy winning group celebrated its 30th anniversary in Havana in front of thousands of screaming and singing fans, and continues its powerful legacy today.
Rebeca Mauleon
© 1996-2006 National Geographic Society.