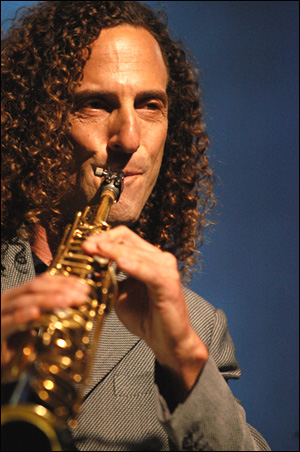 Kenneth Gorelick (born June 5, 1956), better known by his stage name Kenny G, is an American saxophonist whose fourth album, Duotones, brought him "breakthrough success" in 1986. Kenny's main instrument is the soprano saxophone, but he also plays the alto and tenor saxophone and the flute on occasion.

Kenny was born in Ann Arbor, Michigan, and first came into contact with a saxophone when he heard someone performing with one on The Ed Sullivan Show. He learned how to play by practicing along with records (mostly of Grover Washington, Jr.), trying to emulate the sounds that he was hearing. At Franklin High School he failed to get into the jazz band when he applied, although was accepted the following year when he tried again. He also played for his high school golf team, a sport which he had loved ever since his older brother, Brian Gorelick, introduced it to him when he was ten years old.

Kenneth Gorelick began his career as a musician when he acquired his first professional job as saxophone soloist for Barry White's Love Unlimited Orchestra in 1976 at the age of 20, while studying for a major in accounting at the same time. After he graduated from the University of Washington he played with the funk band Cold, Bold & Together before becoming a credited member of The Jeff Lorber Fusion. He began his solo career after his period with Lorber.

In 1982 Kenny G signed with Arista Records as a solo artist, after being heard by the president of the label, at that time Clive Davis. He has released many solo albums and collaborated with various artists including Whitney Houston, Toni Braxton, Natalie Cole, Steve Miller (which marked the only time he appeared on a rock and roll album) and Aretha Franklin. Influenced by the likes of Grover Washington, Jr., his own albums are usually classified as smooth jazz.

He received success quite early on, with both G Force and Gravity, his second and third studio albums respectively, achieving platinum status in the United States. These sales were topped by his fourth studio album, Duotones, which shifted over five million copies in the U.S. alone. His fifth studio album, Breathless, became the number one best selling instrumental album ever, with over 15 million copies sold, of which 12 million were in the U.S. He broke another record when his first holiday album, Miracles, sold over 13 million copies, making it the most successful Christmas album to date.

Gorelick's 1999 single, "What A Wonderful World" stirred controversy among the jazz community regarding the overdubbing of Louis Armstrong's classic recording. A common criticism was that such a revered recording by a musician known especially for improvisation should not be altered. The "duet" was produced by David Foster who also recorded the Natalie Cole and Nat King Cole duet. Gorelick stated at the time,"...I didn't want to spoil the original. I said, 'Whatever we do, if we're not going to make it better, let's throw it away and we won't do it.' So (Foster) guaranteed that it would be better, and I hope that we did a good job on it." Some columnists countered the criticisms suggesting such a recording would bring classic jazz to a wider audience. Nevertheless, Kenny G fans considered the live performance of this duet with Armstrong on a video taped backdrop a "show stopper." Additionally, Gorelick has stated that all the proceeds from this single go to his Kenny G Miracles Foundation which "funnel(s) the money to charities to purchase musical instruments and to supplement funding for the arts in schools."

As of 2003, Kenny G was named the 25th-highest selling artist in America by the RIAA, with 48 million albums sold in the USA as of July 31, 2006. In 1994, Kenny G won the Grammy Award for Best Instrumental Composition for Forever in Love.

Kenny G is currently married to wife Lyndie Benson, with whom he has two children – Max (aged thirteen) and Noah (aged nine). They have expressed an interest in saxophone and piano respectively.