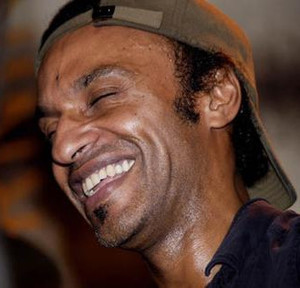 Emmanuel 'Manu' Katché was born in St. Maur des Fossés, near Paris, in 1958, though his family roots go back to Africa's Ivory Coast. He studied piano from the age of 5, switching to drums at 14 and studying classical percussion at the Conservatoire National Supérieure de Musique de Paris. He has often said that his drum style is essentially an amalgam of African rhythm concepts and classical drumming, illuminated by the in-the-moment interaction of jazz. "When I play jazz I get called a 'rock drummer'. When I do rock projects, critics write about 'the jazz drummer Manu Katché'. But I'm just being myself, trying to be innovative as the music is played, and I guess that is more of a 'jazz' attitude."
Music on ECM had been one of Katché's teenage inspirations: "I heard my first ECM album when I was about fifteen, and I remember I was amazed by the sound and by the way the music was played: big and bold but with a lot of respect for silence and a real musical balance between the instruments...." He was to arrive at the label by an indirect route, however. By the mid-1980s his floating beat had become one of the signature sounds of pop and rock, sup-porting singers from Joni Mitchell to Peter Gabriel. Manfred Eicher heard Katché playing on Robbie Robertson's untitled Geffen album and felt that his pulses and patterns, simultaneously modern and tribal, could easily be adapted to improvised contexts.
Invited to participate in ECM's 20th anniversary concerts in Paris in 1989, Katché played first in a trio with Jan Garbarek and Indian violinist Shankar in a concert at La Cigale. The encounter was to lead to Katché's membership of the Garbarek Group and his presence on a series of albums: I Took Up The Runes, Ragas and Sagas, Twelve Moons, Visible World, In Praise Of Dreams. Manu recently rejoined Jan's band for several months of live work with concerts which continue until the end of 2007 in Germany, Belgium, Ireland, the Netherlands, Turkey, Portugal and Switzerland.

© 2007 All About Jazz

Official site: www.manu-katche.com