..:: audio-music dot info ::..

Norah Jones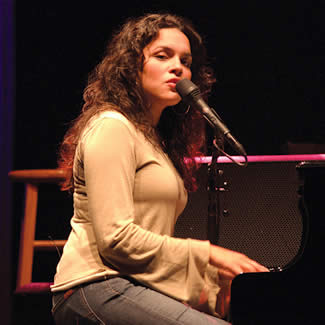 Norah Jones (born Geethali Norah Jones Shankar on March 30, 1979 in Brooklyn, New York) is an American singer-songwriter, musician and occasional actress.
Jones's career was launched with her 2002 debut album Come Away with Me, a contemporary pop album with a sensual, plaintive soul/folk/country tinge, that sold over twenty million copies worldwide and received six Grammy Awards, with Jones winning "Best New Artist". Her second album, Feels like Home, was released in 2004, clocking more than a million sales in the first week of U.S. release. In 2007, she released her third album, Not Too Late, which debuted at number one on the world charts. She has become one of the most successful recording artists of the decade, racking up sales of more than 39 million records worldwide.
Born as Geethali Norah Jones Shankar in Atlanta, Georgia, but later changed her name officially to Norah Jones, at the age of 16. The daughter of the sitar maestro Ravi Shankar and Sue Jones, she spent her childhood with her mother, who moved to the Fort Worth suburb of Grapevine, Texas, when Jones was four. She attended Colleyville Middle School, followed by a short period at Grapevine High School before transferring to Booker T. Washington High School for the Performing and Visual Arts in Dallas. She admitted that her only formal singing training was at Colleyville Middle School (where she took choir) and at Booker T. Washington (where she took a choir class also). She has always liked the music of Bill Evans and Billie Holiday among others from the 'oldies' section and considers Willie Nelson her idol. She has been quoted as saying, "My mom had this eight-album Billie Holiday set, I picked out one disc that I liked and played that over and over again."
Jones began singing in church choirs, taking piano lessons, and even briefly trying out the alto saxophone. She attended Interlochen Arts Camp, Grapevine High School, Booker T. Washington High School for the Performing and Visual Arts in Dallas, Texas. While at high school, she won the DownBeat Student Music Awards for Best Jazz Vocalist (twice, in 1996 and 1997) and Best Original Composition (1996). She then attended the University of North Texas, where she majored in jazz piano. Classmates included American Idol finalist Brandon Rogers and Grammy-nominated songwriter David Angerstein. In 1999, two years into the program, Jones left for New York City. Since about that time she has been romantically involved with bassist Lee Alexander.
From Wikipedia, the free encyclopedia

Come Away With Me (Capitol Records, 2002)
New York City (Koch Records, 2003)
Feels Like Home (Capitol Records, 2004)
The Fall (EMI Records, 2009)
Puss n Boots - No Fools, No Fun (Blue Note Records, 2014)
Day Breaks (Blue Note Records, 2016)