..:: audio-music dot info ::..

Il Divo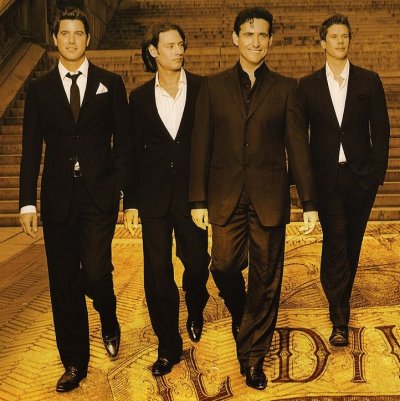 Il Divo, Italian for "divine male performer", is an international operatic pop vocal group created by pop impresario Simon Cowell, and signed to the Sony BMG music label. Il Divo is formed by singers Carlos Marín, Urs Bühler, David Miller, and Sébastien Izambard.
The idea behind Il Divo's creation came to Cowell after listening to Andrea Bocelli and Sarah Brightman's rendition of Con te partirò. Aware of this new appreciation for lyrical voices and classical music, he decided to form a multinational quartet (the members hail from Spain, Switzerland, France, and the United States) that tried to sound like The Three Tenors and looked like Armani models. Cowell conducted a worldwide search for young singers who were willing to embark on the Il Divo project which lasted two years, from 2001 until December 2003, when the fourth member of Il Divo, American tenor David Miller, was signed. The well-established formation of Il Divo comprises a renowned Spanish opera and zarzuela baritone, Carlos Marín; two classically trained tenors, Swiss Urs Bühler and American David Miller; and a French pop singer, Sébastien Izambard. Il Divo sings in English, Italian, Spanish, French, and Latin. Il Divo was named the Most Multinational UK No.1 Album Group in the 2006 edition of the Guinness Book of World Records. A star located in the Ursa Major constellation located at RA11h39m35.62s DEC+37.27479 MAG11.02. has been named "Il Divo" after this musical quartet.

Having just completed a six-month world tour (USA, Australia and Europe), Il Divo then participated in all 20 of the concerts in the North American tour (which ended on November 20, 2006) of Barbra Streisand as her special guests. "Streisand: The Tour" with Il Divo was ranked second for all tours for 2006, generating $92.5 million in gross sales.

Il Divo performed the 2006 FIFA World Cup official song "Time Of Our Lives" with R&B singer Toni Braxton live at half time during the 9th June kickoff match and again at the 9th July closing ceremony, preceding Shakira. The song is available exclusively on both Voices and Toni Braxton's album Libra.
Recording started in the first half of 2004 in Sweden, with the producers Quiz & Larossi and in the UK with producer Steve Mac. This self-titled album contained the Spanish renditions of Toni Braxton's hit "Unbreak My Heart" (Regresa A Mí), which in turn was recorded by Braxton under the guidance of Il Divo; Their second single and original song "Mama"; Sinatra's "My Way" (A Mi Manera), an adaptation of Ennio Morricone's "Gabriel's Oboe" from the movie La Misión titled "Nella Fantasia" and 1994's San Remo Festival winner "Passerà". The album hit the #1 slot on both Amazon.com and BarnesandNoble.com after a breakout career-defining appearance on The Oprah Winfrey Show on April 5, 2005, where the quartet performed "Regresa a Mi". In the United Kingdom, the Il Divo album topped Robbie Williams as number 1 in the UK charts (allegedly Williams said to them during the Bridget Jones: The Edge of Reason film premiere, "Oi, you're the bastards that knocked me off!"). This multiplatinum-selling CD became number one in the charts in a total of 13 countries around the world, and achieved top 5 placing in 25 countries.
From Wikipedia, the free encyclopedia

Il Divo (Simco Limited, 2004)

Ancora (Syco Music, 2005)
Siempre (Sony-BMG Music Entertainement, 2006)