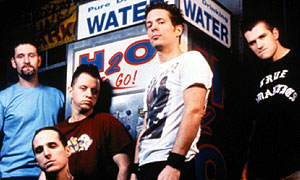 New York City hardcore band H2O began as a group of friends headed by Sick of It All roadie Toby Morse, who would perform a song called "My Love Is Real" at shows where there was no opening act. Crowd response encouraged the band to give music a serious try, and their initial membership featured Morse (vocals), Rusty Pistachio (guitar), Eric Rice (bass), and Max Capshaw (drums).
H2O's ability to write catchy, melodic riffs while retaining hardcore's full-throttle rush, as well as their straight-edge sensibility and obvious love of hardcore originators like Minor Threat, got them a following along the East Coast.
After a European tour in 1995, Capshaw left the band, and ex-Outcrowd members Todd Morse (guitar; Toby's brother) and Todd Friend (drums) joined. H2O opened for such bands as the Mighty Mighty Bosstones, Rancid, and No Doubt, and their self-titled debut was released in 1996.
Their second album, Thicker Than Water, was issued by Epitaph in 1997; it featured new bassist Adam Blake (ex-Shelter). F.T.T.W., the band's third album, was released in 1999. Two years later, the band signed to MCA and issued Go!. The All We Want EP appeared in fall 2002.
Steve Huey - All Music Guide