..:: audio-music dot info ::..

Guns N' Roses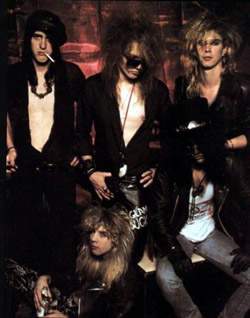 Guns N' Roses is an American hard rock band, formed in Los Angeles, California in 1985.

Having sold an estimated 90 million albums worldwide, they are one of America's most successful hard rock bands. Their 1987 major label debut, Appetite for Destruction, produced by Mike Clink, went on to sell 25 million copies worldwide and reached number 1 in the USA a year after its release date. The song "Welcome To The Jungle", the second track released from the album (after "It's So Easy"), gained notoriety after it was used on the soundtrack of Clint Eastwood's 1988 film The Dead Pool.

The band's musical style, onstage presence, and bad boy rock image helped usher in the new era within the dominant hard rock scene of the late 1980s and early 1990s. While glam metal was the leading genre in record sales, video charts, and radio airplay, Guns N' Roses offered a grittier, more traditionalist take on rock music, which helped to popularize the sub-genre known as sleaze rock and won many fans who admired their apparent authenticity. The band enjoyed worldwide success from 1987 through 1993, but clashing personalities of different band members brought about the end of the original line-up. Today, frontman Axl Rose is the only original member in the band's current line-up; he has now served as lead singer for 22 years.
The music of Guns N' Roses is a fusion of metal and classic rock and roll, presented in a layered fashion. More recently, Guns N' Roses have showed industrial influences in songs, similar in style to bands such as Nine Inch Nails, recruiting former NIN member Robin Finck as guitarist in the group.
In the 1990s, the band integrated keyed instruments (played by either Axl or Dizzy Reed, on tour accompanied by Teddy 'Zig Zag' Andreadis) into the band, and for roughly half of the Use Your Illusion tour, added a horn section to the stage. While Reed's keyboard and Rose's piano remain in some of the Chinese Democracy demos and in concert, the aborted 2002 tour and the 2006 tour (to date) have not included winded instruments, though the band has employed synthesized horns on some of their new songs.

An acknowledged heavy influence in both image and sound is the short-lived original era of Finnish band Hanoi Rocks (singer Michael Monroe and Rose have collaborated on various occasions). Axl Rose has on record stated that the band were massively inspired by bands like the Rolling Stones, AC/DC and Pink Floyd and also that the sound of Appetite for Destruction was based on the influence of Aerosmith and AC/DC. Most of the lyrics in the Guns N' Roses catalog were written by Rose and Izzy Stradlin.
Guns N' Roses are considered by some to be the last rock and roll band to achieve legendary status before the tastes of American youth culture shifted to alternative rock, electronica, and then hip hop throughout the course of the 1990s. They are also recognized as a band that changed rock and metal music in the late 1980s by bringing a more serious, emotional, and sometimes political edge to 80's metal, in stark contrast to the carefree themes of hair metal characterized by facial make-up and spandex pants.

A central component of the Guns N' Roses legend lies in the sheer velocity and audacity with which they rose to fame. In an era where most rock and metal acts spent years building credibility and 'paying dues' in the form of club touring, failed signing attempts, and unsuccessful album releases, Guns N' Roses signed with a major label within nine months of their inception and topped national sales charts merely weeks after garnering late hours airplay on MTV. The record-breaking achievement of Appetite being the highest-selling debut album of all time is often cited as evidence of the band's imprint on rock and roll history.

Their peers in the music industry often spoke highly of the band: Ozzy Osbourne called GN'R "the next Rolling Stones." In 2002, Q magazine named Guns N' Roses in their list of the "50 Bands To See Before You Die". Also, the television network VH1 ranked Guns N' Roses ninth in its "100 Greatest Artists of Hard Rock" special. Appetite appeared in Rolling Stone Magazine's special issue "The 500 Greatest Albums of All Time". In 2004, Rolling Stone ranked Guns N' Roses #92 on their list of the 100 Greatest Artists of All Time.

The band has not been free of criticism by the media. The flagrant alcohol and drug abuse by some members of the group, particularly Slash and McKagan, and Axl's fondness of Charles Manson T-shirts, were used by the media to portray GN'R as a poor example and negative influence on their young fans. The long periods of time that the band took to release albums were also a source of heavy criticism.

Frontman Axl Rose has become a source of both controversy and criticism since the other founding members left the group. His constant elusiveness, such as the fact that he has not held a press conference since 1994, has led to several stories claiming he is suffering from bipolar disorder. Music critics have blamed Rose for the break-up of the original group, have criticized him for continuing the band after the original members had departed and have questioned the constant change in band members. They also cite his neurotic behavior and sense of perfectionism as a cause of personal conflict and the long delays between albums. However, Rose still has fans who view him as a sort of musical anti-hero.

Guns N' Roses will be eligible for induction into the Rock and Roll Hall of Fame beginning in 2012. Critics and fans alike view this as an opportunity for the band's original lineup to reunite. On the VH1 special Behind the Music, Slash was questioned about a reunion and stated that "No matter how much money they throw in our faces, there's no reason for us to get together...unless there's a mutual respect or understanding...and we're way far from that.".
From Wikipedia, the free encyclopedia

Official site: www.gunsnroses.com


Appetite for Destruction (Geffen Records, 1987)
G N' R Lies (Geffen Records, 1988)
Use Your Illusion I. (Geffen Records, 1991)
Use Your Illusion II. (Geffen Records, 1991)
"The Spaghetti Incident?" (Geffen Records, 1993)
Live Era '87-'93 (Geffen Records, 1999)
Greatest Hits (Geffen Records, 2004)
Chinese Democracy (Geffen Records, 2008)