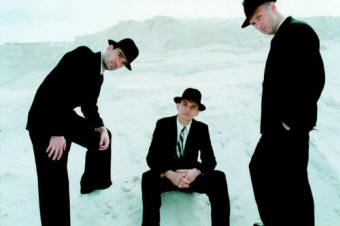 Before they perfected the electronica-meets-tango sound of the Gotan Project, Paris musicians Philippe Cohen Solal and Christoph H. Mueller worked together in the Boys from Brazil and Stereo Action Unlimited as early as 1996.
Releasing their music on Solal's Ya Basta label, the two quickly caught the ears of Jazzanova, Gilles Peterson, Mr. Scruff, and other electronica tastemakers, while Coca-Cola picked a Boys from Brazil track for a European television commercial. Despite all the success, the duo wanted a project that had a more constant mood. Feeling that both tango and dub had a subdued and melancholic sound, they decided to combine the genres.
With the addition of Eduardo Makaroff in 1999, they formed the Gotan Project and released the first of four 10"s on Ya Basta in February 2000. The band had drummed up quite a buzz in the U.K. and European press, and soon XL recordings snagged the group. XL issued their full-length debut, La Revancha del Tango, in 2001, and the self-proclaimed "top Argentinean musicians exiled in Paris" toured to support the album with guest musicians and a video backdrop by multimedia artist Prisca Lobjoy.
Lunatico from 2006 was named after tango legend Carlos Gardel's champion racehorse.