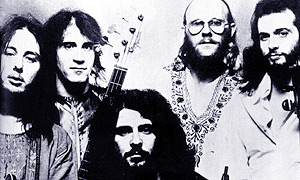 Gentle Giant were a British prog-rock band which tried the most daring fusion of jazz, classical and rock, in the golden age of the genre. The band was formed by three brothers who had before joined some blues band in Glasgow. The major point of strength of the sextet were Kenny Minnear's electronic keyboards (Minnear had a degree at the Royal Academy of Music), the guitar playing by Gary Green (a blues veteran) and Philip Schulman's winds. Besides their complex scores, their sound differed from other bands especially for Derek Schulman's nearly inhuman singing, so aseptic that in some way resembles Conservatory solfeggios and Gregorian chants.
Gentle Giant (Vertigo, 1970) proved the band's uncertainty about which genre to follow, since that period was the apex of the classical-like progressive rock of King Crimson, Yes and Moody Blues and the end of the psychedelic season; moreover, blues-rock jams were turning into hard-rock songs. While Giant tries to capture the hearts and ears of public through a soul-like theme, the lengthy Nothing At All is more directed to brains with a tumultuous classic/folk/blues fantasy.The dissonant counterpoint, the nearly eponymous peculiarity that made them renowned , had his first appearance in Acquiring The Taste (Vertigo, 1971). Each of the six musicians alternatively played different instrument, with a massive use of electronic keyboards that gave a nearly symphonic feature to the album. Kenny Minnear played electric piano, organ, mellotron, vibraphone, synthesizer, celesta and harpsichord. Bass-player Ray Schulman played violin and viola, too, while Tony Visconti, David Bowie's producer, played the flute. At least Pantagruel's Nativity, The House The Street The Room e Plain Truth opened new horizons. Three Friends (Columbia, 1972) is probably the first album wherein the band succeeded in expressing their ideas, and it's also less experimental than the previous record. Thought as a "rock opera", it contains six long ballads. Mister Class And Quality and Working All Day are the most accessible tunes while Prologue, Schooldays e Peel The Paint are cryptic charmber-music songs.

The symphonic sound of their second and third album is partially abandoned in Octopus (Columbia, 1972), which had sometimes trace of hard-rock (Advent Of Panurge), and folk-rock (Raconteur Troubadour, Think Of Me With Kindness). But generally, it's much more math-rock than art-rock since every instrumental passages were provocations against stereotypes. In particular, the vocal harmonies of Knots, inspired by Laing's enigmatic poems, were in antithesis to the British tradition.

In A Glass House (1973), another concept album, is probably their most ambitious work, with four lengthy songs as The Runaway, Way Of Life, Experience, In A Glass House. This exuberant experimentation took particularly advantage of Schulman's departure.

The socio-political concept album, The Power And The Glory (Capitol, 1974) is less ambitious than the previous ones; despite that, the music is still fluid and classy (Proclamation, Playing The Game).

Free Hand (Capitol, 1975) is Gentle Giant's "medieval" album. Nearly all the songs (Just The Same, On Reflection, Free Hand, Time To Kill, His Last Voyage) reached a formal perfection in their attempt of renewing the form of the rock song.

Their classic period ended with Interview (Capitol, 1976), a concept album against music industry.

Missing Piece (Capitol, 1977), in fact, showed shorter songs and their sound became more similar to hard-rock. Gentle Giant's decline was cruel and speedy, as proved by their last two miserable albums, Giant For A Day (Capitol, 1978) and Civilian (Columbia, 1980).