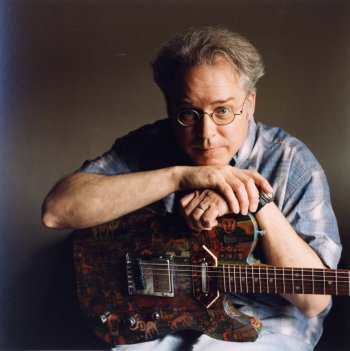 William Richard "Bill" Frisell (born March 18, 1951) is an American jazz guitarist and composer. He is, along with John Scofield and Pat Metheny, one of the best-known and perhaps best-regarded jazz guitarists of the last decade. His playing (on both his own records and his collaborations with others) have covered an impressive range of styles.

Frisell was born in Baltimore, Maryland. He spent most of his youth in the Denver,Colorado area and went to the University of Northern Colorado to learn music. His original guitar teacher in the Denver area was Dale Bruning who continues to teach to this day. The two of them occasionally play together and have released an album as a duo. After graduating from University of Northern Colorado where he studied with the late Johnny Smith, he went to Berklee School of Music in Boston and studied with Jim Hall. This experience was to make a lasting impression on his playing.
Frisell's major break came when Pat Metheny, unable to make a session, recommended him to Manfred Eicher of ECM Records. Frisell would then become their in-house guitar player and work on several albums. Most notably is his haunting electric guitar on Jan Garbarek's 1981 record Paths, Prints. Frisell's first solo release was In Line, all solo guitar except for a number of tracks that featured Arild Andersen on bass.
His first group that received a lot of acclaim was his quartet with Kermit Driscoll on bass, Joey Baron on drums, and Hank Roberts on cello, which was later slimmed down to just a trio (minus Roberts). Many other albums with larger ensembles were recorded with this group as the core.
In the 1980s he lived in New York City and was an active participant in the city's thriving music scene. He forged an early partnership with John Zorn—including as a member of quick-change band Naked City—and performed or recorded with many others. He also became known for his work in Paul Motian's group – originally a quintet, but which slimmed down to an unusual (and influential) bassless trio of just Motian, Frisell and Joe Lovano.
In the 1990s he made two of his most celebrated albums: Have a Little Faith, an ambitious survey of Americana of all stripes, from Charles Ives and Aaron Copland (the entirety of "Billy the Kid") to Bob Dylan and Madonna (a surreal version of "Live to Tell"); and This Land, a complementary set of originals. He also branched out into performing soundtracks to the silent films of Buster Keaton with his trio. In the mid-1990s, Frisell disbanded his trio and moved to Seattle, Washington. He continued the trend marked by Have a Little Faith by more explicitly incorporating elements of bluegrass and country music into his music. His friendship with Gary Larson led him to provide music for the TV version of The Far Side (released on the album Quartet along with music written for Keaton's Convict 13).
Between 2003 and 2005 he acted as musical director for Century of Song, a chain of exclusive concerts at the German artsfestival RuhrTriennale. Frisell invited international songwriters such as Rickie Lee Jones, Elvis Costello, Suzanne Vega, Arto Lindsay,Loudon Wainwright III, Vic Chesnutt, Van Dyke Parks, Buddy Miller and Chip Taylor to perform their favourite songs in new arrangements. The press hailed these concerts as a "century event".
For his album Unspeakable, Frisell won the 2005 Grammy Award for Best Contemporary Jazz Album. He appears on the Paul Simon album Surprise.