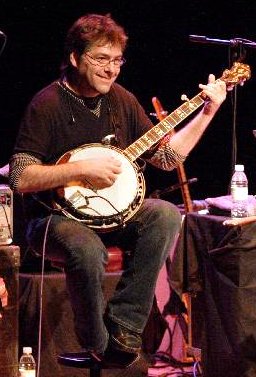 Béla Fleck (born July 10, 1958 in New York City, New York) is an American virtuoso banjo player. He is most well known for his work with the band Béla Fleck and the Flecktones, which he has described as "a mixture of acoustic and electronic music with a lot of roots in folk and bluegrass as well as funk and jazz."

Fleck, who is named after famous Hungarian composer Béla Bartok, was drawn to the banjo when he first heard Earl Scruggs play the theme song for the television show Beverly Hillbillies. He received his first banjo at age fifteen from his grandfather (1973). Later, Fleck would enroll in New York City's High School of Music and Art where he studied French horn. Almost immediately after high school, Fleck traveled to Boston to play with Jack Tottle and Mark Schatz in Tasty Licks. It is with Tasty Licks that Fleck played on his first major album. During this period, Fleck released his first solo album (1979): Crossing the Tracks. It was Fleck's first foray into progressive-bluegrass composition.

Fleck would play on the streets of Boston with bassist Mark Schatz until the two formed Spectrum: the Band in 1981. Fleck toured with Spectrum until 1981. That year, Fleck was asked by Sam Bush and company to join New Grass Revival. Fleck performed with New Grass Revival for nine years. During this time, Fleck recorded another solo album, "Drive." It was nominated for a Grammy Award in the then first-time category of Best Bluegrass Album (1988).

After a 1988 phone call with bassist Victor Wooten, Fleck and Wooten formed Béla Fleck and the Flecktones, rounded out with harmonica player Howard Levy and Wooten's percussionist brother Roy "Future Man" Wooten, who plays synthesizer-based percussion. Saxophonist Jeff Coffin joined the group with the album Left of Cool.

With the Flecktones, Fleck has been nominated for and won several Grammy awards. Fleck has shared Grammy wins with Asleep at the Wheel, Alison Brown, and Edgar Meyer. He has been nominated in more categories than any other musician, namely country, pop, jazz, bluegrass, classical, folk, and spoken word, as well as composition and arranging.

In 2000, Fleck collaborated with long-time friend and playing-partner Edgar Meyer to record Perpetual Motion, an album of classical material played on the banjo along with an assortment of accompanists, including John Williams, Evelyn Glennie, Joshua Bell and Gary Hoffman. The album includes such staggeringly difficult selections as Chopin's Etude Op. 10 No. 4 in C# minor, Debussy's Doctor Gradus ad Parnassum, and Paganini's Moto Perpetuo (from which is derived the name), as well as more lyrical pieces such as the first movement of Beethoven's Moonlight Sonata, two of Chopin's mazurkas, and two Scarlatti keyboard sonatas. Perpetual Motion won two Grammy's in 2000 for Best Classical Crossover Album and Best Arrangement for Fleck and Meyer's arrangement of Doctor Gradus ad Parnassum. Fleck and Meyer have also composed a Banjo concerto that has been played numerous times with the Nashville Symphony Orchestra.
Fleck names Chick Corea, Charlie Parker, and the aforementioned Earl Scruggs as influences. He regards Scruggs as "certainly the best" banjo player of the three-finger style. Solo and with the Flecktones, Fleck has appeared at Telluride Festival, Montreal Jazz Festival, Toronto Jazz Festival and Newport Folk Festival, among others. He has also appeared as a sideman with artists ranging from Tony Rice to Ginger Baker.

In 2005, while the Flecktones were on hiatus, Fleck undertook several new projects, including recording with African traditional musicians, cowriting a documentary film called 'Bring it Home' about the Flecktone's first year off in 17 years and their reunion after that time, coproducing Song of the Traveling Daughter, the debut album by Abigail Washburn, a young female banjo player who mixes bluegrass and Chinese music, and perhaps most notably forming the Acoustic Fusion supergroup TRIO! with fellow virtuosos Jean-Luc Ponty and Stanley Clarke.