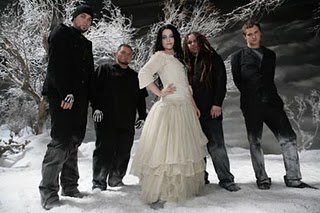 Evanescence Members: Amy Lee (vocals, piano), John LeCompt (guitar), Terry Balsamo (guitar), Will Boyd (bass) and Rocky Gray (drums). Co-founders Ben Moody (ex-guitarist) and Amy Lee (vocals) met at a camp in 1994, where they began working together on music. Before choosing Evanescence, the band went by several short-lived names, including "Stricken" and "Childish Intentions". Prior to Ben Moody's exit in 2003, he and Amy Lee would write alone and then put their song ideas together. Only one song that was written by both of them physically in the same room was ever recorded. The track was called "Catherine", and was scrapped from the album "Origin" before its release in 2000.
Most of the songs on the 2003 release of Fallen were written from 2001-2002. Some tracks are from even earlier writing sessions, the oldest being My Immortal, whose first recording was made in 1997. When guitarist Terry Balsamo entered in 2004, his new band members referred to him as "Banana Baggins" or "T Baggins". Against the band's wishes, three songs were removed from the final Fallen track listing before its release. Two of these tracks ("Missing" and "Farther Away" are available as B-sides and bonus cuts to import singles and albums, while "Breathe No More" is availible on the soundtrack to the movie "Elektra".
The band was told that adding a rapper permanently to the line-up was their only chance at finding success. Their first concert was in December of 1998. Debut album Fallen is 6x platinum.