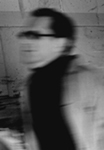 String enough words together and you can usually give someone at least a hint of what a record sounds like. Euphoria doesn't give up its secrets so easily. Words aren't enough; you need to use a bit of imagination. So imagine Ry Cooder and Pink Floyd playing together, with Brian Eno producing. Maybe now some words would be useful, at least to describe the actual sounds: swirling guitar harmonies, evocative yet elusive layers of slide guitar, club and hip hop beats, and trance/ambient production. But words can't tell you just how well this unlikely mix of styles works. Euphoria is the brainchild of Ken Ramm. The Toronto-based guitarist has had a long fascination with the sounds of American blues and modern electronics. He's also been drawn to the few musicians who've tried to combine the two. "Pink Floyd had an early influence on ambient music," Ramm notes. "I've always been drawn to their music - the way they used the slide guitar on some their records. It has a real expressive, emotional quality." Slide guitrist Ry Cooder was another influence. "I like his acoustic work especially; it almost sounds like a guitar played back at really slow speed." The slide guitar is one of the signature sounds of the Euphoria project. "I like the emotional effect of getting between notes," Ramm explains. Certainly an appropriate comment from a musician whose music gets into the cracks between styles. "It's definitely a hybrid," he says. "It has a real hypnotic quality, but it's got a strong beat, strong hip-hop elements too." On Euphoria, Ken Ramm plays many of the guitar parts himself; but the pedal steel guitars are played by England's legendary B.J. Cole. Ironically, Cole does not play traditional sounding slide guitar solos, but adds his more atmospheric, electric textures to Ramm's project.

Subtle use of taped and sampled voices gives Euphoria a hypnotic, trip-hop sound. "The album was originally intended as an exploration of dreams," Ramm says. "Many of the songs have a real dreamy feel, and the fragments of speech help create that ambience. Voices drift in and out; you hear apparent non sequiturs; but by the time the song is done, maybe these individual thoughts begin to link together, to become something more." The human voice is, of course, an evocative sound. And the taped voices on Euphoria add a human quality to otherwise instrumental music. But there are also a couple of actual songs, with live vocals by Maddie Willis and, on the song "Lost on a River," by English Gospel singer Juliette Roberts. "She does the whole Gospel choir on the song," Ramm marvels. "She's really terrific. She's sung with U2 and done a lot of work in London." What you won't hear on the Euphoria recording are keyboards. Actually, that's not quite true: you'll hear them - you just might not notice them. In both club/dance and ambient/trance styles, the keyboards usually define the sound. But Ken Ramm went for something different. "The focus is definitely on the guitars. The acoustic rhythm guitar parts are the real key, and then the beats are added around them." The keyboards do have a role to play, though; and they're mostly played by producer Garry Hughes (who's worked with Art Of Noise, Garbage, and Sly & Robbie).

Several tracks on the Euphoria CD have an exotic, world music flavor. The melody of "Wait for You" has a strong Middle Eastern sound. And the Arab ney flute lends its breathy, mystical sounds to the song called "Sleep." As Ramm explains, "the hypnotic trance element is a big part of this record, and the music of the Middle East has a strong hypnotic tradition - a very dreamy, sensual side." Other unusual sounds on Euphoria include the Bulgarian kaval (another flute), the bagpipe, and occasional touches of hand drums or harmonica. But there's no doubt about the heart of this record. "There are so many keyboard dominated albums," Ramm declares; "I wanted to work with the harmonies of the guitar." On one song it's a lonely slide guitar over a bed of rhythm guitars and a drum'n'bass groove; on another it's a psychedelic blend of slide and rhythm guitars playing both forwards and backwards. The guitar arrangements on Euphoria range from simple lines layered on top of each other to intricate weavings of natural and processed guitar sounds. On "Notting Hill Gate" (named for the part of London where the recording was done), Ken Ramm goes unplugged - playing a slide guitar over an acoustic rhythm guitar part with a bit of dobro added in. But on "Wait for You," he creates a rich texture of guitars, grooves, singing, and sampling - all of it built around the sound of one highly processed guitar chord. Euphoria was recorded in London's West End, at the studios of Trevor Horn. Anne Dudley of Art of Noise, ex-Soft Machine bassist Roy Babbington, and Rush bassist Geddy Lee are just a few of the musicians who added their distinctive sounds to Euphoria. This music can appeal to a startling array of listeners: fans of David Sylvian, Chris Isaak, and Daniel Lanois may all find something in Euphoria that hooks them. But this is definitely Ken Ramm's creation, and even if words aren't enough, there are a few that apply. Inventive. Original. Trippy. Maybe even euphoric.